In the 1860s, St Giles' still retained some fine examples of medieval stained glass. In 1863, Dutton Walker visited the church and wrote, "Portions of this glass are of a splendid ruby far surpassing in depth of tone anything which we see in modern glass, and at the close of our visit a westering sun shed its glorious light through the windows of the church, giving quite a 'Turneresque' feeling and haze throughout the nave."1 The following year he produced a pamphlet on the medieval glass in the church and wrote that "we cannot boast of the possession of much original glass of this date and quality in the neighbourhood; indeed, we much doubt whether a parallel can be found in the whole county."2
As Phillimore recounted, the medieval glass was destroyed during the church restoration of 1871.3 However, there is a report that "a few fragments of the old glass were embodied in the new stained glass window at the east end of the old south aisle".4 This would be window 16 in the numbering shown here on the plan of the current church and used below.
For further information and picture(s) for each of the stained glass windows currently at St Giles, click on the chosen window in the list below. Where available, larger versions of the pictures can then be revealed by clicking on the pictures themselves.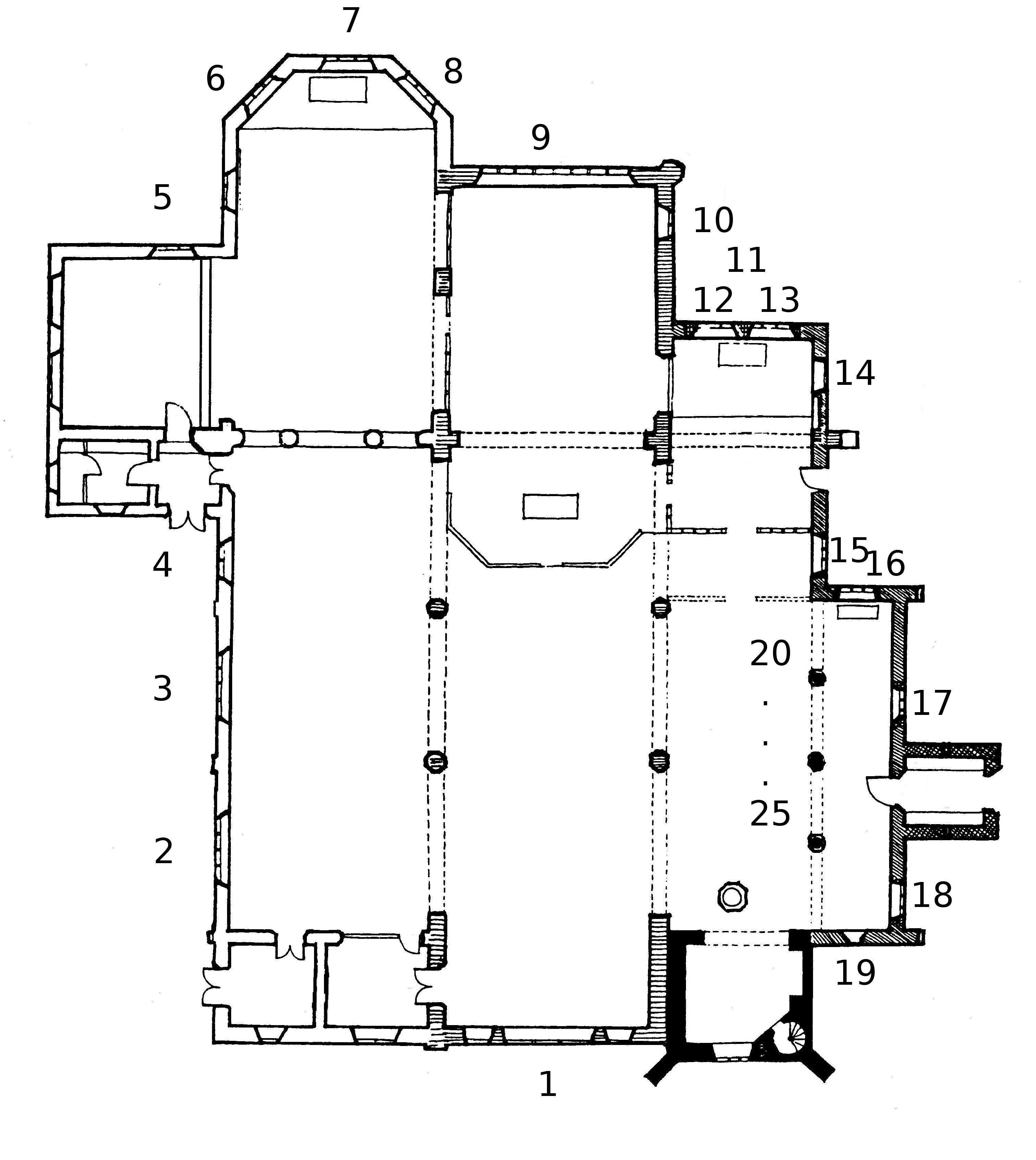 1. GREAT WEST WINDOW
Donated in memory of Melvina Truman.
The Resurrection scene in the garden,
flanked by St Peter & St Paul.
2. WINDOW FOR THE 1998 CENTENARY
Given by the people of St Giles'.
The image of the waterfall represents St Giles' and her three daughter churches.
3. LAWS MEMORIAL WINDOW
In memory of Fred Victor Laws by his wife Hilda.
Caedmon and St Hilda of Whitby.
4. LAWSON MEMORIAL WINDOW
Theme of restoration and new life for those who grieve
and the promise of eternal life for those who believe.
5. THOMPSON MEMORIAL WINDOW
Melchisedek and Jesus, the good shepherd

6. GIFT OF JAMES ABBOTT SIMONS
Celebrating 60 years in St Giles' choir
St Ambrose, St Cecilia, David, B.V. Mary, Zacharias and Simeon
7. BRITISH LEGION WAR MEMORIAL WINDOW
St George and St Martin;
Navy, Army, Air Force and Merchant Navy
8. CRADDOCK & BUCKLE MEMORIAL WINDOW
Celebrates the jubilee in 1958 of the extension of the church
9. GREAT EAST WINDOW
War memorial gift in memory of the sons of West Bridgford
who gave their lives unto the death in the Great War.
Christ, Saints and four fathers of the Church.
10. HOWE MEMORIAL WINDOW
St Giles and Simeon
11. TRIANGULAR WINDOW
Mosaic
CHRISTMAS STORY WINDOWS
12. St Giles
13. St Hugh
14. SARAH JANE SIMONS MEMORIAL WINDOW
The Annunciation
15. HEMSLEY MEMORIAL WINDOW
Faith, Hope and Charity
16. TRANSFIGURATION WINDOW
Christ with Moses and Elijah.
17. JESUS AND DISCIPLES WINDOW
"Go ye into all the world and preach the Gospel to every creature
HENRY & CLARA OGLE MEMORIAL WINDOWS
18. "Suffer little children to come unto me"
19. John the Baptist
CLERESTORY WINDOWS
20. St Peter & St James the Great
21. St John & St Andrew
22. St Philip & St Thomas
23. St Bartolomew & St Matthew
24. St James the Less & St Simon
25. St Thaddeus & St Matthias
References
1. Samuel Dutton Walker West Bridgford and its Approaches from Nottingham 1863
2. S Dutton Walker Iconographic and Artistic Remarks upon the Remains of the Mediaeval Stained Glass in West Bridgford Church near Nottingham 1864
3. W P W Phillimore The Restoration of West Bridgeford Church Notts & Derbyshire Notes and Queries September & November 1895
A Description of the East Window 1919
4. C H B Watson West Bridgford Church Transactions of the Thoroton Society 1941