Each month, we add newspaper cuttings from a hundred years ago to give a glimpse into the life in West Bridgford during World War 1.
(NEP: Nottingham Evening Post) (WBA: West Bridgford Advertiser)
Click on the coloured links below to jump to the later entries.
1914   AUG   SEP    OCT    NOV    DEC
1915   JAN    FEB    MAR    APR    MAY    JUN    JUL    AUG    SEP    OCT    NOV    DEC    
1916   JAN    FEB    MAR    APR    MAY    JUN    JUL    AUG    SEP    OCT    NOV    DEC
1917   JAN    FEB    MAR    APR    MAY    JUN    JUL    AUG    SEP    OCT    NOV    DEC    

1914 AUGUST
7 August 1914 NEP
NOTTS PAVILION MAY BE USED AS HOSPITAL
The War Office have requisitioned the use of the schools in West Bridgford and of the Notts. Cricket Club's pavilion at Trent Bridge as temporary hospitals, should occasion arise. It is believed that the pavilion will not be needed before Monday.
Meantime arrangements have been made to put beds in the Boys' Brigade headquarters, which are also situated on the ground.
The committee of the Notts. Club met to-day, and decided, pending any announcement from the M.C.C. or the counties they have still to meet, to conclude their fixture list, and selected the team, who are opposing Hants. to journey to Cheltenham for the purpose of playing Gloucestershire on Monday, with Walker and Wase as reserves.
A difficulty may arise with regard to the home fixture with Leicestershire, which should commence on Saturday, August 22nd. If the pavilion is in use by the military authorities, it will be impossible to play the match at Trent Bridge, and a representation is to be made to the Leicester Club to that effect in order to ascertain their views.
Mr C W Wright and Mr H Turner (secretary of the Notts. Club) have been appointed a subcommittee with power to deal with any development that may arise in connection with the remainder of the programme.
8 August 1914 NEP
The West Bridgford detachment of the young British Red Cross Society is asking for 50 young men. Mr R H Swain, commanding officer of the Nottingham Battalion of the Boys' Brigade, makes the appeal to brigade members over 16.
15 August 1914 NEP
Two of the employees on the West Bridgford motor omnibuses have had to leave their situation to join the colours. The question of supporting their dependents is being considered by a special committee.
Between June 22nd and July 4th 30,805 passengers were carried on the Musters-road route of the West Bridgford motor 'buses, 23,341 on the Trent-boulevard route, and 8,904 on the Bridgford-road route.
31 August 1914 NEP
O.H.M.S
WANTED, CAVALRY and LIGHT DRAFT HORSES for gunners from 15.2 to 16 hands high, age from 5 to 12 years, and sound. Major A W Waite, of 63 Loughborough-road, West Bridgford, Notts., will attend at BRADWELL and SONS' HORSE REPOSITORY, King Edward-street, Nottingham, each day between the hours of 9 a.m. and 10.30 a.m. for the purpose of inspecting and purchasing horses. Owners of HUNTERS are asked to get them up from grass, as horses of this class are urgently required.
1914 SEPTEMBER
15 September 1914 NEP
TRENTSIDE FOOTPATH – WEST BRIDGFORD SEEKS A CONFERENCE
The West Bridgford Urban District Council wrote the Basford Rural District Council to-day, suggesting a conference of parties interested in the question of remaking the Trentside footpath as a means of providing employment to relieve distress consequent upon the war.
The Clerk (Mr H Stone) recalled the abortive efforts made years ago by the Basford Council to save the footpath – part of the path had now entirely disappeared – and suggested that the Bridgford Council be told that some concrete proposition would be considered.
The Rev. J Clough having remarked that there was an absolute state of disagreement at the previous meeting, the letter was referred to the Special Works Commitee.
28 September 1914 NEP
A notable addition has been made to the list of famous cricketers who have answered their country's call to arms. G Aubrey Faulkner, the brilliant all-rounder, who captained the last South African team to visit Australia, and has for several months been residing at West Bridgford, has applied for and been granted a commission as a lieutenant in his Majesty's forces, and will join the Worcestershire regiment immediately. It will not be his first taste of warfare either, for Lieut. Faulkner saw service in the Boer war, when he fought side by side of the British troops.
1914 OCTOBER
15 October 1914 NEP
NOTTM. SOLDIER'S FUNERAL – IMPRESSIVE SCENE AT WEST BRIDGFORD
The funeral to-day at West Bridgford of Albert Charles Lacey, son of Mr and Mrs W P Lacey, 124, Holme-road, West Bridgford, who died from pneumonia while in the concentration camp with the King's Royal Rifle Corps, was attended by a large crowd of people.
19 October 1914 NEP
£300 FOR THE ORPHANS
De Barnardo's Homes, in aid of which "Helena" Rose Day was held in Nottingham on Saturday, have been receiving 19 fresh orphans each week since the war began. The city and West Bridgford contributed £236 to the institution's funds on Saturday.
20 October 1914 NEP
THE BELGIAN REFUGEES
Sir, – In reply to " A Britisher's" letter on the housing of the Belgians some landlords have already granted the free use of empty houses on condition that food, furniture, &c., are provided by friends. At Bridgford a house (49, Henry-road) has been granted free of rent by Wright's trustees, and the Musters-road Wesleyan Church are providing money and furniture for the support and comfort of a Belgian family. No doubt there are other instances of landlords doing the same. As a small property owner I would willingly provide a small house free of rent in the city, and I have no doubt if an appeal were publicly made by the committee scores of landlords would be willing to do son on condition that food, furniture, &C., were provided – I am , sir, &c., J. B., 3 Henry-road
21 October 1914 NEP
A representative meeting of the residents of the Lady Bay district of West Bridgford was held in the institute last evening, Councillor T Barlow presiding, when a committee was appointed to arrange for a home for the Belgian refugees.
22 October 1914 NEP
WEST BRIDGFORD 'BUSES – LIKELY TO BE COMMANDEERED
Even the West Bridgford motor 'buses are not immune from the attentions of the War Office, one of the vehicles having already been commandeered for removal to Birmingham on Monday, and it is highly probable that within the next few days the remainder may be taken.
31 October 1914 NEP
BRIDGFORD 'BUSES – TWO TO BE RETAINED
West Bridgford is not after all to be robbed of all her motor 'buses.
Representations having been made to the War Office, that authority has relented to the extent that permission has been granted to the West Bridgford Council to retain possession of two of the 'buses. Information to this effect was received at the Council offices this morning.
1914 NOVEMBER
3 November 1914 NEP
WEST BRIDGFORD'S SEARCH REWARDED
We understand that West Bridgford has met with almost unexpected success in its search for some motor 'buses to replace those commandeered by the War Office.
A deputation from the Urban Council yesterday went to Birmingham to negotiate. They found a firm which was in a position to promise five new chassis within a stipulated period. The bodies of the late fleet have been retained by the Council, it will be borne in mind, and will be fitted to the new chassis. The firm can be ready with the first of these by the end of December, a second the first week in January, and a third a little later. The other two will be delivered subsequently.
Meanwhile a reduced service is being run with the two 'buses in hand on the Melton-road and Lady Bay routes.
A meeting of the committee appointed by the Council to deal with the situation is being held to-morrow to consider the deputation's report.
TROOPS AND TRAM FARES
Sir, – I do not believe in "rushing into print" as soon as we think we have something to grumble at, but, really, why our soldiers cannot have free passes on the tramways at a time like the present I fail to understand. Of course, it is likely the tramway authorities have a reason for making Tommy pay his penny, but perhaps it would be as well if they favoured us with an explanation. When we consider that this is a time when we are all doing our best to help those who are saving England it is hard to understand the attitude of the Corporation. Surely they can afford to do without Tommy's pennies? – I am, sir, &c., W W Campbell, Priory-road, West Bridgford
21 November 1914 NEP
XMAS GIFTS TO NOTTS SOLDIERS AND SEAMEN
REMEMBER THOSE WHO ARE FIGHTING OUR BATTLES
All the gallant Nottinghamshire men who are now serving their country will be among the recipients of the presents, and attention may again be be drawn to the following notice which has been issued, signed by the Town Clerk.
Wives or relatives of Soldiers or Sailors may obtain forms of application at The Comforts for Troops Office, 28 St Mary's Gate, Nottingham, (to be filled in, and returned immediately) to enable Christmas presents to be sent.
This only applies to men actually at the Front or at Sea.
A striking and very pleasing feature of the list each day has been the large proportion of small contributions, proving how widespread is the wish to join in sending gifts to show that those who are son nobly fighting our battles are not forgotten at Christmas time. Among the employees in many business establishments in the city and county there will be a desire to share in the movement, and we look for a considerable sum from this source.
FIFTH LIST OF SUBSCRIPTIONS
Amongst those named in the list were these donations from West Bridgford:
Mr H Beer and Family
E. C. F.
S Walker
Mr and Mrs A M Hatherty
Mr George Moore, Musters-road
Mr and Mrs S M Vowles
Master Harold A Wardle
Bessy Booth
Mr and Mrs Fred Parberry
Harry Smith
Mrs C Smith
C. G.
Mr C A Mellon
1914 DECEMBER
9 December 1915 NEP
NOTTS CRICKET PAVILION CONVERTED INTO A RED CROSS HOSPITAL FOR WOUNDED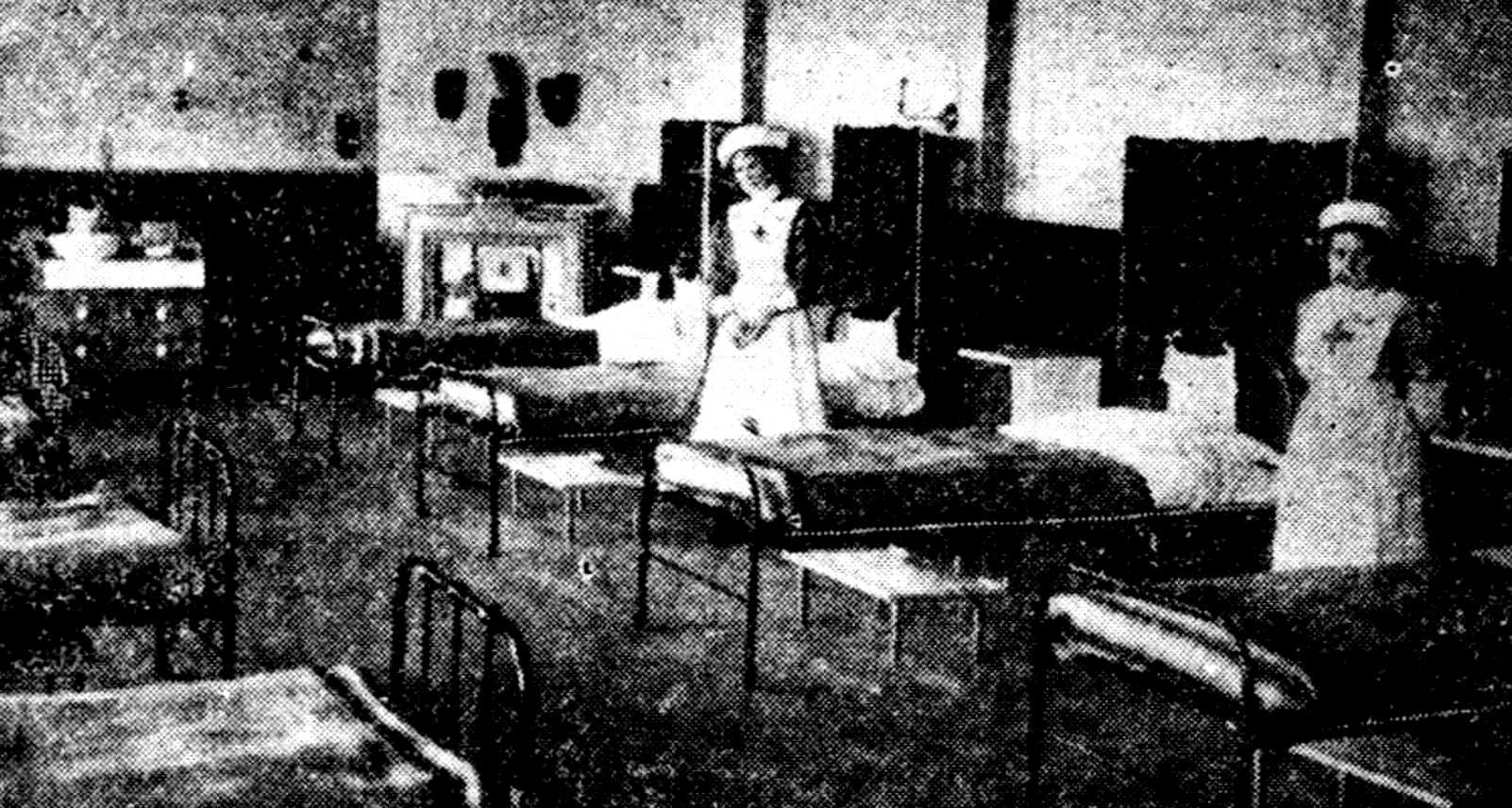 The ward shown is in the principal room facing the cricket ground. The new hospital is staffed by members of the West Bridgford Red Cross Society (president, Lady Bruce) and Miss Heymann.
15 December 1914 NEP
THREE BROTHERS IN THE FORCES – AN OLD NOTTS. THREE-QUARTER
Three sons of Mr J W Danby, of West Bridgford, are serving with his Majesty's forces, and two of them, Silas and Cyril, have been given commissions after joining the ranks.
Silas Danby, a former three-quarter back in the Notts. Rugby team, enlisted in the Royal Engineers as a transport driver, and, by a curious coincidence, received intimation on the same day of his promotion as sergeant and of the fact that he had been granted a commission as second-lieutenant in the 9th Battalion (Duke of Wellington's) West Riding Regiment. He is now with the latter regiment.
His brother Cyril has gained a commission in the 13th Battalion (Prince Consort's own) Rifle Brigade, and another brother, Rex, was with the expeditionary force which was sent to Togoland.
19 December 1914 NEP
Sir, – I am surprised at a special constable from West Bridgford making a public appeal for free tram rides. It was thoroughly understood by all who joined this force that services were to be given gratuitously, and surely we can do without free tram rides. If any body of people want, and deserve, free tram,s it is our soldiers. If your correspondent in West Bridgford must have his riding expenses found, why not have a rose day or bazaar at Bridgford? – I am, sir, &c., Another Special Constable
30 December 1914 NEP
FLOODS IN THE NOTTINGHAM DISTRICT
Although a good deal of land in the Trent Valley is now under water, the area around Nottingham has so far suffered less than some other parts of the country.
A good deal of water is out in the neighbourhood of Wilford, the fields near the Ferry Inn and round by the police-station being flooded to a depth of three or four feet. Lovers'-walk is partly covered, and the Amateur and Y.M.C.A. cricket grounds are inundated but no complaints have so far been received of houses being flooded at West Bridgford.
1915 JANUARY
13 January 1915 NEP
EARLY CLOSING AT BRIDGFORD AND WILFORD
A large number of magistrates attended a special meeting at the Nottingham Shire Hall to-day to consider the position of clubs in the area covered by the nine o'clock closing order issued by the military authorities. Colonel Sir Lancelot Rolleston presided over the Bench.
On behalf of the Chief Constable of Notts., Deputy-Chief Constable Harrop formally applied that clubs in the area affected should be placed on the same footing as public-houses and closed at nine o'clock for the sale of intoxicants, and be closed to members of H.M. forces except during the hours of 12 and 1 p.m. and 6 and 9 p.m.
The Bench made the order asked for without comment.
This particular order applies to the Nottingham Petty Sessional Division of the county, and its operation affects three clubs at West Bridgford and Wilford. The other clubs in the neighbourhood of the city lie beyond the three mile radius of Nottingham Market-place.
13 January 1915 NEP
POSTAGE OF SOLDIERS' PARCELS
Sir, – Please allow me to confirm the previous correspondence on this subject. I have a brother and also several friends who have joined the colours, and to whom I often send small parcels containing tobacco, cough lozenges, and other small comforts. In many instances the postage on the parcles is at least half, if not more, than the costs cost of the contents. I am sure many mothers and relatives of the British Tommies would be pleased to send something, if only a little, to their noble lads away from home, who are having to endure many hardships without complaining, and to whom a small parcel would be a very acceptable gift, but owing to the increased price of food and a lower wage income they have very little to spend on anything but the needs of the home, and when they can afford a little they have to limit the contents of the box or parcel considerably through the heavy postage. Why cannot we have a special postage rate for the troops, say half the usual rate? I am confident the Tommie would then receive more regular and substantial parcels. I am, sir, &c True Daughter of Britain, West Bridgford.
25 January 1915 NEP
WOUNDED FOR BRIDGFORD – RECEPTION AT THE CRICKET PAVILION HOSPITAL
While the crowd was not so large as on the occasion of the arrival of the wounded last night, there was yet a goodly assembly at the Nottingham Midland Station this afternoon, when 20 of the injured British soldiers who have been under treatment for some time at the Leicester Military Hospital were brought in, and subsequently conveyed by motor car and motor van to the County Cricket Pavilion Hospital, West Bridgford.
With one exception, a victim of German shrapnel, the new arrivals were all suffering from frostbite in some shape or form, and no less than 13 of them required the assistance of stretchers, which had been brought to the No. 4 platform by the West Bridgford Detachment of the Red Cross Society, under Commandant A E Sutton.
All, however, were in the best of spirits, and as they were conveyed to the waiting cars many of them found time to crack jokes with their bearers.
At the hospital a capable staff in charge of Lady Bruce, the president, and Miss Heymann, the commandant, had everything prepared, and the wounded men were soon safely placed between the sheets and blankets.
29 January 1915 NEP
Addressing a recruiting meeting at West Bridgford last night, Mr G H Roberts, M.P., of the Parliamentary Recruiting Committee, said he had often wondered why it was necessary to continue to hold such gatherings in every part of the country. With widespread education and cheap literature everyone should be well informed of the tremendous issues of the war.
1915 FEBRUARY
3 February 1915 NEP
CONDUCTORS. Several are required for the West Bridgford Urban District Council for the 'bus service. – Apply with refs. To H T Chapman, Public Offices, West Bridgford.
15 February 1915 NEP
SIX SONS IN ONE REGIMENT – NOTTINGHAM N.C.O.'s PROUD RECORD
Sergeant-Major A Berry (retired) of Thoroton-road, West Bridgford, has no fewer than six sons in the 11th Hussars, one of the first regiments of the British Expeditionary Force serving in France.
Sergeant-Major Berry was for many years a popular N.C.O. in the 13th Hussars.
16 February 1915 NEP
TRENT EMBANKMENT SCHEME HANGS FIRE
The Basford Rural District Council to-day received a letter from the West Bridgford Urban Council, noting the repetition of Basford's offer to contribute £200 on certain conditions towards the cost of a Trent embankment scheme. West Bridgford were prepared to subscribe a similar sum upon similar conditions, but both the Nottingham City Council and the Notts. County Council had written to the effect that they were not prepared to take the matter up. The surveyor's estimate of the cost was £1,100 to £1,300. Were the Basford Council prepared to move any further in the matter?
The remarks of Mr W Oldershaw and the chairman (Mr W B Hanson) showed that they were not.
17 February 1915 NEP
GERMAN OFFICERS AT DONINGTON PARK
Sir, – The plainest accommodation only should have been provided, and the strictest discipline exercised over prisoners. When the war is over money will be needed badly to help disabled English soldiers, so I am sure money should not be spent on unnecessary arrangements. – I am , sir, &c., P Boaler, West Bridgford
22 February 1915 NEP
About ten of the wounded soldiers who have been in the County Cricket Pavilion Hospital, West Bridgford, for the past few weeks, left the institution this morning for Leicester, whence, after a time, they will proceed to their homes. All are convalescent.
27 February 1915 NEP
It was reported to the Notts. Education Committee to-day that a school caretaker from West Bridgford was a prisoner of war in Germany.
1915 MARCH
8 March 1915 NEP
ANOTHER NOTTM RECORD. FATHER AND FIVE SONS ALL SERVING
A record of service for King and country is possessed by a West Bridgford family, of which the father and five sons are doing good work for their country.
The father, Corporal C L Scoffield, is in the 8th Notts. and Derby Regiment, and the five sons are serving as follow:
Sergeant J H Scoffield, 7th (Service) Rifle Brigade;
Acting-Cpl. C J Scoffield, 7th (Service) Rifle Brigade;
Private W S Scoffield, 3rd Mounted Field Ambulance, RAMC;
Private E Scoffield, 7th Notts. and Derby (Robin Hood Rifles), now in France;
Private L Scoffield, 7th Notts. and Derby Reserve.
The second son, Acting-Corporal C J Scoffield, returned home from the Argentine in order to offer his services.
9 March 1915 NEP
BILLETS AT WEST BRIDGFORD
Sir, – May I ask why we cannot have some soldiers to billet in West Bridgford. Most of our homes have suffered by the loss of someone who has gone to do his bit. I know several to whom it would be a blessing to have soldiers; myself for one. We have our way to pay here the same as anywhere else; why should we be exempt from earning a little in such hard times? There are many here who would be glad to mother a few soldier "boys". – I am, sir, &c., Citizen
11 March 1915 NEP
BILLETS FOR SOLDIERS
Sir, – I fully endorse what "Citizen" says re billeting soldiers at West Bridgford, which is an up-to-date and healthy place with good sanitary arrangements, and plenty of fresh air, and facilities for recreation, &c. As on who has enlisted, I think soldiers should be billeted in such open areas. – I am, sir, &c., Bantam
13 March 1915 NEP
Sir, – I notice several letters in your columns asking why people in West Bridgford who have applied for billets have received no reply. It may perhaps save space if I explain that between 4,000 and 5,000 applications have been received to billet soldiers. These are all classified into districts and registered, and the lists are then handed over to the military authorities, who endeavour to procure billets as close to their respective headquarters as possible. I have recently received several anonymous letters from discontented applicants, but any such communications have been and will continue to be immediately consigned to the waste paper basket. Every application is carefully gone through, and when possible preference is given to those families whose sons are serving in the ranks, but beyond this it is impossible to consider either anonymous letters of request for "immediate replies." If those correspondents will only have patience and realise the large amount ot work entailed in fixing billets to the advantage of the soldiers, they will save themselves unnecessary trouble. – I am, sir, &c., Stuart Hartshorn, Hon. Sec. to the Recruiting Committee
16 March 1915 NEP
LOCAL ELECTIONS – NO CONTEST AT WEST BRIDGFORD
Owing to the withdrawal of five of the persons nominated for the West Bridgford Urban District Council, there will be no contest, Those who have withdrawn are Messrs A A Aitken, C Bowler, J Bramley, C Hemsley, and F Richardson. The old members will now be re-elected, the only change being that Mr J H Dunford takes the place of the late Mr T Sutherns.
Two members had to be elected to represent West Bridgford on the Basford Board of Guardians, an additional vacancy having been created by the death of Mr Sutherns, There were three nominations, but as Mr Jesse Gray has retired, no contest will be held, Mr W J Furse, the returning member, and Mr H P Day being returned unopposed.
17 March 1915 NEP
TO-DAY'S VISIT OF THE SHERWOOD FORESTERS TO NOTTINGHAM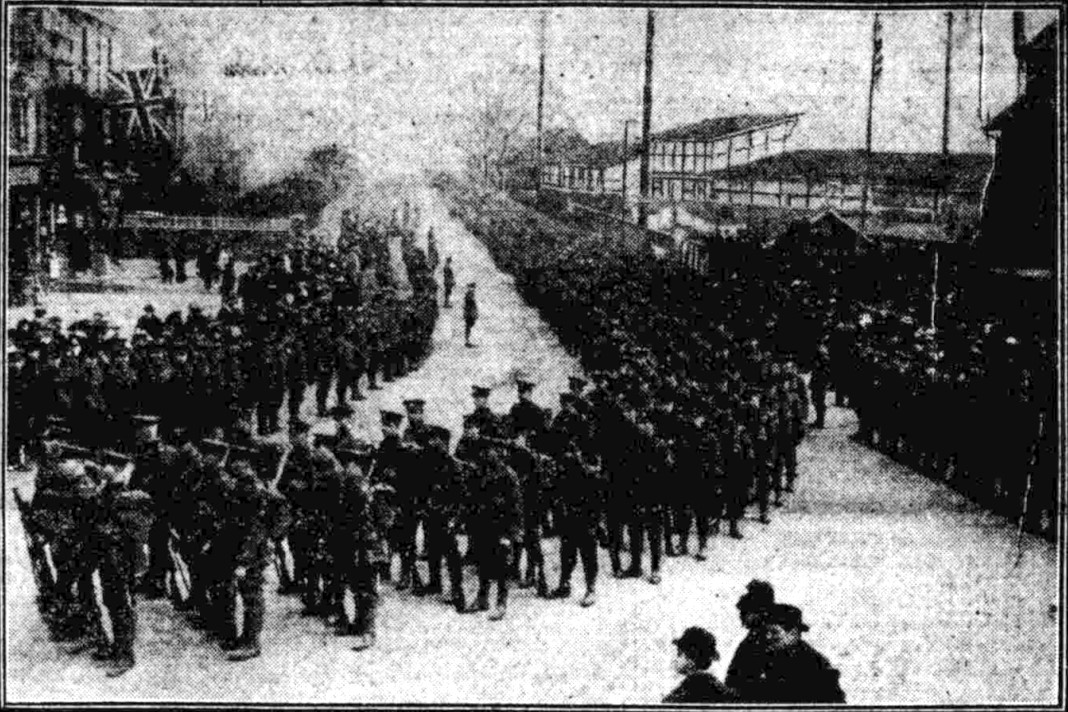 The battalion drawn up in Radcliffe Road, West Bridgford. Route lined by Territorials.
19 March 1915 NEP
THE GALE WRECKS PART OF TRENT BRIDGE CRICKET STAND
The violence of the northerly gale last night did a considerable amount of damage to the property of the Notts. County Cricket Club on Trent Bridge Ground.
This morning the covering of the stand which extends from the score-card printing office to the west wing of the pavilion was found to have been lifted bodily from its supports and deposited in the roadway which runs behind, Indeed, some portions of the structure, torn from the remainder, were lying in Bridgford-road.
By a curious coincidence a part of this same portion of roofing was swept from its position in a terrific storm some few years ago, but upon that occasion the force of the wind was so great that some débris was blown into a garden on the other side of Bridgford-road.
The damage occurred at 12,20 a.m., but although the noise of the tearing timber was exceptionally loud, none of the wounded soldiers in the cricket club pavilion, now in use as a V.A.D. hospital, seem to have heard it.
Some portions of telegraph wire were brought down with the roof, and the flag staff at the Trent Bridge Hotel was smashed by the same gust.
No intimation has reached us of damage in any other part of the city.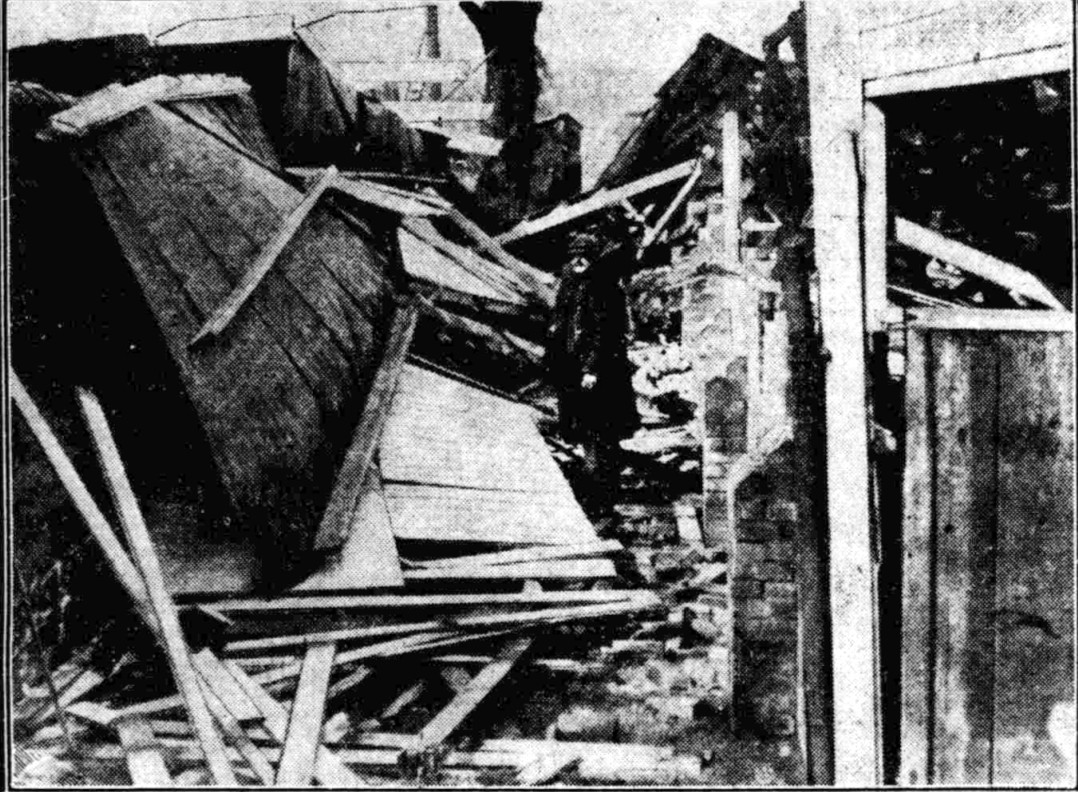 View of the damage showing the roof, part of which is overhanging the wall on to Bridgford Road.
26 March 1915 NEP
TRENT BATHS
Sir, – Having been a regular attendant at the baths for a number of years, I regret to hear the Baths Committee propose charging for admittance in the future. I am convinced if they insist upon this that it will be the means of debarring quite a number of boys and youths in the summer months from participating in a very healthy and useful exercise essential to all boys and even girls. Why put an obstacle in the way when every facility should be given to encourage the art of swimming even by the Corporation of a city the size of Nottingham? – I am, sir, &c., A J Burrows, Strathcona House, West Bridgford
1915 APRIL
10 April 1915 NEP
TRACTION OWNER SUMMONED IN NOTTINGHAM
Police-Inspector Stapleton gave evidence that he saw a traction engine belonging to defendants travelling on Loughborough-road, West Bridgford, to Bunney. Asked whether he had a licence under the Notts. County Council the driver replied in the negative. Two waggons containing night soil were attached to the engine.
Arthur Cole, senior partner in the defendant firm, said the engine had been used since last June for hauling manure to farms.
For the defence, Mr R Macdonald, London, argued that the engine was being used for agricultural purposes and quoted a decision of the High Court to the effect that the haulage of manure was an agricultural purpose, although not specified in the Act.
The summonses were dismissed.
12 April 1915 NEP
TRENT BATHS
A series of questions concerning the imposition of a charge of 1d for the use of the Trent Baths were put to the chairman of the Public Baths Committee meeting of the Nottingham City Council.
Mr E H Lee inquired why it was proposed to abolish a custom of free bathing which had obtained for generations, whether the chairman realised that there was an almost unanimous opposition to the project, especially in the southern part of the city. – (a voice: "West Bridgford") – and that the proposal was an unnecessary interference with the rights and privileges of the ratepayers?
Mr J E Pendleton, chairman of the committee, said that the main reason was a purely financial one. The upkeep of the Trent Baths was a growing item. The opinion of the committee was that it was not the working classes who protested against this charge at all. He had received two anonymous letters on the subject, but both bore the postmark of the important centre on the other side of the river, and much of the opposition only came from West Bridgford.
17 April 1915 WBA
WEST BRIDGFORD B. W. T. A.
The first meeting of the new year of the West Bridgford B. W. T. A. was held on Tuesday, in the Patrick-road Schools. Mrs Waters presided, and Miss Collinson was the soloist.
Mrs Waters, reviewing the past year, said as a Society they had much to be thankful for. Not a single member had been lost by death. As to the future they meant to do all they could to make every home in West Bridgford a temperance home: there was work for all. (Applause).
THEY SAY
That the two-shift system has been adopted at several city schools.
That the Trent Boulevard infants are neing similarly dealt with.
That this arises through the military occupation of the other buildings.
That this means half-time teachers in many cases.
BRIDGFORD BUS FARES
Sir, – Now the Council have taken away 1/2 penny fares, they would like all to be loyal and uses buses as before.Let them replace the same and we will do our share. We learn the reason for raised fare was to bring in an increase, but why single out 1/2 penny fares? Who conceived the brilliant idea of making us pay rates for other's conveniences? We cannot all afford to ride both ways, and many now prefer cars to this injustice. Are the worthy Councillors finding the chance farthings gained since raised fares so remunerative that they can afford to ignore 1/2 penny fares altogether! Yours, RATEPAYER
BRIDGFORD COUNCIL 'BUS COMMITTEE
The committee suggested that from March 29th bonuses should be given to the drivers and conductors for careful management of the vehicles, a driver who obtained eight miles per gallon of petrol to receive a bonus of 2s 6d a week.
17 April 1915 NEP
VOLUNTEER TRAINING CORPS – WEST BRIDGFORD COMPANY'S INSPECTION
The West Bridgford Volunteer Training Corps made a very smart appearance on the Trent Bridge Cricket Ground to-day, when they were inspected by Colonel W F Dundonald Cochrane, C.B. It was the first inspection of its kind in the district, and the ceremony of manoeuvres were watched by a considerable number of spectators, who included some of the wounded in the cricket pavilion.
The corps paraded 204 strong. The Old Robin Hood Band was in attendance, and the usual ceremonial and platoon manoeuvres were creditably executed,
Subsequently Col. Cochrane opened a new miniature twelve target range which, by the kindness of Mr A Heymann, has been provided on land near the Bridgford-road Railway Bridge. Mrs Heymann fired the first shot.
19 April 1915 NEP
THE WEST BRIDGFORD CORPS OF THE CITIZEN ARMY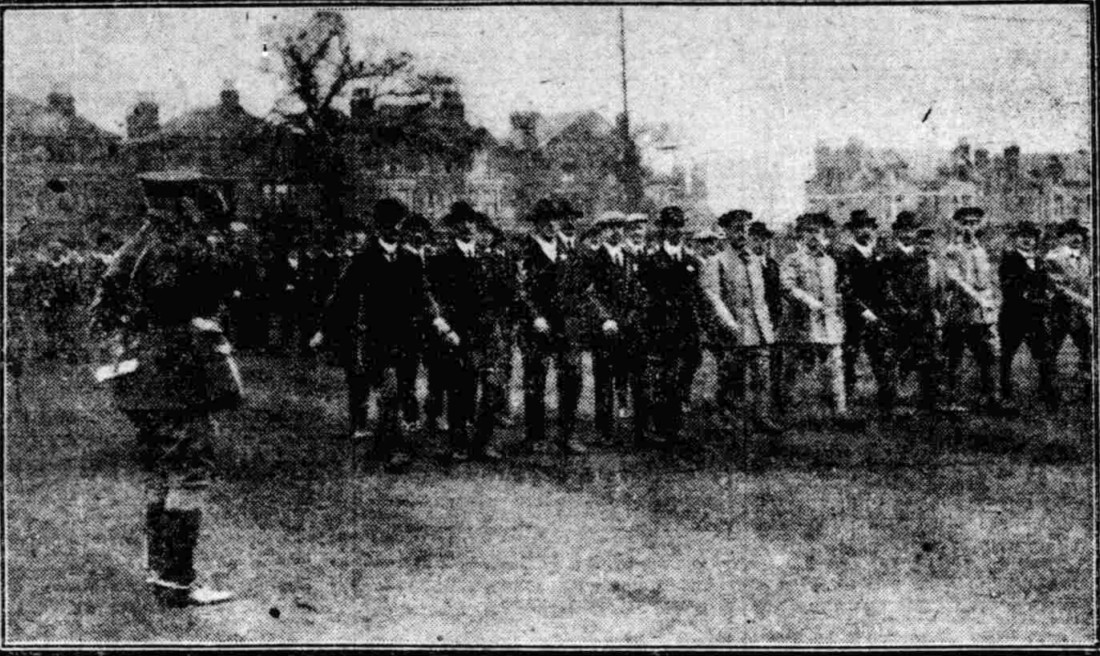 In the march past, the men presented a smart appearance, and their manoeuvres were watched by a big crowd. This was the first inspection of its kind in the district.
Col. W F D Cochrane C.B. is on the left.
1915 MAY
5 May 1915 NEP
WOUNDED FROM YPRES ARRIVE AT WEST BRIDGFORD
All approaches to the Midland Station, Nottingham, were crowded this afternoon when sixteen soldiers wounded in the fighting round St Julien and Ypres arrived from Leicester and were conveyed to the Trent Bridge Cricket Pavilion Voluntary Aid Detachment Hospital in motor cars.
All but three were fortunately able to walk, and they were in the best of spirits as they left the station to the accompaniment of roars of cheering and took up their places in the waiting cars. A gift of cigarettes from an onlooker was greatly appreciated, and when the men had been safely despatched to the hospital through the agency of the West Bridgford Red Cross Department in charge of Commandant A E Sutton, and tucked away between the sheets, they seemed remarkably cheerful although strangely reticent with regard to their own adventures.
To-day's admittances brought the number of wounded in the institution up to 26, there being accommodation for a further 20, and all the arrangements were in the hands of Lady Bruce, president, and Miss Heymann, commandant, there being in addition two army matrons.
8 May 1915 NEP
LUSITANIA – LOCAL PASSENGER AMONGST THE SAVED
The huge Cunarder was attacked without warning yesterday afternoon by a submarine, and sunk in a few minutes. She had over 2,000 souls aboard, but more than half the number are still unaccounted for.
Except, perhaps, in the case of the announcements which brought tidings of the German recourse to poisonous gases, no item of war news has created deeper indignation in Nottingham than that which reached the city last evening concerning the Lusitania.
Nottingham business men, in large numbers, have been in the habit for years of crossing the Atlantic by the Cunarders and their sister ships, and these same liners have periodically brought American buyers into our midst. In peace times, indeed, it can rarely happen that a single Atlantic liner undertakes her voyage withou a passenger from, or to, Nottingham.
So far as the voyage is concerned which has come to so tragic an end, it has been impossible as yet to ascertain definitely how many local passengers there may have been on board. We have, however, gleaned information which seems to leave little doubt that there were at least four local people aboard, these including Mr John Mitchell, of Loughborough-road, West Bridgford.
Mr John Mitchell, who is a representative of the Raleigh Cycle Company, had been to New York and Toronto on his firm's business, and was returning home after an absence of some two or three months. A private telegram received in Nottingham to-day states that Mr Mitchell is among the survivors.
17 May 1915 NEP
ROLL OF HONOUR
SHELTON – Killed in action, in France, on May 9th, Lance-Corporal Charles Frederick Shelton, 1st Sherwood Foresters, beloved second son of the late Henry and Harriett Shelton, of 18, Park-avenue, West Bridgford – Brothers, sisters.
31 May 1915 NEP
ROLL OF HONOUR
BERRY – Killed in action, Empire Day, Harold William, third dearly-loved son of Arthur and Blanche Berry, 1, Thoroton-road, West Bridgford, Notts., aged 25 years. He died a noble death.
1915 JUNE
12 June 1915 WBA
ANNUAL PROCESSION TO PARISH CHURCH
The largest and most successful of the annual processions to the parish church of the West Bridgford Urban District Council, and other local public bodies, took place on Sunday. [30 May]
Assembling at the Council offices, Bridgford-road, the procession, numbering over 600, marched to the church, where an eloquent and appropriate address was delivered by the rector (Rev. Richard Hargreaves).
The procession was headed by the local police, followed by the two West Bridgford Companies of the Boys' Brigade, just returned from camp at Kingston, under Captain R H Swain, and Boy Scouts under Scoutmaster A Hall.
An unprecedented inclusion in the procession was a detachment of 25 convalescent soldiers from the V.A.D. Hospital at Trent Bridge. Another novel feature was the parading of 250 men of the Citizen Army, in uniform, under Major Pratt-Barlow and Mr H Tomkins. Next came the West Bridgford section of the British Red Cross Society, the women's detachment under Miss Heymann and the men's under Commandant A E Sutton. A detachment from the RAMC men stationed at the Musters-road Schools, followed by the Dakeyne-street Lads' Club Band (under Captain Selwood), the Urban District Council and staff, headed by Mr Jas. A Simons (chairman) and Mr H P Day (vice-chairman), the local county-councillors, magistrates, overseers of the poor and collectors, school managers, schoolmasters, and mistresses and the local branch of the CEMS, led by Mr Impey.
Bands playing en route were those of the Dakeyne-street Lads' Club, the Boys' Brigade, and the Boy Scouts.
After service the procession, in two columns, marched via Bridgford-road to the Council offices, where they formed up for the playtng of the National Anthem by the Dakeyne-street Band.
The rector spoke of the need for men to serve their country. He asserted that many of the young men who could be seen walking about ought to be thoroughly ashamed of themselves. He thought many of these would only be called to the colours by some form of compulsion.
BRIDGFORD MOTOR CYCLE CLUB
A very successful reliability trial spin was indulged in by members of the West Bridgford Motor Cycle Club on Thursday. The distance of 36 miles was covered without mishap.
BRIDGFORD ANGLING ASSOCIATION
The above Association has been formed wit the object of encouraging local followers of the gentle art. The Association reach is from Bridge No 1 (Trent) to Bridge No 4 (Grantham) in the Nottingham Grantham canal. Sunday fishing is to be strictly prohibited and only rods and lines are permissible with no netting or night lines.
19 June 1915 WBA
WBUDC HEALTH COMMITTEE – WAR AGAINST FLIES
The Committee recommend that 100 posters be obtained from Messrs Knight & Co on the above subject; the same to be posted throughout the district.
LORD KITCHENER AND BRIDGFORD
The monthly meeting of the Urban Council took place on Friday, Mr W J Simons presiding.
Mr Aylett drew attention to the Sunday crying of newspapers in the parish and suggested the police should be asked to take action in the matter. Very often, too, false news was shouted out by the news vendors, whilst in some cases there were startling headlines and stale news.
Mr Day concurred. He was surprised at any respectable newspaper allowing such things to exist.
The Council agreed to draw the attention of the police to the complaints.
Mr J Gray asked if the Chairman proposed to introduce a resolution of confidence in Lord Kitchener. (hear, hear.) It had been done at certain Council meetings up and down the country in view of the uncalled for attacks upon the that officer and he (Mr Gray) hoped a resolution would be introduced.
The Chairman said he was fully in sympathy with the last speaker, and in the end it was left to the Chairman and the Clerk to draw up a resolution and forward to the Secretary for War.
22 June 1915 NEP
ROBIN HOOD PLATOON HAS TO DEAL WITH GERMAN NIGHT ATTACK
COMPLIMENTED BY THE COLONEL
Some interesting sidelights upon the experience of the Robin Hoods in the trenches were cast by Sergeant James Smart, of C Company, when seen by a Post reporter at his home in Seymour-road, West Bridgford. Sergeant Smart was invalided home with a damaged right hand, but he has sufficiently recovered to take military police duty in Nottingham.
"They call our chaps the Lucky 7th," remarked Smart, in an allusion to the comparatively light casualty list among the Robin Hoods, "but there is a lot of good discipline amongst our fellows, who are doing some very good work indeed. I cannot understand how the idea has got about that the 7th are in the second line of trenches. We have been in the front line all the time, and when I came away we were only 25 yards away from the German trenches. I was doing some wiring in front at the time of my accident. It was night, and had been raining. I had put some knife rests out – barbed wire entanglements – on top of the parapet, and was giving a final shove, when I slipped and fell into the trench. I caught my arm in the wire ins so doing, and tore a great piece of flesh out.
"On the whole, the Robin Hoods have had a fairly decent time. They are good workers, have done a lot of hard work, and are in good spirits. We sometimes have a game of cards for cigarettes in the support home. You see, we've often got more cigarettes than money out there. We hear the Germans playing mouth organs in their trenches, and our chaps respond with tin whistles.
"The Germans are good shots with their rifles, and they have got good artillery, too. I have heard since I returned home that No. 10 platoon has been highly complimented by Colonel Birkin on the manner in which they repelled an attack. The Germans are such bounders for creeping up on their stomachs, and then suddenly springing forward. One of their fellow – a Bavarian – was six feet four inches in height, and our boys had some fine fun for twenty minutes.
"I have been struck with the care shown by our allies for the crucifixes they place on graves, and with the remarkable manner in which the altars of churches escape the general destruction. A church 800 yards to the rear of us was all smashed to bits, bar the altar. I can't explain why, but this often happens. I came across a complete crucifix quite close to the firing line one day. Some buildings near it were all smashed to bits, but the grave had not been disturbed."
30 June 1915 NEP
UNIQUE PHOTO OF NOTTINGHAM SOLDIERS IN EGYPT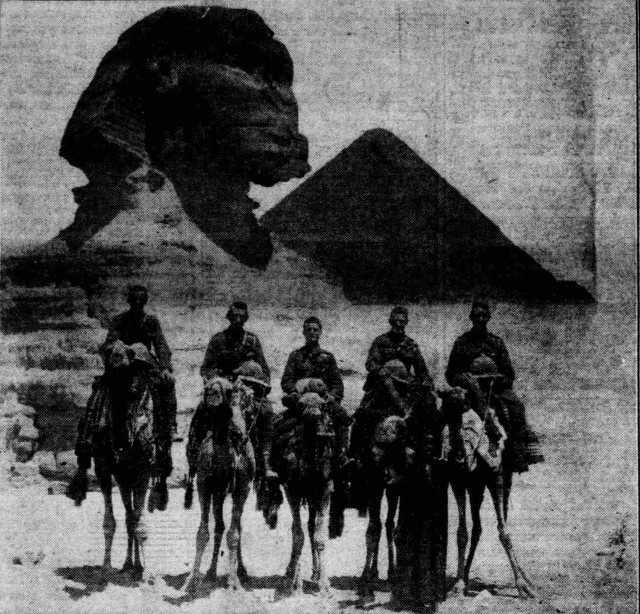 This photo of five Nottingham men was taken whilst they were enjoying a short spell off duty. They are members of the Notts. R.H.A. and include the son of Mr H Horsnell, 132, Radcliffe Road, West Bridgford (in centre) and Harold Wood, the well-known Nottingham YMCA and Notts. County hockey player (on extreme right).
1915 JULY
8 July 1915 WBA
THEY SAY!
That there is to be no open day at Trent Boulevard Schools this year.
That this sacrifice is the children's "bit" to the war fund.
That the Musters-road School sports are to take place.
That probably the programme will be slightly curtailed.
Hearty congratulations to two little West Bridgford girls, Gracie Clifton and Winnie Foster, Ella-road, who, by the collection and sale of flowers, have been able to hand over the welcome sum of 10s to the local Wounded Soldiers' Comforts' Fund. Thus they have done their 'bit'. – LOOKER ON
17 July 1915 WBA
CHUMS!
Tragic interest attaches to the following letter written from the front by Lieut. G H Highfield, late of West Bridgford, when his chum, Lieut. Bernard Laws laid down his life, for the writer himself has made the great sacrifice, being killed in action last week.
'We all loved him, sir.' This was the word of one of the men who carried Laws back to the Field Dressing Station, as he gave an account of how that dastard wound was received. And this sums up the attitude of all wherever Dick moved – the kiddies' 'idol' – so popular a comrade amongst his contemporaries, and so welcome a favourite among older people. What a name to charm with" 'Dick Laws will be there! – everyone looked forward and was not disappointed. The most kindly and generous of dispositions, a mind ready for the widest serious discussion – and yet with a marvellous grasp of details, and then a merry twinkle and flow of humour that made him welcome either as an only companion, or at a social gathering – he had, shortly, the most complete gift of 'savour faire.'
How cruel it seems that such a life should be cut off: it has often been remarked on that the very best fellows seem always to be taken, and now among these 'Our Dick' – all Bridgford at least could call him that – has been called to take his part.
THEY SAY!
That the open-air concert promoted by the Lady Bay C.A. proved a big success.
That the function took place in the picturesque grounds attached to the residence of Mr and Mrs Senior.
27 July 1915 NEP
DEATH OF ALDERMAN F BALL, DEPUTY MAYOR OF NOTTINGHAM
We regret to record the death, which took place late last night, of Ald. Fredk. Ball, Deputy Mayor of Nottingham.
His reputation as an architect and surveyor is well known, evidences of his ability in this direction being found in a number of elementary schools in Nottingham and the surrounding district built from his designs, including West Bridgford and Shirebrook.
28 July 1915 NEP
A LIGHTING ANOMALY
Sir, – May I call attention to a curious anomaly existing in regard to lighting? In the suburb of West Bridgford no street lamps are lit, and tradespeople are compelled to lower the blinds in shops, whereas on the river near by the proprietors of some pleasure grounds are permitted to display a long row of electric lights. Coupled with the reflection on the water the effect is most brilliant, and it would be an excellent guide to enemy aircraft approaching the city. Surely, if any open lights are permitted at all they should be in the residential or business part in preference to a mere pleasure resort. – I am, sir, &c – Zeppelin
30 July 1915 NEP
BRIDGFORD SERGEANT KILLED – STRUCK BY A SHELL AT THE FRONT
News has just been received of the death at the front of Quartermaster-Sergeant H L Jackson, son of the late Mr Jackson and Mrs Jackson, of Flintham.
Prior to the outbreak of war Sergeant Jackson, who lived with a brother-in-law at Stratford-road, West Bridgford, was a traveller for the firm of Newball and Mason, Nottingham, but he joined the 9th Northumberland Fusiliers as a private, and obtained his promotion before he actually went out to the trenches.
He had been in France about a fortnight when a shell struck him and killed him. He was a keen cricketer and tennis player.
SCOUTS
Eight Scouts and Scoutmaster A H Hall, of the West Bridgford Troop of Boy Scouts, are helping on the farm of Mr C J Phillips, Old Dalby Hall, Leicestershire, during their holidays.
1915 AUGUST
7 August 1915 WBA
WEST BRIDGFORD FIRE BRIGADE
The annual competitions were held on Musters-road ground, before a good attendance. Hose cart drill. Escape drill.
THEY SAY!
That a number of Tommies returned from the front this week,
That they will thoroughly enjoy their well-earned respite.
14 August 1915 WBA
THEY SAY
That a further batch of wounded soldiers arrived at the Pavilion this week.
That a violent thunderstorm visited the city on Wednesday afternoon.
That despite the heavy rains no floods are reported in this district.
All the world and his wife, and his bairns – or those of them, at least, who are over 15 and under 65 – have been officially visited this week by the Registration enumerators, and tomorrow the all-important documents will be duly signed.
19 August 1915 NEP
DEATH OF DR R H CORDEAUX, A WELL-KNOWN LOCAL PRACTITIONER
The death occurred yesterday with tragic suddenness, at his residence, Bunny Hall, of Mr R H Cordeax, M.B., B.C., who, until he retired two years ago, was a well-known medical practitioner in West Bridgford. Dr Cordeaux had been suffering from heart trouble for some time.
After the customary hospital experience, he settled down in practice at West Bridgford 20 years ago, residing for many years at the corner of Loughborough-road and Bridgford-road. Though never seeking public office or position, Dr Cordeaux won a great measure of public esteem by his kindness of heart, and his devotion to his profession. For some time he was associated with the Robin Hoods, and it was typical of his interest in their work and of his intense patriotism, that although his health was impaired, he joined the Standard Hill Company of the local Citizen Army when it was established, and, up to the limit of his physical capacity, met all its obligations.
The deceased gentleman was interested in various forms of sport, but particularly falconry. Only a few days ago his son-in-law, Commander Eric Gascoigne Robinson, R.N., was gazetted as a recipient of the Victoria Cross. The deceased gentleman's only son, Edward, is now serving with the Robin Hoods, and he leaves in addition a widow and four daughters to mourn his loss.
28 August 1915 WBA
BRIDGFORD COUNCIL
SMOKE NUISANCE. A complaint was made that black smoke was frequently emitted from the chimney belonging to Lady Bay Laundry for an unreasonable length of time causing a nuisance.
SUGGESTED CONVENIENCES. The Surveyor was directed to look into the question of sites for public conveniences in the district and report to the next meeting.
CLERK'S BILL OF COSTS. A lengthened – and at times acrimonious – discussion took place at Friday's meeting of the West Bridgford Urban District Council, on the motion of Mr J Gray that the Clerk's salary be reduced by £12 10s 0d per annum for the next two years. The motion arose out of the settlement of the Clerk's bill of costs in connection with the motor 'buses. Mr Dunford seconded. He thought the bill was extortionate. On being put to the vote, only the proposer and seconder voted for the proposition which was therefore lost.
THEY SAY
That a 16 week balance sheet for the Bridgford buses has been prepared.
That this show very material improvement in the takings.
That if this continues the special bus rate of fourpence will soon disappear.
That the revenue will pay all ongoings and buy a new bus yearly into the bargain.
That thereat the ratepayers will more than rejoice.
1915 SEPTEMBER
7 September 2015 NEP
FAMOUS CYCLIST'S SON KILLED
Mr George Hunt, of West Bridgford, the ex-holder of the 24 hours' cycle record, has at last received an official intimation that his son, Lance-Corporal A E Hunt, No. 11718, of the Notts. and Derbyshire Regiment, was killed in action on March 11th last. Lance-Corporal Hunt was missing after one of the many fierce fights in the spring, and although it was all along feared that he had been killed the official intimation has only just come to hand.
18 September 1915 WBA
WEST BRIDGFORD COUNCIL BUS COMMITEE
Sixth Bus Chassis. The Superintendent reported a letter from Messrs Alldays & Onions, stating that the new chassis is being erected but will not be ready for testing before the middle of next week.
Staff Outing. The staff had a bus outing on Sunday, the 29th ult visiting Grantham and Newark. Dinner and tea were provided by the chairman of the Council. Mr Gray vigorously protested saying if not illegal it was certainly irregular. As a Council a better example should have been set. How many of them would dream of taking their staff out on Sunday?
WEST BRIDGFORD MODERN SCHOOL
During the absence of Mr Morris, who now holds a commission in the army, the work of the Boys' School will be carried on by the Rev E B Vincent, MA Oxon (First Class Honours in Mathematics) late Headmaster of Kings College, Launton.
25 September 1915 WBA
BRIDGFORD COUNCIL AND SUNDAY TRIPS
Sir, – I was astonished to see from the Advertiser of Saturday that our Council employees had had a free picnic on Sunday, and strongly protest against any repetition. I am not against the employers' outing, but, surely, it is not necessary to go on Sunday. We see quite enough of those who make no pretence of church-going – when let loose in peaceful villages – without the Council joining in. I was glad to see your protest, as also that of Councillor J Gray, and would remind the thoughtless that we are at war for the sanctities of Life. Yours etc, Sabbatarian
1915 OCTOBER
2 October 1915 WBA
THEY SAY
That another batch of convalescent Tommies is expected at the Bridgford V.A.D. Hospital next week. That the Pavilion makes an ideal Hospital. That it is admirably managed. That the men are splendidly looked after. That they are loud in their praise of the medical and nursing staff.
That corner pavements in Bridgford have all been whitened.
9 October 1915 NEP
SERGEANT J HURT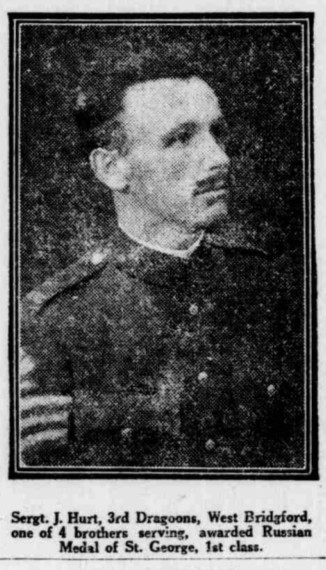 11 October 1915 NEP
RIFLEMAN W A HILL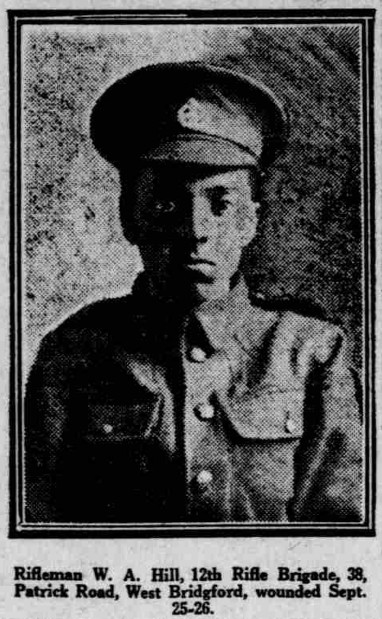 16 October 1915 WBA
WEST BRIDGFORD COUNCIL HIGHWAY COMMITTEE
A petition signed by a number of owners in Edward-road was read asking the Council to adopt the road as a public highway. The Surveyor pointed out that portions of the footpaths had not been made, and suggesting that the cost of same should be deposited with the Council in the usual way, and that he was awaiting their reply.
A letter was read from Mr E N Elborne, Solicitor, claiming £15 compensation on behalf of a lady who met with an accident on Edward-road. It was alleged she fell heavily as a result of the bad footway. The Clerk disputed liability.
The Surveyor reported he had seen the police who stated definitely no more lamps must be lit, and that if this request is not complied with the Council would run the risk of having a drastic order made on the district. The Committee recommended the present arrangements be not interfered with.
THEY SAY
That the wounded soldiers are to have free joy rides in the motor buses at Bridgford. That Tommie must pay up if he wishes to ride before 2.30 or after 4.30. That, also, he mist not have tired feelings on Saturday! That it would never do for Mi'Lady to walk whilst selfish Tommie lazily rode to and from his military Hospital. That if he had too much for nothing he might sometimes forget he was only a soldier!
That there were Pickwickian doings at the West Bridgford Council on Friday. That firstly a resolution was passed to insure the buses and garage against Zepps! That secondly two insurance schemes were considered – and rejected! That thirdly it was gravely decided ot do – NOTHING!
19 October 1915 NEP
PRIVATE E T BARNES
23 October WBA
THEY SAY
That a war bonus has been granted married busmen at West Bridgford. That drivers get 3s and conductors 2s per week. That trouble was expected if the request had been refused.
That we are wondering where that sixth bus has been side-tracked? That it was promised weeks and weeks ago!
25 October 1915 NEP
AN EXCITING EXPERIENCE
A visit to within a short distance of the German lines is described in a letter sent by a nephew of Mr T Johnson, Edward-road, West Bridgford, from Flanders.
"When we first went up," he writes, "we were put in a redoubt, the kind of which one hears so much nowadays. Then after a day or two here we were moved up to the first line, in which we spent five or six days. With the exception of the rain we had quite a good time as things are very quiet. One night I had rather a novel experience, going out with my officer on a listening patrol. The only time I felt at all excited was when I clambered over our own parapet as that was my first experience in that line. However, once over and I was all right.
" We made our way as best we could through our own entanglements and then started cautiously towards the Germans. Our progress was necessarily very slow, as when a starlight went up we had to make ourselves as inconspicuous as possible. When we were within about a hundred yards of the German lines we had to creep slowly along, resting and listening at intervals. At last we reached the enemy's wire entanglements, these being our limit.
"We lay there for about half an hour right under the noses of the Germans – we were only we or 30 yards from their firing line – listening for all we were worth, and making various observations. We heard nothing beyond their sentries walking up and down the fire platforms, and an occasional whistle or cough. At last our officer decided to return, and with the same caution we retraced our steps, eventually reaching our own lines. The trip was most interesting, and gives one the confidence which is such a valuable asset while on this business. On another occasion I went sniping with a pal, and although our bag was nil we managed to annoy one of the German snipers hidden behind his loophole, and gave ourselves endless amusement."
28 October 1915 NEP
142 WOUNDED REACH NOTTINGHAM THIS MORNING
Shortly after midnight a London and North-Western hospital train arrived at the Nottingham Victoria Station from Dover, bearing 142 wounded soldiers, who are to be treated in three of the local hospitals.
Practically the whole of the men had come direct from the front, and they had left Dover as soon as their voyage across the channel had been safely complete. The total number included 108 medical cases and 34 surgical cases, and no fewer than 56 of them had to be borne to and from the train on stretchers, so seriously wounded were they.
They bore their injuries, however with characteristic pluck, and not a few among them were smoking cigarettes as the ambulance men carried them from the train to the waiting motors. On the other hand, quite a few of them were able to walk.
It was impossible to ascertain any detailed particulars with which the men were associated, but an official who travelled with the train said that there were hardly two from the same battalion.
Quite a small army of the local ambulance men from the Player's, West Bridgford, Commercial, and Forman's detachments were present to render aid in conveying the patients to the vehicles, and there was a liberal supply of motor cars and lorries to take the men to their destinations – the Victoria Embankment, Musters-road, and Carrington Schools. Captain J A H Green superintended the detraining arrangements, and late as was the hour, a party of ladies associated with the Red Cross movement attended to serve the men with tea and light refreshments. It was raining heavily, but the men were well cared for and sheltered.
30 October 1915 WBA
SHOCKING MOTOR FATALITY
A well-known young Bridgford resident lost his life as the outcome of a shocking motor accident on Radcliffe-road, on Saturday afternoon.
Mr Arthur J Mitchell of 12, Loughborough-road, West Bridgford, went for a motor ride, accompanied by Mr Laurence Ingman Hatton, aged 24, younger son of Mr F Hatton, coal merchant, of 141, Musters-road, West Bridgford, and of Low Pavement, Nottingham. They left Nottingham at half past four, intending to proceed to Grantham, but when near the house known as the Fox and Crown, near Radcliffe, the car skidded, probably owing to the greasy state of the road due to the recent rainfall.
Mr Hatton was seriously injured. With all possible speed he was conveyed to the Nottingham General Hospital, but on arrival it was found that he was dead. The deceased had only been connected with the Officers' Training Corps for some three weeks, but he was regarded as showing quite exceptional promise, and it is indicative of his grit and love of country that he gave up a lucrative berth in America in order to come home and join the forces.
Mr Mitchell, who escaped with some injuries of a not very serious character, was a passenger on board the Lusitania when she was torpedoes and sunk by the Germans in May. That was the third occasion upon which he had been shipwrecked.
1915 NOVEMBER
6 November 1915 WBA
WEST BRIDGFORD COUNCIL – NATIONAL REGISTRATION ACT
It was reported that the enumeration was efficiently carried out by 60 volunteers from the local Citizen Army.
WEST BRIDGFORD COUNCIL – BUS
A letter from Mr W H Boyes was read complaining of an annoyance caused by the buses standing at the corner of Devonshire-road, and the Committee instructed the Superintendent to remedy this by arranging for the bus to stand in a different position.
The Chairman mentioned the sixth bus would shortly be on the road, and stated he proposed to consult with the Superintendent on the question of reorganizing the system by running the service earlier and later.
13 November 1915 WBA
THEY SAY
That the expenditure of the Lady Bay Belgian relief committee exceeds the income by £1 per week. That a detailed report will be published next week.
VOLUNTEER TRAINING CORPS
Members of Lady Bay V.T.C. under Commandant H J Raven are taking time by the forelock in providing comforts for the Robin Hoods and Sherwoods. From a couple of whist drives a sum of £23 has been expended upon materials, and these the ladies are now deftly making-up. Much useful work is being accomplished through the efforts of a recently formed choir, the members of which are giving highly appreciated concerts to wounded in the hospitals.
16 November 1915 NEP
LATE RASPBERRIES IN NOTTS
Instances have this week been recorded of fine raspberries gathered in various parts of the country, particularly in the Isle of Wight. There is similar experience in Nottinghamshire, Mr T H Savage, 22 Fleeman-grove, West Bridgford, having to-day picked a remarkable good selection. The samples we have seen are large and of excellent flavour, and they have been grown in the open in his garden in the ordinary way.
20 November 1915 WBA
NEW BUS SERVICES
The Superintendent (Mr H T Chapman), presented the following reports at a meeting of the West Bridgford Council on Friday:
To meet a constant demand, I advocate running a Loughborough-road service, commencing December 1st or thereabouts. I propose that you should run this service two hours in the morning, two hours at dinner time, and from five until ten in the evening.
Trent Boulevard and Ella Road Route. The Council might very well take into consideration a scheme to amalgamate these two routes. Ella-road passengers ask for early morning service, and many residents of Trent-boulevard ask for a daily fifteen minutes' service. Bridgford-road residents complain of no service at all. I have in mind a plan to meet all these objections and at the same time to give a bus connection from Musters-road to Trent-boulevard.
THEY SAY
That death has bereaved two very well known families. That Coun. Raven & Mrs H Strawson have to mourn the loss of their respected father. That Mrs L O Trivett has also passed away. That we offer our condolences to the relatives.
BELGIAN REFUGEE COMMITTEE
Lady Bay District, West Bridgford. The treasurer's account of receipts and expenditure for the twelve months was laid before the meeting and passed as satisfactory. The following information will doubtless be of interest to the subscribers to the Fund:-
The father and son of one of the three families under the care of the Committee have been in work for some months; consequently the weekly expenditure has been considerable reduced.
Seven refugees live at Lady Bay-road, and three others at 44, Seymour-road, and they very much appreciate what is being done for them.
25 November 1915 NEP
SOLDIERS' MARRIAGES
Sir, There certainly are people who begrudge the war-bride her separation allowance, part of which her husband forfeits out of his own pay. I am a war-bride. We had been engaged for four years, and my husband had served his country nine months before our marriage took place. I have heard it said that soldiers' wives are impoverishing the country by receiving the separation allowance. If economy is necessary, surely we should be the last to suffer thereby, since we are giving full value for money – that is our all -. I am, sir, &c. Proud to be a Sergeant's Wife, West Bridgford
27 November1915 WBA
DEATH OF MR ARTHUR JACKSON
The Unionist party, both at West Bridgford and throughout the Rushcliffe division, have lost one of their best supporters in the death of Mr Arthur Jackson. He was the president of the West Bridgford and District Unionist Association; a member of the Executive Committee of the Divisional Association; a prominent member of the Constitutional Club, and a hard worker for his party. He was also a breeder of prize bull-dogs, and it will be remembered that some little time ago he presented his famous dog, "Lace King," as a mascot to the King's Royal Rifles. He was a generous contributor to all charitable and patriotic movements in the district, and will be greatly missed.
THEY SAY
That lady conductors have been introduced upon the motor buses at West Bridgford. That the shortage of male labour was responsible for the innovation. That this condition of affairs is delaying the re-opening of the Loughborough road route.
29 November 1915 NEP
SHERWOOD OFFICER WOUNDED
Second-lieut. Arthur G Dent, whose name appears in the casualty list published this (Monday) morning as having been wounded, is the son of Mr T W Dent, of West Bridgford, and received his training in the Nottingham University Officers' Training Corps under Captain Trotman. He received his commission in the 10th Battalion Sherwood Foresters just over 12 months ago.
1915 DECEMBER
2 December 1915 NEP
Sir, Will you kindly allow me a small space in your valuable columns to raise a complaint with reference to the lighting of West Bridgford. Truly this spectral darkness is awful. Take for instance the top of Musters-road. Here the road takes a sharp turn. Straight facing is a high stone wall, the boundary of the cricket ground, yet the lamp indicating this has not been lit for weeks. The few lamps that are lighted have been so unceremoniously daubed with green that they are rendered practically useless. Then again, all round and about the new Albert-road district not a single lamp has been lighted for some considerable time. If the authorities, whoever they may be, want an example of how it should be done, let them take pattern by Arkwright-street, or in particular the car terminus at Trent Bridge. – Trusting this letter may be the means of securing the desired effect before some serious accident occurs, I am, sir, &c H P Smith, Priory-road, West Bridgford
4 December 1915 WBA
THEY SAY
That three more Bridgford school teachers have joined the Forces. That Messrs Burton & Turner join at once. That Mr Gray is placed under Lord Derby's scheme.
That there is no improvement in the lighting. That it is suggested main road houses should have lights in the front rooms. That this would tend to make locomotion safer on the footways.
8 December 1915 NEP
THE TRENT IN FLOOD
At Wilford the water was over some of the adjacent fields on the county side, and on the city side it had crept up the embankment steps and on to the grass, while water was lying on the YMCA ground at West Bridgford.
11 December 1915 WBA
BRIDGFORD BAPTISTS AND THE WAR
Between twenty and thirty members of the West Bridgford Baptist Church have now joined the colours, and are now on active service in France, Serbia, and the Dardanelles, Egypt, etc. Over £5 were collected for Christmas parcels for the lads, and these have been duly dispatched. That they were heartily appreciated goes without saying.
11 December 1915 NEP
CIGARETTE SPORTS
To-day dawned beautifully fine and crisp, and the auguries for the success of the postponed sports in aid of the "Football Post" Cigarette Fund were excellent. With characteristic generosity Sir Jesse Boot again placed the Lady Bay Grounds, West Bridgford, at the disposal of the promoters. Handsome prizes were awarded for each of the five chief events. The first for the veterans' race was a smoker's cabinet, and the three first men home in the soldiers' handicap received handsome wristlet watches. Close upon 250 entries were received for the five general events. J W Raby was one of the first to come forward. He made a name for himself as long as 33 years since by walking seven miles and 15 miles in quicker time than any man either before or since. The afternoon turned out fine, and there was an attendance of about 1,500 spectators.
18 December 1915 WBA
CHRISTMAS IN NOTTINGHAM
Residents in West Bridgford are being exceptionally well catered for this festive season by the local shopkeepers, all of whom vie with each other in their efforts to give of their best.
Mr Harrington, Loughborough-road Stores, has made special arrangements for Christmas, and has a big display of seasonable delicacies, and a stock of provisions second to none either in price or quality.
LOOKER ON
Recruiting proceeded steadily under Lord Derby's scheme in West Bridgford, where there were no fewer than 1,600 unstarred men to be canvassed.
I found that some quite remarkable instances of patriotism had been met with, cases that were certainly an honour to the parish. One of the canvassers told me for his first night's task he was given the names of eight eligibles, some married and some single men, and that of these seven volunteered for attestation, whilst the eighth was a cripple! Bravo, splendid, isn't it?
But there is another side to the picture, I'm sorry to say – cases where the flame of patriotism has burnt so low as to have become almost extinguished. In other words. there are families with two or three fine strapping lads – fine physically, that is – who are waiting to be fetched" God help them. But, if I had my way, they should be fetched, and that right quickly. Do these knuts realize what the sons of their neighbours have done on their behalf? Do they never read their newspapers?
THEY SAY
That £939 are being claimed from the War Office, compensation for the commandeered buses.
23 December 1915 NEP
FARM LABOURER'S CLAIM
The application of a West Bridgford farm labourer, named George Morris, to recover compensation from his employer, in respect of an accident sustained in the course of his work, today occupied the attention of Dr Tinsley Lindley, the Deputy Judge, at the Nottingham County Court, Dr Morley Willis sitting with him as medical assessor.
On April 21st applicant, who lives at 135, Exchange-road, West Bridgford, was engaged in rolling the land on the Manor Farm, Eltham-road, West Bridgford, occupied by Mrs Sarah Ann Eaton, the respondent. While he was hitching the horse to the roller the animal bolted, and Morris was thrown down, the roller passing over his body. He was totally incapacitated for eighteen weeks. He had, however, worked for respondents for three weeks since the accident, and asserted that he was dismissed at the end of that time, being now incapable of doing sustained work.
Mr Berryman contended that the man was never sound, and that he did the same kind of work after the accident as before. It was not true that he was dismissed; he was merely told that if he did not keep better time his wages would be reduced, whereupon he left.
Dr Snell said the man's joints were mobile. He came to the conclusion that he was grossly exaggerating the effect of the accident.
The medical assessor having examined the applicant, his Honour dismissed the application.
LANCE-CORPORAL H. C. PARK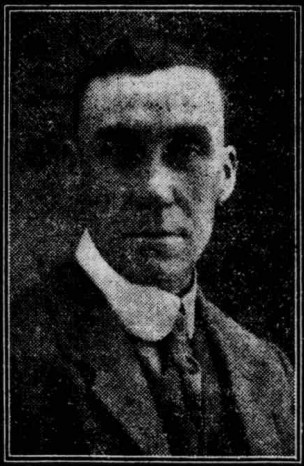 Lance-corpl. H. C. Park, 1st Stationary Hospital A.A.M.C., wounded by a shell and left leg amputated in Gallipoli, youngest son of T. Park, 6 Crosby Rd, West Bridgford, served with South Notts Hussars and Younghusband's Horse in Boer War, aged 28.
27 December 1915 NEP
ARMLETS FOR THE MEDICALLY UNFIT
It has been decided to issue khaki armlets of the same pattern as those issued to men accepted for Army Reserve B under the group system:
(1) To men who have presented themselves since the commencement of the war for service, either by way of direct enlistment or under the group system, but who have been rejected on medical grounds; and
(2) Until further notice to men who present themselves for direct enlistment, but are rejected on the ground that they are medically unfit for immediate service with the colours.
PATIENTS AT BAGTHORPE
Last night 133 wounded soldiers, who arrived from Dover, were received at the Bagthorpe Military Hospital, and 73 of them were what is known as cot cases.
The work of getting the patients into the institution from the train was expeditiously carried out by the 9th (West Bridgford) and Forman's Voluntary Aid Detachments, and it was ascertained that there are no serious cases.
So far, only one local soldier, of the 1st Battalion Sherwood Foresters has been reported.
1916 JANUARY
1 January 1916 WBA
WOUNDED SOLDIERS' CONCERT
Under the auspices of the West Bridgford and District Unionist Association, two very entertaining concerts were given to the wounded soldiers located in the hospitals in West Bridgford. On Tuesday, December 21st, a musical display (arranged by Mr E J Laws, chairman), was rendered in the V.A.D. Hospital and highly appreciated. The artistes included Mrs Hickinbottom (soprano), Mrs Stewart (elocutionist), Mr H G King (baritone), Mr Cecil Zambra (humorist), Mr R Dexter (tenor), and Mr E J Laws (bass), Miss Laws and Mr Clarke presided at the piano. During the performance fruit, etc was served; cigarettes and a card combining a programme and Christmas greeting was presented to every soldier present. The orderlies and nurses giving their willing assistance.
On Wednesday the 22nd, a similar performance was given in the Military Hospital, Musters-road. In addition to the above, Miss Mabel Fisher also appeared, and Mrs Banwell and Mr C Pinder presided at the piano.
The arrangements were carried out by the chairman, Mr E J Laws, the vice-chairman, Mr G T Lovett, and the treasurer, Mr F W Wood.
1 January 1916 NEP
WEST BRIDGFORD SOLDIER'S DISTINCTION
Lance-Corporal Edgar Harry Johnson, of the 10th Sherwoods, who is mentioned in Sir John French's despatch, is the son of Mr and Mrs Harry Johnson, of 4, Musters-road, West Bridgford.
He enlisted soon after the outbreak of war in the Nottingham City Battalion, being afterwards attached to the 10th Sherwoods, with which regiment he had his training, and went to France, about six months ago. He was commended for gallantry displayed in the fine British attack of September 25th last, upon which occasion he and a few comrades, although for many hours exposed to German shells – which reduced their numbers by half – successfully carried out an important piece of work in connection with a bombing party.
KHAKI ARMLET
Sir, – With reference to the King's message to those entitled to wear the khaki armlet, I have applied at Stanford-street for mine and was told that men attested in West Bridgford would have theirs sent on to them. It is over three weeks since I was attested, and surely it is time this had been done. Those who have the distribution of armlets in hand should see that attested men are able to comply with the King's wishes. A man cannot wear what he has not got. – I am, sir, &c, T. A. K. West Bridgford.
4 January 1916 NEP
LANCE-CORPORAL A. BEACH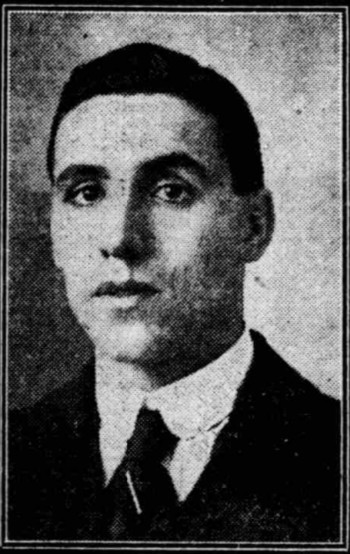 Lance-corpl A Beach, 9th Worcesters, 14, Portland Road, West Bridgford, wounded at Ypres Oct. 10th 1915, died of wounds at Suvla Bay Oct 10th 1915.
5 January 1916 NEP
ORDER AS TO LIGHTS
All External Lamps, Flares and Fixed Lights of all descriptions, and all Aggregations of Lights, whether public or private, must be extinguished, except such Public Lamps s in the opinion of the Chief Officer of Police are necessary for safety and any other lights approved by him.
All Lights which are not extinguished must be reduced to the minimum intensity consistent with safety and shaded or obscured so as to render them invisible from above and to cut off Direct Light in all directions above the horizontal.
This order shall take effect on and after 10th January, 1916 and shall apply to … West Bridgford.
13 January 1916 NEP
SERGEANT J. H. SCOFFIELD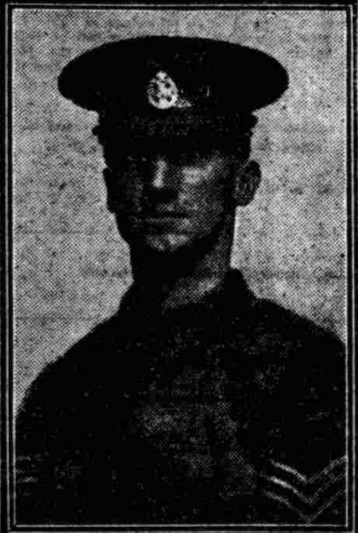 Sergt. J.H. Scoffield, 1st Rifle Brigade, 9, Byron Road, West Bridgford, killed in action December 3rd.
15 January 1916 NEP
A DARING DASH
Lieut. Tom Forester, the well-known Derbyshire cricketer, who resides in West Bridgford, and has a very wide circle of friends in Nottingham and the district, has written a cheery letter from the trenches to Mr Wm. Gunn. Judging by its tone he is in excellent health and spirits, with only one real regret – inability to get a bath. "They don't seem," he says, "to recognise the word that the French dictionary says stands for bath, at least when I say it, and I am afraid I shall never teach them their own language!"
"We have been having a comparative rest for a week," he adds, "and I have been in charge of the company right away on our lonesome! We have taken things fairly easily to get the feet of the men right again and to give them a rest, but I am afraid we shall have some of them down again before we finish the week, as it is going to be pretty strenuous. But they are jolly good plucked 'uns, and will give no trouble if they can help it.
"I see the captain whose dug-out I share – and a dirty hole it was – is mentioned in despatches. I rather expected it, for he has been out here since the start. Our other half-company were with somebody else, and one night they spotted a bombing party of Germans creeping up, so they went for them. One Bosche started off, and one of our side, though not one of our company, set off after him. It was a mad thing to do, but they tell me it is an absolute fact that he did chase him clean across two lines of German trenches before he got him. He also got back safely. It sounds like a yarn, but I am assured that it is solemn truth."
15 January 1916 WBA
ROLL OF HONOUR
Bugler Wilfred H Wade, 3818 B Coy 13 Battn, K.R.R.C. (only son of Mr and Mrs F Wade, 4 Trevelyan-road, West Bridgford, died Sunday January 9th, as result of serious wounds caused by bursting shell whilst acting as reserve at back of trenches, on Jan 7th. Deeply lamented and loved by all who knew him. 'God's will be done.'
17 January 1916 NEP
CIGARETTE FUND
I should like to say how very grateful I feel that through your "Football Post" Fund we can so easily send a few cigarettes to our brave fighting men, and they do so appreciate it. Each time my nephew receives his parcel he is so delighted. His home is in Denman-street, and he was born and brought up in Nottingham. Lance-Corporal F Millhouse, writing to me last week, says:
"My word, I had a pleasant surprise on coming out of the trenches, where we had been for four days and nights, up to the waist in water, and nowhere to sleep. The dug-out was the same as the trenches, and none of us had got a smoke; and then we got the packet of fags from good old Nottingham. You and the promoters of the scheme would be well repaid if you knew how we enjoyed our smokes."
Thanking you very much for all the pleasure you give to these dear lads.
F L Brogdale, 22,Carlyle-road, West Bridgford
20 January 1916 NEP
RECRUITING STATIONS NOW OPENED
Saturdays each week, Public Offices, West Bridgford. 10 am to 6 pm.
22 January 1916 WBA
ROLL OF HONOUR
The parents of the late Bugler W H Wade, 4 Trevelyan-road, who died as the result of shell wounds "Somewhere in France," have received the following letter from the front:
Dear Mrs Wade,
I am writing to you to express my deepest sympathy with you in the anguish you must feel over the loss of your dear son.
As you probably know by now, he was wounded by a German shell on January 7th (about 1.30 in the afternoon), during a bombardment of the village in which we were billeted. Two of his comrades went out of their dug-out at a considerable risk to themselves from bursting shells, and brought him down into the dug-out. The poor lad was very badly mauled, both by bits of shell and also be numerous pieces of brick from a wall which the shell had struck in its flight. He was quite conscious and recognised those around him. He bore the pain wonderfully well.
As his platoon officer, I have known him now for over a year. He was one of the best, and I loved him very much. He will be missed greatly by his comrades and myself. I am enclosing his cap badge which you would, I am sure, like to keep in memory of your noble son who died in the most glorious manner given to men.
I am, Yours very sincerely, L D Cameron, Lieut – 13th K.R.R.C.
BRIDGFORD PRIMITIVES
In connection with the New Year's Effort, the Rev J Holland, on Sunday, preached helpful and inspiring sermons to large and appreciative congregations. In the afternoon a pleasing musical programme was contributed to by the choir, Miss Gray, and Mr Moseley; and on Monday a very enjoyable 'At Home' was presided over by Mr and Mrs Leech. A most enjoyable programme of music was arranged, refreshments being served during the interval.
THE HEALTH OF BRIDGFORD
Dr Hunter, in his quarterly report, said that 48 births had been notified during the quarter, compared with 32 in the corresponding quarter of last year, There had been 35 deaths compared with 32 last year. Nine cases of scarlet fever had been notified, one of diphtheria, and two of erysipelas. The notification of measles came into force on January 1st, and since then 20 cases had been notified. He pointed out that as the result of the first case in each case only having to be reported, and as in some houses there were several cases, the number of children affected must be considerable. Measles was prevalent in the surrounding districts, but in a mild form.
FOOTWAY OBSTRUCTION
Mr Day called attention to an obstruction which had been placed across a footway leading from Gordon-road to Exchange-road, and the Surveyor said the matter was being dealt with.
29 January 1916 WBA
THEY SAY
That soldiers are billeted in the Sunday Schools at West Bridgford
That private houses have been rented for the officers
1916 FEBRUARY
1 February 1916 NEP
ADVERTISEMENT
General Maid good wanted for West Bridgford, Nottingham, must be quick, clean, and tidy, and have good refs., soldier's wife or widow not objected to, comfortable home, only three in family, good wages to suitable girl.
5 February 1916 WBA
THEY SAY
That the Zepp-murderers missed Nottingham on Monday night
That the darkened streets, no doubt proved our salvation
That the authorities are to be congratulated on their prompt action
That the warning of the raid came about 7
That the electric current was immediately cut off and buzzers sounded so that citizens could turn out all gas jets
That at West Bridgford householders were warned by friendly special constables
That one or two people were callously careless when spoken to
That one man said he wanted to read!
That another said he had his living to think about!
That three selfish beings were jeopardising the whole community
That a few more of their kidney and we should all have been blown sky-high
That the police have the names of the offending parties.
12 February 1916 WBA
MR LEIF JONES, M.P. CRITICISED
The action of Mr Leif Jones, the member for Rushcliffe, in voting against the Compulsion Bill came in for severe criticism at the annual meeting of the West Bridgford and District Unionist Association.
The matter was referred to by the chairman, Mr E J Laws, who was subsequently elected president of the association. He said Mr Jones was to be found in that miserable minority shielding the slacker and the waster. He (the chairman) was speaking quite irrespective of party when he referred to the call of King and country. The electors had sent their husbands, brothers and sons to fight for a righteous cause, and the man who was supposed to represent them in the House of Commons after being advised by a coalition Government that it was necessary to call up every man, voted to shield the slackers, (Shame.) He hoped that not only West Bridgford, but the whole of the division would remember this.
19 February 1916 WBA
PROFITABLE MOTOR BUSES
The 'bus superintendent's report showed that five vehicles now cover 2,000 miles per week, and the income had increased in proportion with the extra mileage. The bodies of the 'buses had been in use for two years, during which time they had carried over 2,000,000 passengers. Five chassis had been in use for nearly a year, having covered 100,000 miles between them. He recommended the purchase of another 'bus at a cost of £840 complete, and estimated that the earnings of the service for the current financial year would be £1,000 over and above all expenses and maintenance charges.
FOOTWAY OBSTRUCTION
Passage – Gordon Road to Exchange Road. The Surveyor reported that the owner had agreed that if the Council will take over the above passage, he would undertake to pay his share of the cost of making it up under the Private Street Works Act, provided the other owners gave a like undertaking. The Surveyor was authorised to interview the other owners and if they agree to proceed in the usual way, and in the meantime to remove the fence.
CONCERTS
In aid of Dr Barnardo's Homes, concerts are to be given in Trent Boulevard Council Schools on Saturday next by The Musical Boys, selections being given on handbells, mandolines, bagpipes, &c. A most enjoyable entertainment is assured, and we hope to see crowded audiences for such a worth object.
1916 MARCH
4 March 1916 WBA
LOOKER ON
At the last meeting of Bridgford pertinent questions were asked about the recent Zeppelin raid. May I suggest that the gorgeous scarlet "adornments" should be given their quietus. Everybody knows that a red light can be seen at a much greater distance than any other, and how it came to pass that this should be the "safety" colour adopted for the street lamp glasses is more than I can imagine.
Last week's heavy snowfall came as an unpleasant reminder that we are not out of the wood, as far as the grip of King Winter is concerned. The Urban Council tackled the clearance in smart and business-like fashion – and the main roadways soon assumed their wonted appearance. Not so, however, the footpaths, which for the most part were a positive disgrace even to a third-rate village.
THEY SAY
That the floods are again with us.
That this is the aftermath of last week's snowstorm.
That the Trent rose an inch an hour during Thursday.
That there was a further fall of snow yesterday.
WEST BRIDGFORD BOY SCOUTS
The Scoutmaster (Mr A H Hall) reports:-
The strength of the troop is 63 – including all ranks- an increase of 18 members. Two boys have been on Orderly duty at the V.A.D. Hospital for more than a year – these being changed every week, and 20 boys have thus been able to gain their War Service Badge.
During the year Patrol Leader Lamb was presented with a gold medal for saving the life of a child, who had fallen in the canal.
16 March 1916 NEP
NOTTINGHAM OFFICER'S GALLANTRY
Captain and Adjutant Silas Danby, Ninth Battalion, Duke of Wellington's Regiment, who has been awarded the Military Cross, is the son of Mr and Mrs J W Danby, of Fox-road, West Bridgford. A native of Nottingham, the gallant officer was educated at King William's College, Isle of Man, and served his articles with Messrs Sands and Flinders, chartered accountants. Subsequently he became a partner in the firm of Messrs Hill and Danby, of Low-pavement. An all-round sportsman, he has excelled in all that he has undertaken. He is one of the best known quarter-mile runners in the Midlands, a three-quarter for the Notts. Rugby Football Club, and a member of the Trent Valley Sailing Club, whose championship he won two seasons in succession. Captain Danby enlisted as a private into the Royal Engineers on the outbreak of war, and worked his way up, by the usual stages, to the rank of sergeant. Then he was granted his commission, and transferred to the Ninth Battalion of the Duke of Wellington's Regiment. He obtained his second star in due course, and was promoted captain – by a happy coincidence – on his birthday last year, August 3rd. He gained the present distinction for bringing up reserves in the face of heavy fire, on December 19th – the occasion on which a junior local officer, Lieut. Inchley, was killed.
18 March 1916 WBA
FANCY DANCE AT BRIDGFORD
Miss Townsend's second juvenile fancy dress dance of the season was held in the Masonic Hall, West Bridgford, on Saturday. There was a large and appreciative audience, who much appreciated the fancy dances by the pupils, especially the minuet, which was danced by the tiny tots. After the fancy dancing, the ballroom dancing commenced, and for the time being one forgot all about the war seeing the children in their beautiful and varied costumes, tripping the light fantastic, and enjoying themselves so much.
BRIDGFORD'S BIRTH-RATE
West Bridgford claims the lowest gross death-rate (8.06 per 1,000), of the 15 urban districts of the county, while its birth-rate (12.8 per 1,000) is the lowest on record, and shows a fall of nearly 25 per cent compared with the previous year. Year after year, Dr Hunter adds, he has called attention to the alarming fall in the birth-rate, but, so far, the warnings appear to have fallen on deaf ears. This subject and the preservation of infant life are questions of vital importance to all nations engaged in this unparalleled war.
20 March 1916 NEP
COUNTY APPEAL TRIBUNAL
Typical cases of conscientious objection came up for consideration by the Nottinghamshire Appeal Tribunal, sitting at the Nottingham Shire Hall to-day. There were 32 applications from Eastwood, Hucknall, Carlton, and West Bridgford.
Albert Short, a West Bridgford bank clerk, employed in Nottingham, claimed exemption on the ground that he was the only son of a widow, and that both the Prime Minister and Lord Derby had stated that such men would be exempted from military service. This principle, he urged, was held sacred by all civilised nations.
In reply to the Chairman as to whether his mother would be financially worse off, he admitted, after much hesitation, that her position in that connection would not be affected, but emphasised that hew was appealing on domestic grounds. He added that it was a great hardship for a mother to bring up her only son and then have him taken away.
The Chairman: I am afraid that there are a great many only sones who have gone to the front and been killed.
The appeal was dismissed.
22 March 1916 NEP
"THE WIPERS TIMES"
The war has been responsible for the appearance of many amateur newspapers at the front, which will undoubtedly have a more than sentimental value in future years. The 12th Sherwood Foresters (Pioneers) by, shall we say a fortunate accident, are now finding a relaxation from more strenuous duties in producing a little journal which is gaining a rapidly increasing circle of readers. In a letter to his parents at West Bridgford, Q.M.S. Leslie W L Tyler relates how he became a publisher.
"The other week," he says, "we found in a knocked-down shop a printing machine, also some printer's ink, paper, type, &c. Then we started to clean the half-bricks and mortar out of it and get it into ship-shape order. This we did and started to publish a paper periodically when time and Huns permitted, which we called The Wipers Times, and Salient News. One or two of our officers joined us in the undertaking – the captain being editor, another officer sub-editor, and your humble was made publisher. Well we got going, and turned out the first issue of 100 copies. We all had one each and sent one to the colonel, second in command, adjutant, and all the officers. Two days after the first issue was published, the general commanding our division sent for one or two. He went to G.H.Q., and now we have to send one to G.H.Q. every publication, one each for the Staff, one for Divisional Staff, and several others, and we have to strike off about 250 copies each issue … I am sending a copy to you under another cover. No doubt it will be of some value in time to come, so hang on to it like grim death."
Q.M.S. Tyler, an old High School boy, who enlisted in the City Battalion at the outbreak of the war, says, "I wish they would make all the 'slackers' join up and so help to relieve some of the boys in the trenches and give them a longer rest when they come out from the 'doings' … Where will they be and what will the answer to the boys when they come home? I wouldn't like to be one of them, for the feeling is rather warm against them out here."
25 March 1916 WBA
PUBLIC LIGHTING
The Surveyor reported that during moonlit nights the whole of the lamps were not being lighted, and asked for instructions as to re-lighting during the dark nights. The Committee recommend that those lamps which were last lighted be re-lighted, and that the pink shades be painted over to suppress the light as much as possible. They also recommended that a wire be fixed to the tap on each lamp to facilitate extinguishing the light in case of urgent necessity. The lamp on Musters-road, facing Rectory-road, not to be lighted, by request.
BUS
The Chairman reported his interview with Mr Harrop with respect to reducing the light from the 'buses both inside and out. The Superintendent was instructed to make various experiments to submit to Mr Harrop and the Chairman.
Estimates for renovating five 'buses to a specification were presented, the price of Mr C Estill Norris, of Nottingham (£21 10s 0d each bus), being accepted.
The Committee accepted Messrs Starey's and Woolley's price of £225 for the body of the seventh 'bus. An order was authorised to be placed with Messrs Alldays & Onions, of Birmingham, for the chassis at the quoted price of £580.
1916 APRIL
1 April 1916 NEP
AN EXPERIENCE OF THE BLIZZARD
In putting together before the readers of the Guardian a vivid and detailed description of the recent blizzard and its widespread effects upon the railway of the Midland Company, Mr Mackenzie related the experiences that befell him and hundreds of passengers travelling on the railway last Tuesday.
I don't think the oldest railway official alive remembers anything to equal it, and it is of such rare occurrence that I am prompted to give you some slight idea of the devastation and serious dislocation of the traffic between Leicester and London. If you can imaging the trouble caused by hundreds, aye, thousands of telegraph poles lying in all directions – some snapped off and split in two – you will have a little idea of how helpless the signalman was under such conditions.
To proceed with my story, I left Northampton for Nottingham on Tuesday morning last at 11 o'clock, little thinking that I was entering upon the most sensational experience it has ever been my lot to meet with after 20 years of railway travelling. … In due course, reached Nottingham at 3.45 p.m. Wednesday, 29th ult. I had, therefore, been 28¾ hours on the journey.
1 April 1916 WBA
THEY SAY
That an earlier closing movement is afoot in West Bridgford.
That it is suggested the shops should close at 7p.m.
That this would give the tired assistants an hour's earlier respite.
That all but one or two are willing to toe the line.
That another Nonconformist Church has invaded West Bridgford.
That this time it is the Baptists of Arkwright-street.
That services are being held in the YMCA Pavilion, Loughboro'-road.
8 April 1916 NEP
NOTTINGHAM SCHOOLS FOOTBALL
The final of the Seely Shield was played last night on the Boots Athletic Ground, the opposing sides being Trent Bridge School (the holders) and Musters-road Higher School, West Bridgford. Trent Bridge won the toss, and elected to play with a strong wind behind them. Owing to the excellent goalkeeping of Marsden and the steady defence of the West Bridgford team Trent Bridge failed to score, notwithstanding the assistance of a strong wind. Half-time arrived with the score sheet blank.
Crossing over, the Musters-road team, with the wind at their backs pressed, and ten minutes after the resumption E Roe received the ball, and running down the left wing, finished up with an excellent shot that registered the only goal of the match. After this Trent Bridge played up spiritedly, but again found a defence which withstood all attempts.
14 April 1916 NEP
GRANTHAM N.C.O.'S STORY OF CAPTURED TRENCHES
One of the patients at the West Bridgford Military Hospital is Company Sergeant-Major F Hullott, Lincolnshire Regiment, whose parents live in Byron -road, West Bridgford, and who is himself resident at Grantham.
Sergeant-Major Hullott afforded the Post a glimpse of an engagement, which called both for dash and for fortitude. "It was at the International trench, on March 2nd," said he. "We began the attack without any preliminary bombardment. The order came about 4.30 in the morning to get ready to go over the top. As soon as the order was given, we took the first line of trenches, and captured a great lot of prisoners. We consolidated the place – built it up – got all the wounded away, and prepared for counter-attacks, of which there were three.
"The Germans came in groups of about 30 or 40, and our machine guns stopped them. After the third attack had failed, everything was quiet. Heavy shelling of the support line afterwards caused many casualties, but we kept the trenches we had taken. I had to go over and take command of some of the Gordons, because their officers had been knocked over."
15 April 1916 WBA
A PRESENT FOR CAPT. DANBY
Members of the West Bridgford Urban Council on Friday presented a gold watch to Capt. Silas Danby, Fox-road, in appreciation of his winning the D.C. Medal.
THEY SAY
That there is still a serious coal shortage locally.
That some folks have been waiting a month for delivery.
That the improvement in the weather is very welcome.
That gardeners are jubilant.
19 April 1916 NEP
WEST BRIDGFORD GROCER FINED
Albert H Goodliffe, grocer, of Trent-boulevard, West Bridgford, was summoned at the Nottingham Shire Hall to-day for two infringements of the Foods and Drugs Act. There was no appearance.
Chief Inspector Crabtree declared that the case was a very bad one. He went to the shop in consequence of complaints that defendant was selling margarine as butter. When asked on a previous occasion for margarine defendant said he did not sell it.
Assistant Inspector Leonard Crabtree said he paid ninepence for half a pound of coffee and the same price for half a pound of butter.
The county analyst reported that the coffee sold was a mixture, and the so-called butter margarine.
Inspector Crabtree added that when told for what purpose the purchases had been made, defendant said it was a mistake. He always sold a mixture unless asked for pure coffee.
The Chairman (Mr C H Hill) said that they were two serious cases. Taking the two together, defendant would be fined £5 and costs.
STOLEN PIGEONS RETURN HOME
When two Nottingham youths named Arthur Bayliss and Samuel Parkes, aged 17 and 15 respectively, were charged at the Shire Hall to-day with stealing two pigeons and two eggs from Walter Fisher, of West Bridgford, the pigeons were reported to have returned to their cote, the elder defendant having released them.
Supt. Limb said Bayliss was implicated in a series of pigeon robberies. The pigeons having returned, the owners would not prosecute.
Bayliss was placed on probation for a year, the case against Parkes being dismissed.
22 April 1916 WBA
THEY SAY
That the new rate for West Bridgford is to be 1s 7d in the £.
That this is a penny less than last year.
That the assessable value of the parish has reached £66,585.
That this is more than many market towns can boast!
That hatpinitis is with us again!
That the other day a thoughtless Bridgford lady all but blinded a fellow bus traveller.
That hat-pins were never meant to take the place of bayonets.
That some ladies appear to think otherwise.
BRIDGFORD PRESENTATION
Members of the West Bridgford Section of Citizen's Army have presented Col-Sgt Leach with a tea service, and Sgt Smart and Sgt Beard with epergnes, in recognition of their services in training. Thanks to their whole-hearted endeavours the corps has attained a high degree of efficiency.
29 April 1916 NEP
EX-DERBY PLAYER AS COUNCIL CHAIRMAN
At the annual meeting of the West Bridgford Urban Council, on Friday night, Mr Frank Forman, who played for Derby County before he threw in his lot with Notts. Forest, was elected chairman. With his brother Fred he lived at Aston when they assisted Derby County, and both obtained International honours.
1916 MAY
2 May 1916 NEP
MORE WOUNDED REACH NOTTINGHAM
A hospital train with 143 wounded soldiers from France arrived last night at the London-road Low Level Station, whence the men were speedily distributed by ambulance to the West Bridgford, Trent Bridge, and Carrington Military Hospitals.
The latest arrivals include one or two men belonging to the Sherwoods.
6 May 1916 WBA
BRIDGFORD COUNCIL – NEW CHAIRMAN AN OLD FOOTBALLER
An old-time Forest footballer, Mr F Forman, was unanimously elected Chairman at a special meeting of the West Bridgford Council on Friday.
Acknowledging the vote, the new chairman said: I thank you for the great honour you have conferred upon me by electing me as your new chairman for the ensuing year. My one object will be to maintain the dignity of this chair and leave it as unsullied as I now find it. (Hear, hear.) It is usual for the chairman to refer to the work of the Council, but at the present time the all-engrossing topic is this great World-wide War, and when shall the end come. I hope it will come during my year of office, and that victory will bless our arms – followed by a great and everlasting peace. (Applause.) Until this is achieved it would be useless to dwell upon those matters which usually occupy our time. What work we have to do will be done, at the same time keeping economy as our motto. (Hear, hear.)
9 May 1916 NEP
IRISH PEOPLE'S KINDNESS – NOTTM. SOLDIER GENEROUSLY TREATED
A tribute to the kindness he received at the hands of the Irish people during the recent disturbances is paid by Private A. Oram, of the Sherwood Foresters, in letters to his parents, who reside in Thoroton-road, West Bridgford. After explaining that his comrades and he were ordered to pack up at once, and eventually found themselves in Ireland, he observes that on the day before he writes he was on guard for 24 hours. This duty, however, was made tolerable by the thoughtful care of local residents in providing food, chocolate, and cigarettes, and he declares that he could have anything he wanted.
13 May 1916 WBA
NOTTINGHAM MOTOR AMBULANCE
The Clerk read letters from the Town Clerk which stated that his committee agreed to accept the responsibility of the Council for the cost of the removal of any person injured in West Bridgford, but pointing out that it is only when the ambulance is not otherwise engaged that it can be sent outside the city.
BUSES
The superintendent reported Messrs Mackintosh & CO were prepared to supply the tyres on the new 'bus at the present rate, and the committee recommend that a contract be entered into with them for the year.
The superintendent reported that he had ordered 600,000 tickets and 40,000 books of tickets from Messrs Mason & Co.
BRIDGFORD IN EGYPT
Writing to his parents, who reside on Clumber-road, West Bridgford, Harold Smith sends a graphic story of his experiences with the 1st Notts K.H.A. in Egypt, in the course of which he says:-
We have got back to civilisation again after about five months in the desert. It has been awful work out there – marching from one place to another. We did over a thousand miles in six weeks, besides the actions which took place. We have done exceedingly well and been very successful, although lucky; everyone says what good work we have done. Many times the horses have had to go without water for twenty-four hours, and what drop we have had, we got out of puddle holes. It is marvellous the way the horses have stood it. We are very bust just now cleaning the harness and getting the horses back into condition again. I have been in every action out there. There has been a lot in the papers just lately about it; it was just as they described it. We are back in Alexandria, and are camped opposite a military hospital; it is quite a classy quarter. We had a good time the following day we arrived here. We had all our clothes fumigated, and a bath in disinfectant, as we were absolutely filthy. However, we have a new kit, so we are all right again …. We are able to get down town a few times. There's plenty of amusement. You would have thought we were going on all right if you had seen us on the verandah of the big hotel. We cannot grumble at the food now – it's fairly good. We get fresh meat every day – quite a change from tinned bully.
THEY SAY!
That the Pavilion V.A.D. Hospital is being enlarged.
That it will then accommodate 60 soldiers.
16 May 1916 NEP
"MUSIC NOT NECESSARY"
Sir, I beg to say a few words in reply to the above remark of our worthy Mayor. Up to date over 1,000 musicians have joined the colours. Some of our members volunteered in August, 1914, and are still serving. For over 12 months the members of this branch of the Amalgamated Musicians' Union have, with the assistance of the the artistes engaged in various halls, given concerts at the hospitals. … Should the services of our members in any part of the country be required by the Government there won't be any slackers. … Musicians have given up good situations for army pay, and will have the satisfaction of knowing they answered the call like men. I am sir, &c J.C. Crofts, Branch Secretary, 52, Melton-road, West Bridgford
20 May 1916 NEP
Lieut C E Glenn, whose parents reside at West Bridgeford, has been appointed to a captaincy in the York and Leicester Regiment.
20 May 1916 WBA
SMOKE NUISANCE
A letter was read from a resident in the Lady Bay-road complaining of smoke nuisance from a neighbouring laundry. The Surveyor reported that he had already communicated with the proprietor, and the Clerk was instructed to write and threaten proceedings if the nuisance is repeated.
The Surveyor was instructed to communicate with owners of certain traction engines with regard to smoke nuisance on highways.
CONSCIENTIOUS OBJECTORS
A circular letter from the Urban District Councils' Association was read with regard to the employment of conscientious objectors to Military Service, and the Committee decided not to entertain the matter.
COMFORTS FOR TROOPS
In aid of the Nottm. Comforts for Troops Fund, the talented and admirably trained pupils of the Misses Townsend are on Thursday giving in the Boys' Brigade Institute, Hound-road, W.B. and exhibition of dancing and musical entertainment. A well-varied program has been arranged, and we trust there will be a record attendance.
MUSICAL SERVICE
A very enjoyable musical service was on Sunday afternoon rendered at Lady Bay Chucrh by No 2 Platoon choir of the West Bridgford Volunteer Training Corps.
24 May 1916 NEP
EMPIRE DAY – BUSY TIMES IN THE SCHOOLS
The celebration at West Bridgford derived special interest from two facts. It was the 21st anniversary of the opening of the first school in the district, and the first occasion upon which the schools had combined for ceremonial purposes. These circumstances were mentioned by Mr A Mather, the chairman of the school managers, in the presence of a large assembly, including Lady Boot, on Boots Athletic Ground, where the West Bridgford Schools held their combined demonstration. There was nothing in the nature of a pageant, but the spectacle of more than 1,400 children, grouped, tier above tier, on the stand was very picturesque.
CHILDREN'S PAGEANT FOR THE COMFORTS AND PRISONERS' FUNDS
The most ambitious celebration of the day took place on the Y.M.C.A. grounds at West Bridgford this afternoon when a patriotic festival and children's pageant attracted a very large attendance. Scholars from the Trent Bridge, St Saviour's, Queen's-walk, and London-road schools participated, a detachment of the Boys' Brigade were present, and many wounded soldiers, and Red Cross nurses from hospitals in the vicinity were numbered among the spectators.
The subsequent programme embraced a cricket match between wounded soldiers and nurses, a tennis tournament, clock golf and quoits. Flags were sold to the visitors at modest charges.
The whole of the proceeds of the festival, which was organised by Mr R A Gullick, of West Bridgford, are to be devoted to the Comforts for Troops and Prisoners of War Funds.
27 May 1916 NEP
EMPIRE DAY AT WEST BRIDGFORD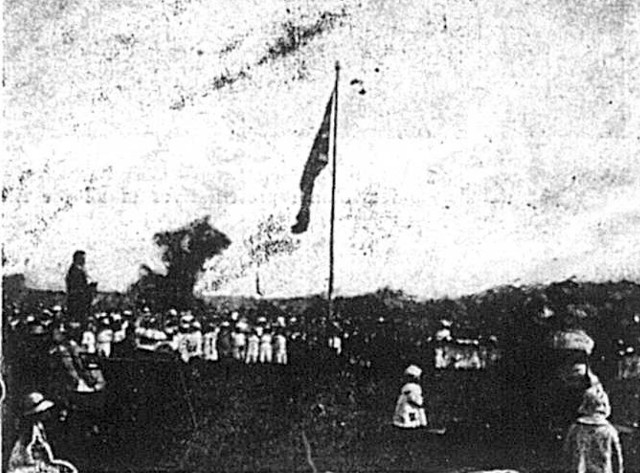 A MISCHIEVOUS RUMOUR
Sir, One of those silly and vexatious rumours, whose origin no one can trace, is now in full blast and causing no little annoyance to people who send parcels, &c., to fleet or the front. The rumous is to the effect that no parcels will be sent to the forces until after 7th June – the earlier version gave 26th May. I was told the tale in such a positive manner yesterday morning that I called in at the General Post-office to make an inquiry, and was courteously informed that, so far as the G.P.O. was concerned, the rumour was utterly false, and that parcels were being despatched as usual daily. The official expressed regret that the author of the fable coul not be traced. I am, sir, &c., Wm Lowe, 137, Exchange-road, West Bridgford
29 May 1916 NEP
A PLUCKY ACT AT WEST BRIDGFORD
What a correspondent describes as a plucky rescue was effected on Saturday near the Lady Bay bridge at West Bridgford.
Cries for help attracted the attention of Mr J Gee, of 46, Chandos-street, Nottingham, and on running to the spot whence they proceeded he found a small boy struggling in the water. Without waiting to take off any clothing Mr Gee plunged in, and he succeeded in getting the youngster to the bank. The lad, who was not much the worse for his immersion, is a son of Mr F C Smith, jeweller, of Clumber-street, who resides at West Bridgford.
1916 JUNE
3 June 1916 NEP
NOTTINGHAM OFFICER ON THE INVINCIBLE
The Admiralty telegraphed to his widow at West Bridgford to-day official news of the death in action of Engineer-Lieutenant John McLellan Hine, who was on the Invincible, being appointed to that ship on transferring from the army to the senior service.
Employed as inspector in the engineering department of the Ocean Accident and Guarantee Corporation in Nottingham, Lieut. Hine was at first given a commission in the Bantam Battalion raised in the city, and it was from this unit that he transferred to the navy. He was very well-known in Nottingham, and at West Bridgford he became prominently associated with the Noys' Brigade movement.
The deceased officer is survived by a widow and four children.
3 June 1916 WBA
SEVENTH BUS
The Superintendent reported that the chassis of the seventh 'bus was delivered on April 8th, and that the body was expected on May 30th.
LADY BAY NURSERIES
A thing of beauty is a joy for ever. And so it comes about that a visit to the Lady Bay Nurseries of Messrs Smith & Son, at West Bridgford, just now is well repaid. There is much to please the eye, and withal to profit. There are thousands of fine healthy bedding-out plants and choicely-filled hanging baskets at most reasonable prices, whilst a better display of violas cannot be found anywhere. The tomato houses, too, are a veritable picture – a big harvest in the making that will soon be ready.
ANOTHER YOUNG WAR HERO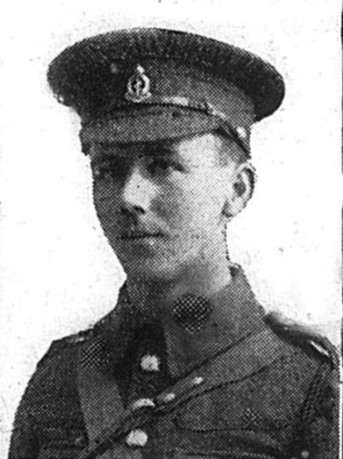 Readers will be pleased to learn that another resident of West Bridgford has obtained honourable distinction at the war. We refer to Private Percy Ambrose, whose home is at 51 Ella-road, who has been the recipient of a certificate for "distinguished and conspicuous bravery" whilst with the R.A.M.C. at the Front.
A member of the St John Ambulance Brigade, Private Ambrose gained the award on May 2nd, his gallant action being the rescuing of a badly wounded N.C.O. from the trenches under heavy shell fire. The delicacy and danger of the operation may be gathered from the fact that the heroic young fellow took over six hours to bring his comrade to safety.
Private Ambrose is well-known in Nottingham and district, and it is interesting to note that some of his paintings are at the present time included in the exhibition by local artists at the Castle Museum.
SPRING
Copies of the admirable little poem, which appeared under the above title in a recent issue of the Advertiser, are being sold by the author, Mr F Wade, 4 Trevelyan-road, West Bridgford, at 1d each, in aid of the Albert Hall Memorial Fund for the fallen heroes of the war.
5 June 1916 NEP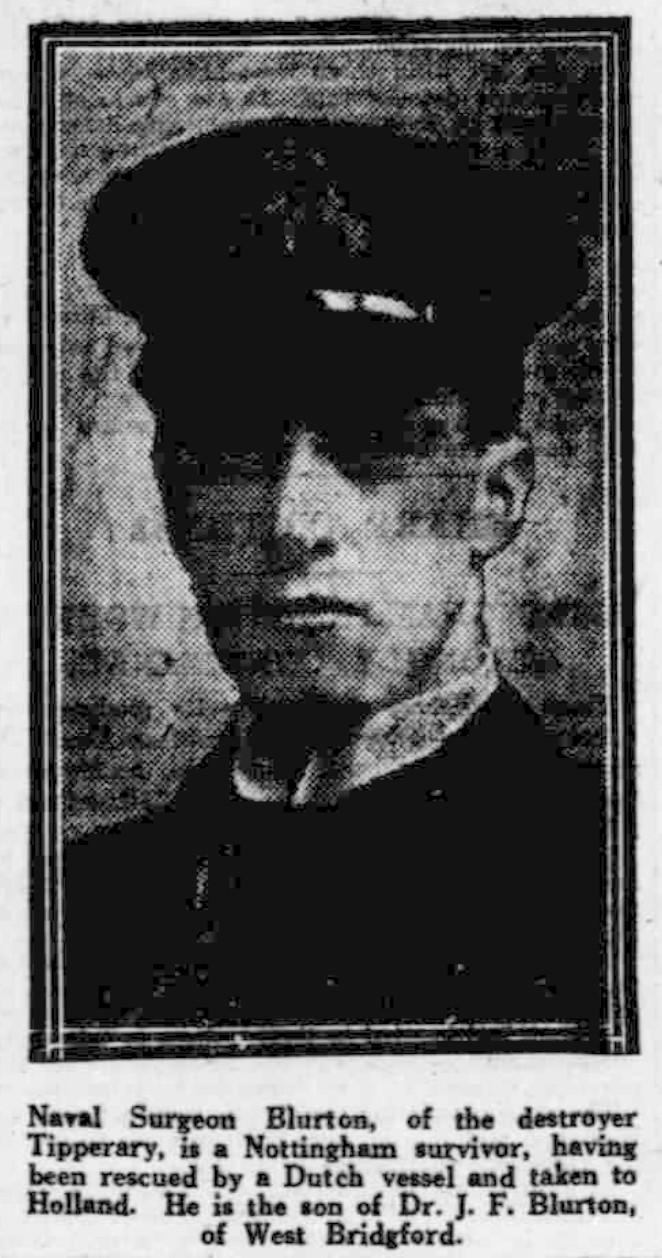 7 June 1916 NEP
The West Bridgford survivor of the destroyer Tipperary, Surgeon-Probationer Gilbert Blurton, R.N.V.R., is at Wyk aan Zee as the guest of the British Vice-Consul Reygersberg, who has a cottage there which he has placed at the disposal of Mr Blurton. He was taken there on Saturday afternoon, and is suffering from leg and back wounds, one or two caused by shrapnel splinters. He is not quite free from fever, but his appetite is good.
His own impression is that he was hoy be fragments of the deck when the Tipperary was struck, which was immediately after he came on deck, but his doctor thinks there are fragments of shell in the wounds.
When the Tipperary was hit she immediately went to pieces, and Mr Blurton found himself in the water. He undressed, and was eventually rescued by one of the Elbing's boats. He then had nothing on but a writs watch. He does not know how long he was in the water. The Germans treated him kindly, and gave him two curtains to wrap himself in. They asked him what his ship was, but he declined to say until he was asked by the commander of the Dutch torpedo-boat which came alongside the Bertha, to which he and others had been transferred. The Germans though he was a seamen.
Mr Blurton, adds the Daily Mail, had been in action before, when destroyers were engaged off Zeebrugge.
9 June 1916 NEP
EGYPTIAN CANALS AND CUSTOMS
Sergeant F Woodward sent to his home at West Bridgford an interesting description of a motor trip from Alexandria to Cairo.
"… All the way we kept passing extraordinary villages, built entirely of mud. … A short way up this canal we were invited into a Greek cotton merchant's house, where we 'had one,' and viewed his garden. … After washing up, we stretched a waterproof ground sheet across the boat and turned in to sleep. It was so hot that I could not get much sleep, but it was so beautiful that I did not regret it. There was a moon and no noise but the occasional passing of a great native boat, and the creaking in the distance of a 'sakina' or water wheel, which is worked by oxen of other animals for lifting water from the canal on to the land. I heard the tinkle of a camel bell, and got up to see two loaded camels walking along the path by the canal in the moonlight."
10 June 2016 WBA
WEST BRIDGFORD TRIBUNAL
Some amusement was created at Tuesday's meeting of the West Bridgford Tribunal. An appellant wrote, "I am afraid this is a re-hash of what I said last time," to which the chairman aptly mad answer, "Let us hot the hash up again." They heard all the man had to say, and then turned him down!
WHITSUNTIDE MISSING?
Most of us have come to realise that, with the nation at death grips with an unscrupulous enemy, junketing is out of the question. Hence it comes about that when the Minister of Munitions requests that there should be no Whitsuntide holidays, to a man the Country declares the proposition carried. Even our school children accept the position philosophically.
BRIDGFORD'S DANGER
When will the powers that be stop the Road Hogs in West Bridgford? The Melton-road junction of the Radcliffe-road elbow, near Lady Bay bridge, are veritable death-traps, thanks to the madcap riding of sundry motorists and cyclists. – The Forester
15 June 1916 NEP
BRIDGFORD'S DANGEROUS CORNER
The distressing fatal accident which occurred on Monday afternoon on the Loughborough-road at West Bridgford, as the result of which a man named Bernard Taylor, a sinker, of 29, Exchange-road, subsequently died in the Nottingham General Hospital, was inquired into by Mr C L Rothers, the City Coroner, at that institution this afternoon.
Harold Chapman, 36, Portland-road, West Bridgford, motor 'bus driver, said that on Monday afternoon soon after six o'clock he was driving along the Loughborough-road, and when about 50 yards short of Welbeck-road, which connects the Suspension Bridge with the Loughborough-road, he heard a motor horn sounded from the direction of Wilford-lane and saw a cyclist emerging from Welbeck-road apparently with the intention of crossing the road towards Patrick-road. Witness sounded his own horn, and the cyclist appeared to check his speed to allow the 'bus to pass. At the same time a motor lorry came round the bend out of Wilford-lane. The cyclist tried to avoid it, but was caught by the lorry and knocked down.
The jury found that the death was accidentally caused, and exonerated the driver from blame.
Mr Harrop described the corner as a veritable death-trap. He stopped a cyclist only the previous day, who was free-wheeling from the bridge without any thought of danger. It was impossible for drivers on the main road to see into the Welbeck-road and he had spoken to members of the West Bridgford Urban Council wit ha view to people being prevented from cycling along Welbeck-road from the Suspension Bridge. Cyclists never seemed to think there was a main road.
17 June WBA
BRITISH OAK
Mr F Wade, of 4 Trevelyan-road, West Bridgford, writes as follows:-
It may interest your readers to know I had a little oak tree growing near my front door form an acorn dropped by someone. This is the thirds year of its growth, and ever since our dear boy was laid to rest in French soil, it has been my one supreme desire to transplant that little British Oak from his own garden on to his grave. Three week ago I happened of a Robin Hood on leave from the front, who had come from the village where Wilfred's body lies. Here was my opportunity, and the man very kindly undertook to convey our little oak and plant it on that sacred spot for us on his return.
He took it away on Saturday, May 27th, reached his destination on Sunday night, and, by a singular and Providential coincidence, planted the tree on Oak Day (Monday, May 29th).
ENEMY ALIENS
Following a somewhat animated discussion at last night;s meeting of the West Bridgford Urban District Council, a resolution was passed calling upon the Government "to take more severe measures in relation to alien enemies."
Mr Raven, moving the resolution, proposed that all Germans, naturalised or not, who are resident in this country should be interned. He thought it was quite time the Government woke up to a sense of the dangers arising from so many alien enemies being given their liberties in the United Kingdom. In Germany all Englishmen were interned in the first week of the war.
Mr Barlow thought it unfair to condemn every alien in a fit of panic and without definite evidence. Mr Dunford: "Naturalised aliens are really English, aren't they?" The Chairman said he rather agreed with Mr Barlow. Mr Raven said all he desired was that definite steps should be taken by the Government, and he was quire willing to fall in with the chairman's suggestion. The amended resolution was then agreed to.
23 June 1916 NEP
A LOCAL INVENTOR
A large circle of friends will read with great regret of the death, which took place yesterday, at his residence, Clifton House, Musters-road, West Bridgford, after a long illness, of Mr Lorenzo W Crosta. Though never seeking public position or notoriety Mr Crosta was interested in many activities. A clever engineer, his inventive genius found scope in the production of many patents, now firmly established, including the Arnes-Crosta pipe, and a very ingenious method of electrically repairing faulty tram lines. He had at one time or another been associated with several prominent Nottingham firms, and up to about a year ago was managing director of the Railway and General Engineering Company, of Meadow-lane.
Mr Crosta was widely esteemed for his social qualities. For very many years a member fo the Sacred Harmonic Society he sang regularly at its concerts, and for a considerable period served on the committee. He had also been associated with the choir of St Saviour's chucrh. Keenly amd actively interested in cricket and football, he was for a time a director of the Notts. F.C. An ardent Freemason he had been W.M of the Welbeck Lodge, which meets at West Bridgford, and had held office as P.P.G. Std. B. He leaves a widow and one son and daughter to mourn his death at the comparatively early age of 53.
24 June WBA
COUNCIL FARM CROPS
The Surveyor reported that the whole of the crops were in, viz. 3 acres of potatoes, 3 acres of oats, 1 acre of dills and almost an acre of carrots, the whole of the available land being in use.
THRUSH
Mr and Mrs H Smith, of Clumber-road, West Bridgford, have just lost a pet thrush, which they had reared from a fledgling fifteen years ago. That, I should imagine, constitutes a record for a thrush, the average life of which is somewhere around eight or nine years.
1916 JULY
1 July 1916 WBA
BRIDGFORD COUNCIL
The Surveyor reported he had written the owners of steam locomotives with regard to the complaints of thick smoke being emitted whilst passing through the district, and that he was dealing with the matter.
The Surveyor was instructed to write the frontagers in Florence-road requesting then to take in hand making up of the road.
IS THERE A HOUSE FAMINE?
In spite of the war – or is it because thereof – there appears to be a veritable famine in the local house market. Even the most casual observer is struck by the fact that "To let" notices area almost as rare as angels' visits, and this at a time when one would imagine a very different state of affairs to have existed. All told, there does not seem to be half-a-dozen tenantless villas in the whole of West Bridgford, certainly not of the type usually affected by the better middle class family man. The outbreak of hostilities effectually "put the lid on," to use a colloquialism, speculative building in Suburbia, but to-day there appears very good reason for more laying-down to be put in hand.
6 July 1916 NEP
SECOND-LIEUT. F G MORRIS
Second-Lieut. Fred G Morris, son of Mr George Morris, Loughborough-road, west Bridgford, has been wounded during the recent fighting, and is now in hospital. He joined the Nottingham O.T.C. the day after war broke out, and received a commission in the K.O.Y.L.I. in November, 1914. He has been at the front with his regiment since September last.
8 July 1916 WBA
THEY SAY
That one of the 'buses sent to the front from West Bridgford has been "strafed". That a German shell did the trick.
12 July 1916 NEP
LIEUT. C L SOAR
Lieut. C. L. Soar, of the South Lancashires, elder son of Mr S E Soar, of West Bridgford, and an old scholar of Mundella Secondary School, is lying wounded in a Boulogne hospital. He was shot in the chest during last week by a sniper, and the bullet passed through his body, but, fortunately, missed all the vital organs.
15 July 1916 WBA
BUSES – WOUNDED SOLDIERS
The committee recommended that wounded soldiers in uniform be permitted to travel from Trent Bridge to "Plaisaunce", Wilford, at the fixed times of 2.30 and 2.50 p.m. at half-fares during the summer months.
SHOOTING COMPETITION
By 808 against 771, West Bridgford has beaten Carrington and Sherwood in the final of the competition for the shooting shield presented to the Notts. Volunteer Regiment by its commandant, Colonel Sir Lancelot Rolleston.
15 July 1916 NEP
A plumber, named Ernest Selwood, aged 46, of 20, Rushworth-avenue, West Bridgford, was admitted to the General Hospital to-day suffering from a dislocated ankle, caused by a fall from a 20-foot ladder in Arkwright-street.
15 July 1916 WBA
A BRIDGFORD MAN'S EXEMPTION
A curious state of affairs was revealed at the Beeston Tribunal when the case of a man who resides at West Bridgford was mentioned.
Mr J Bywater: "I have heard before that West Bridgford lets anybody off."
17 July 1916 NEP
WEST BRIDGFORD ANGLING ASSOCIATION
A fishing match for the adult Bridgford members took place on Saturday in the Association waters, Gamston canal, near the house of the president, Mr W H Slim. As this was the first match since the inauguration of the Association, the committee were very anxious as to its results, and a good number of members entered. A heavy wind prevailed throughout, and only two men caught fish – very small ones. Mr H Pierce came first with two roach weighing 2¾ oz, and Mr A Aldridge next with one whitling, weight ¼ oz 1 shot.
NOTTINGHAM RED CROSS COLLECTION
The result of the Red Cross Flag Day on Saturday in the Nottingham district was highly satisfactory. Up to the present the proceeds amount to approximately £600, of which around £90 was collected in West Bridgford.
19 July 1916 NEP
WEST BRIDGFORD OFFICER'S ESCAPE
Mr C Hemsley, of West Bridgford, writes: On July 4th I received a wire from the War Office informing me that my son, Lieut. H L Hemsley, was wounded in the first push, but have since found him in a London hospital. He is not wounded.
Finding himself in the German trenches without his men or officers, who had all been wiped out, he crawled on his stomach back again, 300 yards, to his own trenches, and so injured his simach in some way.
22 July 1916 WBA
CEMETERY
The question of providing a new cemetery for West Bridgford was brought before the monthly meeting of the local Council on Friday night.
24 July 1916 NEP
A married woman named Ellen Kiddier, aged 54, of 134, Trent-boulevard, West Bridgford, was admitted to the General Hospital this afternoon suffering from a compound fracture of the left leg sustained in getting over a stile on the Trent Embankments. It seems she slipped and fell heavily to the ground.
29 July 1916 WBA
THEY SAY
That no building plans have been submitted at West Bridgford for three months.
That reduced 'bus fares for children may disappear at West Bridgford shortly.
HORACE CHESHAM
News was received on Monday by his parents, Mr and Mrs Chesham, of Ella-road, West Bridgford, that their second son, Horace, had been killed in the great British advance in France. Deceased, who joined the forces about a year ago, was a clerk in the employ of an insurance company and was well-known in the city and district.
HOSPITAL CONCERT
The wounded soldiers at the Musters-road Militray Hospital were treated to an al fresco concert last night by Madame Wilson Moulds' concert party. On this occasion the party had the assistance of Mr P H Kettley, who gave humorous songs, and Miss Laurie Kettley in a number of pretty dances.
HEALTH REPORT
Ninety-nine cases of infectious diseases were notified, by far the largest number ever recorded in one quarter. There were 83 cases of measles, eight of scarlet fever, nine of diphtheria, three of erysipelas, and three of tuberculosis of the lungs. Of the 83 cases of measles, 27 were of the so-called German type. Since July 1st only one case had been notified, so that the epidemic which began in November was now practically at an end.
1916 AUGUST
5 August 1916 WBA
THEY SAY
That the customary tar spraying of the streets has taken place during the past few days. That housewives do not appreciate this annual "gift". That the sticky substance is much too freely carried home by the children. That the obvious remedy is just a little more chip-sprinkling.
That a meeting of the subscribers to the Lady Bay Belgian Refugees' Fund is to be called shortly. That the future policy of the scheme will then be decided upon. That meanwhile the expenditure has considerably reduced – thanks to some of the refugees having obtained employment.
BRIDGFORD SPORTS
Although the number of events was considerably curtailed, the annual sports in connection with the West Bridgford Higher School were held as usual on Boots Athletic Ground at Lady Bay on Monday.
12 August 1916 WBA
SECOND ANNIVERSARY OF DECLARATION OF WAR
To mark the second anniversary of the declaration of war, the members of the West Bridgford Urban Council held a meeting on Friday in the pretty little recreation ground adjoining the public offices.
Mr F Forman, J.P., chairman of the Council, presided over a large gathering.
In explaining the object of the meeting, Mr Forman said that the nation hoped the hostilities would be at an end before next August, but they were determined to fight on until a glorious victory was won. (Cheers.)
Mr T Barlow, in a vigorous speech, proposed the following resolution:- "That on this, the second anniversary of the declaration of a righteous war, this meeting of the residents of West Bridgford records once more its inflexible determination to continue to a victorious end the struggle to maintain that ideal of liberty and justrice which is the common and sacred cause of the Allies."
Mr J A Simons seconded, and the resolution was carried amidst ringing cheers.
SCHOOL MANAGERS
It was resolved that Messrs W J Asp-en and J H Dunford be appointed to act with Messrs Simons and Nelson as school managers, for one year from July 1st next.
BUSES
Advertising contract. A letter was read from Messrs Mason with sketch of paper bills they proposed fixing each week to the 'buses, but it was decided not to entertain the matter.
23 August 1916 NEP
WEST BRIDGFORD'S LIGHTS
In fining a West Bridgford resident at the Nottingham Shire Hall to-day for contravening the lighting order, the Chairman (Mr T A Hill) said the Bench were informed that there were numerous offenders in this district, and the magistrates were determined to have the order obeyed.
26 August 1916 NEP
A SAD INQUEST STORY
The Nottingham City Coroner held an inquiry at the General Hospital to-day into the death of George Leslie Lock, aged 12, the son of George E Lock, chemist's assistant, 17, Wordsworth-road, West Bridgford, who was found underneath the kitchen table on Thursday afternoon with a bullet wound in his head and a revolver near at hand.
The Coroner read a letter by deceased as follows: "I felt I could not stand this any longer, so I shot myself. I thank you for all your kindness. Your loving son, Leslie."
The jury returned a verdict of "Suicide during temporary insanity," expressed sympathy with his parents, and recorded their opinion that the facts of the case had been prematurely reported in the Press.
28 August 1916 NEP
WEST BRIDGFORD SOLDIER'S FUNERAL
Many wounded comrades were present this afternoon at the funeral of Gunner Harry Worton Redfern, of the R.H.A., whose remains were laid to rest in the Nottingham Church Cemetery. Aged 23, he was the only son of Mr John Redfern, Trent-boulevard, and for some time he had been a patient in the Bowden Hospital. He died following an operation in the General Hospital on Wednesday.
Prior to the interment a service was held in the Parish Church, West Bridgford, and subsequently the coffin, covered with the Union Jack, was borne on a horse-drawn gun carriage to the cemetery. Here the matron, Mrs Powell, sisters. And nurses, with soldier patients form the Bowden Hospital, lined the path from the gates to the grave, and wounded comrades acted as a bearer party.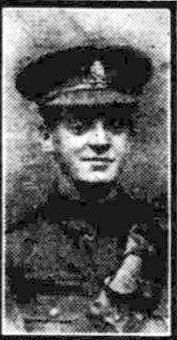 31 August 1916 NEP
WANTED
Photos of all Past and Present Members of West Bridgford Company of the Boys' Brigade now serving with the colours. Will parent or friends kindly communicate with R H Swain, The Park, Nottingham.
1916 SEPTEMBER
2 September 1916 WBA
FORESTERS
The High Court of Foresters has elected as High Sub-Chief Ranger (which means promotion to the Chief Ramgership a year hence) Mr J H Dunford, of Nottingham, who has been a Forester for 42 years, his mother having entered him at the age of four. When he was transferred to the adult court he was made a Chief Ranger before he was 21, and he has been in office ever since.
9 September 1916 NEP
Corporal Sydney F Selby, machine gun section Royal Fusiliers, youngest son of the late Mr Joseph Selby and Mrs Selby, of 4 Millicent-road, West Bridgford, was amongst those who recently received the Military Medal. He was educated at the Nottingham High School, and whilst there was a member of the school cadet corps.
9 September 1916 WBA
BUS NEWS
Messrs Mason's request for permission to fix a movable enamelled letter advertisement in an oak beaded frame on one 'bus was agreed to on condition that the same is arranged so as not to rattle and to be fixed under the supervision of the superintendent.
The superintendent reported with a view to economising the present stock an extra bonus should be allowed to the drivers of 6d per gallon on any saving o petrol below the following quantities in any one week:- Musters-road route, 50 gallons; Trent-boulevard route, 63 gallons; Loughborough-road route, 40 gallons.
With regard to a box of cigarettes found in a 'bus some weeks ago and for which no application had been made the superintendent was instructed to hand the same to the hospital at the Cricket Pavilion for the use of the soldiers.
16 September 1916 WBA
THEY SAY
That many complaints are being received upon the overhanging trees. That it is quite time the pruning begun.
That seats for the use of wounded soldiers are being provided at West Bridgford.
That no street lamps are being lighted in Suburbia. That, therefore, red danger lamps should be erected by the Council at cross-roads, Lady Bay bridge &c. That these lamps have been long in vogue in the city.
WEST BRIDGFORD OFFICERS
Captain H V Walters, reported wounded and missing, is the youngest son of Mr William Walters, West Bridgford. He was trained by Captain Trotman in the Nottingham University College Officers' Training Corps. And received his commission in July, 1915. Two months after being promoted in July to the rank of captain he went out with his battalion to the Expeditionary Force. Captain Walters participated in the Big Push from its commencement. He was wounded on September 3rd, and has been missing since that date.
Lieutenant Leslie Douglas Woodhouse was a young West Bridgford officer. The son of Mr Thomas V Woodhouse, of Hound-road, he received his commission in August, 1915. He was attached to the Light Trench Mortar Battery of the Sherwood Foresters, and was promoted in May. The gallant young officer was only 26, and was killed in action on September 3rd.
NO TIME FOR THE ZEPPS
"It's only eleven o'clock; the Zepps will not come yet," said Minnie Stenson of West Bridgford, to Police-sergeant Stanley when he called her attention to a bright light visible from her kitchen. She was fined 16s.
A similar fine was imposed on Thomas Henry Moore, the manager of the Lady Bay Laundry, for having an uncovered light burning in the ironing room. A constable complained that the defendant told him, "not to preach about it."
23 September 1916 WBA
THEY SAY
The new Liquor Control order for the city and county comes into operation on Monday. That sales on the premises can only take place between noon and 2.20 and between 6.30 and 9.30. That there will be no treating. That generally speaking the new Order has been well received.
SEWAGE FARM AND DEPOT
Potato Crop. It was decided the crop should be sold locally at or thereabouts the current market price to shopkeepers and householders in not less than 1 cwt lots.
CYCLING DANGERS
As a sequel to the recent cycling accident to a West Bridgford schoolgirl – she was run-down by a youth on a motor trade cycle – comes the decision of the Education Committee for the county that the pupils attending the Centre on Forest-road are in future not to cycle through the city. In view of the crowded nature of the thoroughfares and the aggravated present-day conditions the decision is certainly a wise one.
28 September 1916 NEP
EQUAL TREATMENT
Sir, – It is quite time the decisions of the West Bridgford Tribunal came before higher authorities and the slackers or "sliders" who have managed to get total exemption or farm work were made to toe the line with their many co-workmates who have to attend the result of the City Tribunal, and are now in khaki. There are still conscientious objectors, who have been given farm work to do, cycling down to town every day, to do their usual work. – I am, sir, etc, Portland Road
1916 OCTOBER
6 October 1916 NEP
CONCERT AT MUSTERS-ROAD HOSPITAL
A most interesting concert was given at the Musters-road Military Hospital, West Bridgford, last evening, the artists being a troupe selected from the wounded inmates. Residents of West Bridgford had prepared some extremely effective Pierrot costumes and the eight or ten wounded Tommies who contributed looked uncommonly well.
7 October 1916 WBA
ALMET ROBINSON
Mr Almet Robinson, of 84 Loughborough-road, West Bridgford, Nottingham, who for many years carried on the business of a lace manufacturer and died on August 7th, aged 53 years, left property of the value of £5,461 10s 5d, with net personalty of £3,200 14s 8d.
THEY SAY
That the new City Sheriff is to be Councillor R H Swain. That the popular representative for Sneinton is very well known. That he is chairman of the Tramways Committee. That he is also the much-respected Captain of the West Bridgford Company of the Boys' Brigade.
14 October 1916 WBA
THEY SAY
That a much-needed Soldiers' Club is to be opened in West Bridgford. That the YMCA premises, Trent Bridge, have been secured for the purpose. That the necessary funds are being obtained by a house-to-house collection. That it is estimated £160 will be required. That the Club will be much appreciated by our wounded Tommies.
STORAGE FURNITURE
The surveyor reported application had been made on behalf of Mr Taylor, serving wit hthe Colours, recently resident in Trent-boulevard, for storage of furniture. The committee decided to undertake storage if a repository could be obtained, and the matter was left to the surveyor.
CONGRATULATIONS
Miss L Webster, decorated by the King with the Royal Red Cross, second class, for "valuable services" in connection with the war, is the daughter of Mrs Webster, 186, Holme-road, West Bridgford. A member of the Queen Alexandra's Nursing Services, she is at present attached to the Leeds War Hospital. By the way, four of Miss Webster's brothers are with the Colours, and a fith joins-up directly. A patriotic family indeed!
16 October 1916 NEP
ROLL OF HONOUR
Killed in France, whilst doing his duty, Signaller Edward Bretland, aged 19, dearly-beloved son of Mr and Mrs E C Bretland, Bridgford-road, West Bridgford.
21 October 1916 WBA
THEY SAY
That next week lights must be effectively shaded by 5.15pm. That the overhanging tree nuisance is still in existence in West Bridgford. That in some instances the low-lying branches are a positive danger to pedestrians. That danger lights should be hung at all crossroads in the parish. That a new lighting schem has been adopted for the West Bridgford buses. That the Trent Boulevard vehicles bear a blue light and those for Musters-road a red light.
BUS FARES
Due, the chairman of the committee (Mr C Lovett) stated at Friday night's meeting of the West Bridgford Urban Council, to the abnormal conditions now ruling, the motor 'bus fares are to be slightly advanced. Mr J Gray took strong exception to the new proposal. He suggested economies could be made in the staff. Mr Dunford seconded, and said that they could draw their own conclusions about the reported £1,000 profit. Mr Day observed that there would have been a very satisfactory balance but for the fact that the whole of the money borrowed had to be repaid in five years.
SOLDIERS' CLUB
An appeal for funds on behalf of a new soldiers' club had resulted in over £200 being secured. The premises of the YMCA, Loughborough-road, are being taken over for the use of the soldiers.
A LITTLE MORE LIGHT, PLEASE
Is there any valid reason why we should not be vouchsafed a little more light? It is well known that our railways are "carrying on" apparently just as usual both in the shunting yards and at the stations, and yet the conditions that obtain for street traffic constitute a very real danger, for an inky blackness that can be felt overhangs every public thoroughfare. – The Forester
21 October 1916 NEP
WOUNDED
Lieut. William Morris, Sherwood Foresters, attached Leicestershire Regiment, who has been wounded, has for 18 years been the proprietor of the West Bridgford Modern school.
A large contingent of wounded soldiers arrived at the Victoria Station, Nottingham, this afternoon, and 120 cot cases were conveyed to the General Hospital, Forman's, YMCA, and West Bridgford. Voluntary Aid Detachments were on duty.
26 October 1916 NEP
CIGARETTE FUND
A West Bridgford contributor to the fund has received a big batch of khaki postcards. Pte J G Fox writes: "Thanks very much for your kind gift of fags, a gift which I can assure you is most appreciated, more so now that the days are shortening. I smoke your very good health."
28 October 1916 WBA
OPENING OF WOUNDED SOLDIERS' CLUB
Wounded soldiers who are recuperating at the military hospitals, Trent Bridge and Musters-road, and the Cricket Pavilion V.A.D. hospital, West Bridgford, will find a hearty welcome when they turn in at the erstwhile YMCA Institute, Loughborough-road, which has been gratuitously loaned to the West Bridgford Wounded Soldiers' Club Committee. All kinds of games have been installed, there is a plentiful supply of newspapers, magazines, &c, and light refreshments are also served at a strictly mode-rate charge. The club rooms were formally declared open on Monday afternoon by Colonel Battersby. In charge of two local ladies, the new club is to be open daily from 10am to 5.30pm.
THEY SAY
That the lamp standards in West Bridgford have been painted white. That this is a happy idea in view of dark streets.
THOMAS JOHN LAWRENCE
Amid many manifestations of the widespread respect in which he had been held, the funeral took place on Tuesday at the Church Cemetery, Nottingham, of the late Mr Thomas John Lawrence, whose good work as financial secretary of West Bridgford Defence Association was well known. Indeed, the fact that the suburb successfully resisted all attempts to obtain a licence for premises on the estate was die in large measure to the deceased gentleman's untiring efforts.
TOY-CRANE ACCIDENT
A toy-crane accident of a serious nature occurred, on Tuesday, at the house of Mr Fisher, 98, Loughborough-road, West Bridgford. The crane was a powerful working model, fixed to a third-storey window at the back of its owner's home. A brick was being hauled from the ground when it slipped and fell on Stanley, aged 11. His father took him to the Nottingham General Hospital, where he was found to have sustained a fractured skull. He died on Tuesday night.
COUNCIL POTATO AND CARROT CROP
The surveyor reported he had obtained three quotations from wholesale dealers for the purchase of 20 to 25 tons or thereabouts of the potatoes and about five tons of carrots on the farm.
BRIDGFORD TRIBUNAL
"There seem to be quite a lot of delicate wives in this parish," observed Mr W J Furse at the West Bridgford Tribunal, on Tuesday, referring to am appellant who stated he had a wife who was constantly ailing. Exemption until January 1st was granted.
A single man, who stated that his two brothers had joined up and that he was supporting a widowed mother, asked for an extension of his five months, stating that he thought two out of three a fair proportion to give the country. "The military authorities state that five out of six is not sufficient. They are asking for the sixth," said the chairman. The application was refused.
31 October 1916 NEP
THE FALLING BIRTH-RATE
The declining birth-rate was a subject to which Ald. R Mellors drew attention at the meeting of the Notts. County Council this morning. It might be true that that was in some measure owing to the war, but the birth-rate had been going down for the last 40 years. This was a most serious matter. At Warsop the birth-rate was 38 per 10,000, and at West Bridgford only 13.
1916 NOVEMBER
4 November 1916 WBA
DISTINCTION FOR A WEST BRIDGFORD LAD
The Military Cross has been conferred on Second-Lieutenant Harry E Keeton, of the West Yorkshires, a son of Mr Keeton, printer, of Henry-road, West Bridgford, "For conspicuous gallantry during operations as liaison officer at brigade headquarters. He went through a very heavy shell fire into the front line, after all the wires had been cut. Though twice buried by shells and suffering from shell shock he got back and delivered his report before collapsing.
Lieutenant Keeton was for nine years a member of Captain Swain's West Bridgford Company of the Boys' Brigade and was staff-sergeant when war broke out. He enlisted in October, 1914, as a private in the Mounted Brigade Field Ambulance, but in November got a commission in the West Yorkshires. He is only 20 years of age, and is the first member of the West Bridgford company of the Boys' Brigade to obtain one of these coveted war distinctions.
HIGHWAY
Residents in Albert-road asked the committee to put the road into a better state of repair. The surveyor explained he proposed to temporarily patch this road, and after the war the question of road improvement generally would be brought before the committee.
BUS FARES
Sir, I notice that the 'bus fares have been raised to 7d for a book of eight tickets as from November 1st, and being a plain sort of person I am wondering where that £1,600 profit is we were told about a year or so ago! Personally I shall not but a book for 7d, and I will also use the 'bus as little as possible. But my chief concern is that the school children are to be charged full fare. If the 'buses do not pay now they never will, for they are always full, sometimes over full, and we actually charge the wounded soldiers full fare. – PLAIN PERSON
MILITARY MEDAL
The Military Medal has been awarded to two former members of the West Bridgford Company of the Boys' Brigade – Sergeant O Haylock (Northumberland Field Ambulance) and Sergeant G Talbot (Oxford and Buckinghamshire Light Infantry). The first named is the son of Mr E Haylock, London manager for Turney Bros Ltd, and the latter is the son of the late caretaker of Musters-road Wesleyan Church and a former member of the West Bridgford Fire Brigade, who died recently. Both are also old Boys' Brigade lads, members of Captain Swain's West Bridgford Company.
11 November 1916 WBA
CAPTAIN HODGKINSON
Captain J P Hodgkinson, who before the war was well known in Nottingham athletic circles, has been killed in action. Mr T Hodgkinson, whose only son he was, received a telegram yesterday statingthat Captain Hodgkinson was killed while fighting in the Somme region on November 2nd. Quite recently he was home on leave after having been engaged in the Somme battles during July, August and September and he returned to the front only a fortnight ago. Captain Hodgkinso nwas 24 years of age.
PETROL LICENCES
The committee recommend that renewed licences to store 300 gallons petrol be granted to Messrs Camps and Beard, at 96 Bridgford-road, and F Harrington, for 300 gallons at Loughborough-road.
RECREATION GROUND
The committee instructed the surveyor to have a notice board erected in the grounds warning youths from damaging shrubs, and the officials were requested to take the name of anyone who was found doing damage.
AIR RAID WARNINGS
Following future air raid warnings, the electric light, and presumably the gas, is not to be cut off locally until five minutes have elapsed. This will afford workpeople ample opportunity to "down tools" and leave the premises in safety.
14 November 1916 NEP
CYCLE LAMP THIEVES
Sir, There appears to be someone in West Bridgford at present busily employed purloining lamps from cycles left temporarily unattended after dark. I left mine lit on my cycle on Edward-road at 6.45pm yesterday for five minutes, and on my return it had vanished. I learn that another cyclist had a similar unfortunate experience recently in the same neighbourhood. Obviously, the thief does not require for his own use more than one cycle lamp, and probably will seek some means of disposing of his booty. At a time like the present, when travellers are compelled to work late owing to several having enlisted to fight for their country, it is disgraceful anyone should perpetrate such a despicable theft. – I am, sir, &c, C. H.
18 November 1916 WBA
THEY SAY
That the motor bus drivers and conductors are eagerly awaiting those new uniforms. That they are long overdue. That empty houses in West Bridgford are surprisingly few, That the much-needed repairs on Bridgford-road are at last being carried out.
BRIDGFORD SCHOOLS
Sir, It's astonishing in a place like Bridgford there is no secondary school. If the late Director of Education (Mr Buxton) had been allowed to have his way we should have had a secondary school here, and there would have been no necessity for boys and girls to go into the city to get an up-to-date education. I am, &c, – PATER
25 November 1916 WBA
REFUSED TO WAIT
There was a sequel at West Bridgford on Wednesday to a motor-bus accident. An inquest was held on Georgia Giovanni Busato, an Italian, 88 years of age, of 71, Chaworth-road, who died on Tuesday. A lady who was a passenger on the 'bus said that when he got up the conductor asked him several times where he wished to alight, but he did not answer. He then got on to the platform, and warning him not to get off, the conductor rang the bell. The 'bus slowed down, and the next thing she saw was the deceased full length on the ground. She went to his assistance, but he got up and walked home. The jury returned a verdict of "Accidental death". (This was the first fatality there had been on the 'buses. – 22 November NEP)
THEY SAY
That the lamp standards have been painted white in West Bridgford. That the water standards have, however, been passed by. That the omission has been responsible for many ugly accidents during the dark nights. That Lady Bay bridge-corner, too, is a regular death trap. That danger lamps should be hung on either side.
ANOTHER BRIDGFORD HERO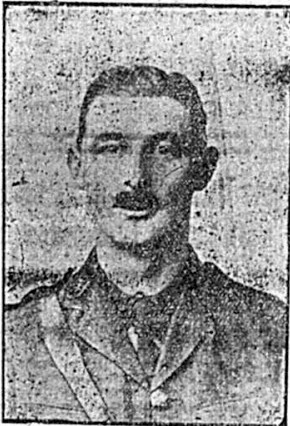 Captain J P Hodgkinson of the Sherwood Foresters, only son of Mr T Hodgkinson, of 9 George-road, West Bridgford, whose death in action on November 2nd was officially reported last week. He was aged only 24.
MAN'S MANY OCCUPATIONS
An extraordinary story of the financial deals of a Nottingham man who began his business life 44 years ago as a grocer's assistant, and after 13 years as a labourer became successively insurance agent, milk-seller, and lace manufacturer, and has finished up as a cycle repairer, was disclosed at the offices of the Nottingham Official Receiver. The debtor is George Arthur Gillespie, of 69 Byron-road, West Bridgford, formerly trading at Erewash Mills, Bennett-street, Long Eaton.
1916 DECEMBER
2 December 1916 WBA
THEY SAY
That close upon 200 old boys have joined up from the Trent Boulevard Elementary School. That the headmaster Mr J Gray follows their example next month. That this is a unique coincidence.
That a Christmas parcel is to be sent to every soldier on the roll from Musters-road Wesleyan Church.
IDEAL SOLDIERS' CLUB
A warm, dry room. Bright and cheery, with ocasional chairs and tables daintily arranged, and seated thereat wounded Tommies engaged in all sorts of games and pleasantly whiling away the time in spirited conversation. This was the scene which met the eye of the writer when, the other afternoon, he looked in at the Wounded Soldiers' Club which has been opened by the Rev W E Perfect and members of the congregation at the Friary Congregational Church, Musters-road, West Bridgford. And as if this was not enough, a really substantial tea, with cakes and savouries so dear to the heart of man, and of woman, is served up to each of the lads in blue as a finale. Bridgford is doing it well.
9 December 1916 WBA
THEY SAY
That another envelope collection has been taken up this week on behalf of the West Bridgford V.A.D. Hospital. That 100 beds are now to be provided here. That the residents will see to it that the necessary funds are forthcoming.
BRIDGFORD BOY DROWNED
The tragic end of a fifteen-year-old errand boy named Charles Edward Kirk, of 29, Grainger-street, Meadow-lane, Nottingham, was revealed at an inquest held at the Leenside Coroner's Court on Tuesday night.
For some little time past he had been employed at the Co-operative Stores, Trent-boulevard, and part of his duties was to deliver bread at various houses in the locality, including the lock-keeper's cottage at the junction of the canal and the river Trent. He was seen at eight o'clock on Monday morning by an employee at the shop, and was then in good health and his usual cheerful spirits. About eleven o'clock William Alexander, who is employed by the Great Northern Railway Company, saw a bread basket floating in the lock, and subsequently recovered the lad's body from the water. Artificial respiration was tried without avail. He had been delivering bread at the lock-keeper's house about four months, and it was presumed that whilst crossing the lock gates he accidentally slipped into the water and was drowned.
MUSTERS-ROAD WESLEYAN CHURCH
On Sunday a crowded audience listened to the fourth annual rendering of the "Messiah" by a fine body of singers under the direction of Mr W M Hughes. The magnificent choir of choral numbers was invested with fire and precision, and the singing of the choir had all the weight and volume one has become accustomed to expect at Musters-road Church.
HEALTH
The clerk was instructed to inform the Local Government Board that, after giving the matter full consideration, they had come to the conclusion the employment of a health visitor in West Bridgford was not necessary.
TELEGRAPH LINE
The clerk reported that he had received a letter from the Postmaster-General asking for the consent of the Council to the erection and maintenance of an overhead line along Abbey-road from Radcliffe-road to Priory-road. The committee recommended consent be given.
BRIDGFORD SOLDIERS' CLUB
A correspondent writes:- One reads with pleasure such accounts as in your issue of December 2nd of the Friary Wounded Soldiers' Club, where our heroes may get rest, refreshment, and recreation. These clubs are especially acceptable this raw, cold weather. I should like to draw your attention to another Wounded Soldiers' Club at West Bridgford, situated on the Loughborough-road in the YMCA Pavilion. The club owes its existence to the generosity of the residents of West Bridgford, and is admirably managed by a committee of ladies and gentlemen.
15 December 1916 NEP
WEST BRIDGFORD SANITATION
Sir,- I read with interest the letter of "Suburban," and am rather surprised there have been no others on the same subject. My case differs from your correspondent's because the cart does not come to my neighbours, who dispose of offensive matter by burying it in the garden within 30 yards of my back door. I prefer the rattle of a cart to the odour of nightsoil. It is high time the Bridgford Council took some action. I am, sir. &c, – Suburban 2nd
16 December 1916 WBA
BRIDGFORD COUNCIL
There was quite a lively scene at Friday's meeting of the West Bridgford Urban Council, a heated and at times personal debate following the introduction by Mr J Gray of a special resolution relative to the Council's mechanic.
Mr Gray, moving that the mechanic at the Council's garage be instructed not to do any work privately for any member of the Council, said surely it was not right that such private work should be done. Some people might say the resolution interfered with the mechanic's liberty, but there were occasions when liberty degenerated into licence. Members of the Council, too, would be in an awkward position should the man's conduct be questioned later. How, he asked, could any member of the Council judge the man impartially? The mechanic, too, was imperilling his own position.
Mr Dunford seconded. He should be very sorry to interfere unduly with the services of any employee, so long as the work was done in his own time and with his own tools and material, but he held it unwise for any member of the Council to have work done in that way; it might tend to warp his judgment.
Mr T Barlow characterised the resolution as senseless and unworkable.
Mr Simons: This is a bit more of Mr Gray's dirty, underhand, suggestive remarks against members of the Council. I think it's a piece of impudence, and perfectly abominable. He is referring to me, and all that happened was that after asking permission of the superintendent, the mechanic came to my garage to clean my car in his own time.
On being put to the vote the resolution was lost, only three hands being held up in its favour.
19 December 1916 NEP
FREEMASONS
Freemasons have played their part in the war both in giving financial support to many worthy objects and in sending their younger brethren and their sons in great numbers to don the khaki or the blue of the navy, and testimony was paid to their loyalty this afternoon at the annual meeting of the Provincial Grand Lodge. In his opening address his Grace the Duke of Portland dealt with various efforts made by the craft during the year … a special electrical ward at a V.A.D. Hospital by the Freemasons of West Bridgford, who had also maintained for a considerable time a special masseur for the use of military patients.
22 December 1916 NEP
SIR JESSE BOOT
The news that the King has been pleased to confer a baronetcy upon Sir Jesse Boot will give rise to much satisfaction not only in Nottingham, but over a far wider area. Sir Jesse … laying out of Plaisaunce at West Bridgford, his original summer residence, as a centre of recreation for his employees, and the provision of a finely-equipped athletic ground at Lady Bay.
27 December 1916 NEP
CAROL SINGING
No 2 platoon singing squad "A" (West Bridgford) Company of the Notts. Volunteer Regiment on their carol singing tour on Christmas Day, collected £7 7s 6d for the Comforts for Troops Fund.
25 December 1916 WBA
DANCE STUDENTS
A pretty and animated scene delighted the senses on Monday, the Nottingham Mechanics' new ballroom being occupied for the nonce by a company of daintily clad merry-hearted youngsters, pupils of Miss Monro's dancing class, West Bridgford, assembled for their annual Terpsichorean endeavour.
THEY SAY
That an elaborate food-producing scheme is materialising at West Bridgford. That the Council has arranged for the "mobilising" of all undeveloped building plots. That these are scattered promiscuously all over the parish. That they are to be offered to prospective "Adams" at a very nominal rental. That applications are invited forthwith.
1917 JANUARY
6 January 1917 WBA
THEY SAY
That over £250 were contributed on the recent Bridgford "Day". That te hmoney goes to the local V.A.D. Hospital. That the institution is doing splendid work. That it is always full of convalescent "Tommies".
That another motor bus stop is wanted on Ella-road. That at present there is nothing between Trevelyan-road and Lady Bay Bridge. That a mid-way stop would be much appreciated by residents on Edward-road, Ella-road, Crosby-road, and Richmond-road. That perhaps the committee will oblige.
COATS FOR DRIVERS AND CONDUCTORS
Quotations were received for overcoats for the drivers and conductors, when it was resolved that the chairman, Mr Aylett, and the superintendent be appointed a sub-committee to inspect and purchase the necessary overcoats, power to act being given.
JESSIE GRAY
Mr Jessie Gray, headmaster of the Trent Boulevard elementary school, West Bridgford, who joins the colours next week, has been presented by colleagues with a luminous wristlet watch.
RIVER TRENT
The River Trent rose rapidly throughout Friday night and Saturday, and fears were at one time expressed that it would overflow its banks.
BRIDGFORD CHILDREN AND CHRISTMAS
Of all the Christmastide gatherings in Nottingham, none is more interesting than the Poor Children's Christmas Party in connection with the Colwick-street Council School. Situated in the heart of the City's slums – Sneinton Bottoms – exception to the rule. Bright-eyed and clean the scholars, as one may naturally imagine, belong to the poorest community. The scholars of West Bridgford Parish Church sent a splendid collection of toys raised by their toy service.
9 January 1917 NEP
POOR-RATE COLLECTOR
Mrs R P Simons, wife of the poor-rate collector for West Bridgford, was appointed to fulfil the duties during the absence of her husband on military service.
10 January 1917 NEP
WEST BRIDGFORD MAN HANDED OVER
Evidence was given that defendant, a conscientious objector, was granted exemption from combatant service and recommended to go to farm work. Lieut Cutts pointed out that defendant had been offered work as a clerk under the military authorities, but refused it, and had made no attempt to obtain farm work. Defendant was handed over to the military.
13 January 1917 WBA
POTATO GROWING
A good start has been made in West Bridgford in the matter of the potato-growing scheme. In response to the appeal issued by the local Council over a hundred applications for suitable land have been received, and already several plots have been taken over and actual operations commenced.
In addition top supplying the seed at cost price, the Urban Council has also made arrangements for ploughing the soil and for fencing in. In respect of these operations a small charge will of course be made, but as the rental is merely nominal, the additional outgoings will be comparatively light.
There are a large number of vacant building sites scattered up and down the parish. But in several instances the owners have let the same direct to the tenants. In all other cases the Council are taking the land over, stipulating with the prospective gardeners that at least two-thirds of the plot, which varies in size from 300 to 500 yards, shall be set with potatoes.
BRIDGFORD'S "CHEER O" SOLDIER LAD
Writing home to his parents from "Somewhere", Private J Holmes, 37, Radcliffe-road, West Bridgford says:- "The prisoners we captured were absolutely frightened to death, and needed no guard to take them to the back of our lines. Our artillery is smashing the life out of him, and he shows very little fight. They were giving us watches, rings, helmets, and all manner of things to spare them. Clearing his dug-outs we found cigars, cigarettes, and matches in plenty, and no end of black bread – it was awful stuff – but his tinned bacon, jam and coffee were fine" … We came into the trenches on Christmas Day, and at night Fritz started to shell us for a short time – just a few Christmas boxes, I suppose. One burst just outside our dug-out and blew the candle out""
16 January 1917 NEP
TRENT BRIDGE PAVILION HOSPITAL
The Chairman sketched the growth of the hospital, which now contains 90 beds, and has already treated 1,038 patients.
20 January 1917 WBA
TRIBUNAL "STRIKE"
West Bridgford Local Tribunal has followed the example of several others up and down the country and "gone on strike". This drastic action is the result of the appearance of a second military representative. The clerk was directed to send a protest to the Local Government Board. We understand that the Local Government Board, after pointing out that it has no control over the military, complains that there are no fewer than fifteen members on the West Bridgford Tribunal instead of "not less than five and not more than seven", as recommended.
Mr Day particularly repudiates the suggestion that the West Bridgford Tribunal has shown any undue lenience, and at the same time emphasises that tribunals are bot to be considered as recruiting agencies. Their function is to see that every man who ought to go does go, and that every man entitled to exemption gets it. Major Pratt Barlow, on being appealed to at a recent meeting, expressed the opinion that West Bridgford Tribunal was one of the most equitable he had ever attended, and very few appeals had been made against their decisions by either side.
POTATOES
It was reported at Friday night's meeting of the West Bridgford Urban Council that satisfactory progress was being made in the parish relative to the national food growing scheme. Mr Furse said that acting upon the Board of Agriculture's circular 2½ tons of seed potatoes at £8 10s per ton had been purchased, to be re-sold at cost price to the farm committee. The surveyor explained that 127 plots had been applied for in the parish and allotted. They proposed to fix the price per plot at 10s as a maximum and to execute all "outside" fencing.
MILITARY CROSS
Temporary Captain C Danby (general list and Flying Corps), who has been awarded the Military Cross, is a son of Mr J W Danby, of West Bridgford. One of his brothers (he has two serving) won the M.C. last year.
1917 FEBRUARY
3 February 1917 WBA
THEY SAY
That the Saturday night late bus from Trent Bridge has been discontinued. That the last 'bus now leaves at 10.15pm for Trent-boulevard and Melton-road. That the last bus for Loughborough-road leaves Trent Bridge at 10.5pm.
BROKEN LEG
A West Bridgford lady, Mrs Clifton Pattison, living at 7, Carnarvon-road, was getting on to a 'bus near Trent Bridge, but was startled by a sudden backward movement of the vehicle, and dropped back on the ground again. She was then knocked down and the wheels passed over her right leg, inflicting a compound fracture.
CALL-UP
The proclamation calling up the youths of 18 has now been posted in Nottingham.
10 February 1917 WBA
BUSES
The Superintendent reported that fog had interfered with the service during the past month, and pointed out he had recently made an experiment in the alteration of electric lights, in front, placing them nearer to the ground, which will allow the 'buses to remain at work longer in case of a light fog. The sub-committee reported overcoats had been purchased for the drivers and conductors. The superintendent said he proposed to purchase hats with numbers fixed. The Council agreed.
12 February 1917 NEP
BIRDS ON THE WESTERN FRONT
Mr T C Thorpe, of West Bridgford, forwards the following extract from a censored letter from the western front which will be of interest to bird lovers:
"Even in the front line we get all kinds of birds – sparrows, starlings, blackbirds, thrushes, wrens, robins, They take little notice, except when there is a big 'strafe' on. Even then the sparrow ignores Fritz's shells. It takes a lot to frighten him. I never did see so amusing a thing as when a shell dropped close to a lot of sparrows some days ago. It proved to be a 'dud'. They hopped away, and when we were expecting to see feathers amongst the flying earth, we saw the same birds gravely inspecting the shell at close quarters." So our Tommies are able to forget their surroundings for a little while, thanks to the birds.
17 February 1917 NEP
HOW WEST BRIDGFORD PEOPLE WERE SWINDLED
Sentence of three months' hard labour was passed at the Shire Hall, Nottingham, to-day, on a Huthwaite woman named Mary Jane Whawell, aged 28, for frauds on West Bridgford householders. Evidence was given to prove that the prisoner went to various registry offices in Nottingham and having obtained the names of people wanting domestic servants, called at their houses and pretended to take an engagement. Then she would borrow money from them to pay her fare from Sheffield, Doncaster, or some other town from which she said she came.
17 February 1917 WBA
THEY SAY
That the ice on Trent Pool, Boots' Ground, on Sunday, was over 16 inches thick.
WAR LOAN
Falling into line with many other public authorities in various parts of the country, the West Bridgford Urban Council on Friday decided to apply for £1,450 of War Loan in two investments of £500 and one of £450, such sums to be derived from £500 "bus renewal fund" and "£950 from the "treasurer's No 2 account".
VEGETABLE PLOTS
145 plots, averaging 400 yards, had been let in connection with the national food culture movement. As to the keeping of poultry on these plots, the council agreed to give the necessary permission "where residents reside in close proximity to their allotments, or are able to make arrangements as to proper feeding".
MEDICAL OFFICE ANNUAL REPORT
Dr Hunter, medical officer, in his annual report, stated that at not time in recent years had there been so few unlet houses. Reckoning four inhabitants to each house they got a population of 14,180. On the roll of honour there were now 518 names.
19 February 1917 NEP
GIFT OF ACCIDENT EMERGENCY CASES
The No. 9 (West Bridgford) Voluntary Aid Detachment through Commandant A E Sutton have presented West Bridgford with three accident emergency cases which have been attached to the Lady Bay Bridge and the lamp-posts at the junctions of Loughborough-road with Bridgford-road and Melton-road and Musters-road respectively. Each case contains a blanket, surgical appliances, and dressings, which may be utilised by anyone who understands their use and rendering first aid to the victim of an accident. The cases are covered with glass which has to be broken off before they can be unlocked, and the names and addresses of members of the V.A.D. residing in the neighbourhood have been placed in a prominent position near each case. In these days of lighting restrictions and dark days, the gift should prove extremely valuable.
24 February 1917 WBA
DISHONEST SERVANT AT WEST BRIDGFORD
Three months' imprisonment was the punishment meted out to a homeless cook, Mary Jane Whanell (28), at the Nottingham Shire Hall, on Saturday, for obtaining money by false pretences from two West Bridgford residents, Mr John Sewell and Mrs Annie Lizzie Coulton.
The woman went to various servants' registry offices in Nottingham recently, telling the proprietors that she was in need of employment as a "cook-general." The names and addresses of several people in West Bridgford and Nottingham who required servants were given to her., and she afterwards called on them. In each case she was "engaged," but before leaving asked that her railway fare from Doncaster of Sheffield should be paid. From Mr Sewell she obtained 3s 6d, and from Mrs Coulton 6s 8d. The Deputy Chief Constable,(Mr W Harrop) called attention to the fact that while the prisoner was only charged with two offences, there were five others in the city, and he asked that these should be taken into account. She was "wanted" elsewhere, and had undergone twelve months' imprisonment for offences at Liverpool
26 February 1917 NEP
BRIDGFORD PLOT CULTIVATORS
Sir, In view of the large number of new allotment cultivators in West Bridgford it has been suggested that an association should be formed for mutual help and united action. That many advantages might accrue to each member form such an association is obvious. – I am, sir, &c George H Wilson, 33m William-road, West Bridgford
1917 MARCH
3 March 1917 WBA
CONCERT
Arranged by Mr W G Cartwright and Mr A Kirkby, a splendid concert was contributed by artists who appeared at the Nottingham Hippodrome last week to wounded soldiers at the West Bridgford V.A.D. Hospital. There was also a musical chairs competition for the men.
BRIDGFORD SCOUTS
It was reported at the annual meeting of the West Bridgford Scouts that there were in the troop, 61 scouts, 32 cubs, and three officers, a total of 96. Fourteen boys are King's Scouts, 21 hold first-class badges, and 31 second-class. There are 28 boys serving with the Colours.
6 March 1917 NEP
CYCLIST UPSET IN NOTTINGHAM
While cycling on Castle-boulevard this afternoon Samuel Leach, 51, of 87, Ella-road, West Bridgford, an insurance agent, was knocked down by a motor car. He was taken in the car to the General Hospital, where his knee was found to have been damaged.
7 March 1917 NEP
BICYCLE THEFT
Arrested as he came out of prison after serving a sentence of three months' hard labour, Thomas George Israel, an army deserter, was sentenced to two months at the Nottingham Shire Hall to-day for stealing a bicycle belonging to Mr Thornton Smith, of Trent Boulevard, West Bridgford, on November 28th. The bicycle was left outside a house in George-road, and prisoner took it, rode it to Darlington, and sold it.
Deputy Chief Constable Harrop said he was an incorrigible. and that the army did not want him.
24 March 1917 WBA
THEY SAY
That Major Pratt-Barlow has resigned the position of military advisor to the West Bridgford Tribunal. That this is the sequel to the recent loudly-vaunted "strike".
PUBLIC TREES
Pruning of the public trees to stand over for this year, branches an obstruction to the buses to be taken off.
PIG KEEPING
In the event of applications to keep pigs being made, each case to be dealt with on its merits.
31 March 1917 Warwick Advertiser
HEADMASTER
Mr F B Davis, who has been second master at the Leamington Boys' Secondary School since January, 1907, has been selected for the appointment of Headmaster of West Bridgford Higher Grade School and Pupil Teachers' Centre, Notts. He has done much useful religious and social work in the district.
1917 APRIL
20 April 1917 WBA
THEY SAY
That the new "Mayor" of West Bridgford is Councillor W Hobson. That he is usually spoken of as "the silent member" of the Council. That in his case "silence is golden". That we cordially congratulate him upon his elevation.
TRIBUNAL STRIKE
West Bridgford Tribunal on Wednesday followed the lead of their near neighbours in Nottingham and also went on "strike" – for the second time in about three months – as a protest against the action of the military authorities.
A resolution moved by Mr J H Dunford and seconded by Mr H P Day, "to adjourn until an assurance is given that the tribunals' decision shall be respected" being carried unanimously.
Mr T Harlow, at the outset, strongly protested against the way in which local decisions were being reversed by the Appeal Tribunal, and cited several instances in support of his attitude.
Mr H S Day endorsed the allegations, adding that no respect whatever was shown them by the military. Further there was the abominable slander that West Bridgford sheltered eligibles, and he for one should refuse to waste the time coming there. (Hear, hear.)
27 April 1917 NEP
ZEPPELIN WARNINGS
The vexed question as to buzzer alarms for Zeppelin warnings has been settled by an order under the Defence of the realm Regulations, issued by General Sir John Maxwell, the officer commanding-in-chief, Northern Command. The use is prohibited ot "Hooters, syrens, buzzers, or other sound signals, for the purpose of giving warning to attack or anticipated attack by hostile aircraft within … the urban district of West Bridgford.
28 April 1917 WBA
WEST BRIDGFORD LIGHTING FINE
A well-known Nottingham schoolmaster, Hector Tomkins, was fined 40s at the Nottingham Shire Hall, on Saturday, for allowing a light to be seen from his house at West Bridgford at 10.10 on April 11th.
WEST BRIDGFORD AT THE FRONT
Writing from "Somewhere" to his parents on Ella-road, West Bridgford, Bombardier F Malbon describes a Sunday night "church" experience as follows:-
"I had just got nicely away for the service when the enemy started bombarding the village. The service was being held in the cellar of a shell-wrecked house and I shall never forget the night as long as I live. Somehow it never occurred to me to turn back and in any case that would have been almost as dangerous as going forward. One man struggled in after me and we were the congregation. The parson was at a dressing station less than five minutes away, but it would have needed a man of more than ordinary courage to come even that short distance. For two hours Fritz shelled for all he was worth, but eventually I reached my dug-out and slept none the worse. In any case I don't want any head and nerve powders!"
28 April 1917 NEP
KILLED
Capt Harold Victor Walters, Sherwood Foresters, previously reported wounded and missing, is now known to have been killed on September 3rd last. He was the youngest son of Mr Wm Walters, of West Bridgford, and his widow resided there. He served in the Nottingham University Officers Training Corps, obtained his commission in July, 1915, and was promoted captain in January last year.
30 April 1917 NEP
ROLL OF HONOUR
SUMMERS – Killed in action, April 22nd, Private Thomas Archibald Suumers, Leicesters, aged 33 years, late 1, Edwinstowe-avenue, West Bridgford, aged 33 years. Safe in the arms of Jesus. From his sorrowing wife and three children.
1917 MAY
3 May 1917 NEP
MORE WOUNDED REACH NOTTINGHAM
Another convoy of wounded men arrived in Nottingham last night. The men were conveyed to the Trent Bridge, West Bridgford, and Albert Hall hospitals, and the customary ambulance men and cars were on duty to attend to their needs. The party numbered 228, and there were happily not many serious cases amongst them. The party included 15 men of the Lincolnshire Regiment, one of the Notts. And Derbys, and several Canadians.
5 May 1917 WBA
WEST BRIDGFORD TRIBUNAL STRIKES
West Bridgford Tribunal on Monday sat in camera to consider a communication which had come to hand from the Local Government Board with reference to the "strike" declared by the Tribunal a fortnight ago. Details of the letter were not divulged but … report … the Tribunal resume its sittings on Wednesday next week.
12 May 1917 WBA
JUVENILE PIERROT TROUPE
On Saturday, the West Bridgford Juvenile Pierrot Troupe, underthe direction of Madame Farnsworth and Mrs H Goddard, visited the Sneinton Dale Schools. These buildings serve as the male mental ward of Nottingham. Madame Farnsworth's Juveniles have earned a great reputation of late, and their services on Saturday were greatly appreciated by the inmates, and cheers were heartily raised at the close of their very entertaining programme.
ANOTHER BRIDGFORD SACRIFICE
Mr S F Weston, of 19 Epperstone-road, West Bridgford, accountant in the Nottingham Corporation Water Department, has received official information that his second son, Second-Lieutenant Maurice S Weston, of the Sherwood Foresters, was killed in action on Friday last. His elder brother, Lieutenant V Weston, has been at the front for some time, attached to the Machine-gun Corps.
OPEN-AIR CONCERT
With a view to providing sun blinds for the Ulster Hut at the Trent Bridge V.A.D. Hospital, the "A1 Military Hospitals' Concerts Party", on Monday, gave an open-air concert on the Trent Bridge Cricket Ground.
19 May 1917 WBA
BRIDGFORD COUNCIL
West Bridgford Urban Council decided on Friday to proceed with the scheme for providing additional office accommodation at the bank premises, Radcliffe-road.
The Clerk (Mr W H Redgate) said he has every reason to believe that the Council's claim against the War Office for compensation on the commandeering of the motor 'buses would be settled, the objection previously lodged by Whitehall having now been withdrawn.
Mr J H Dunford again called attention to the fact that the balance-sheet on the 'bus undertaking had not yet been published. Repeated promises had been made that that should be done, and surely the ratepayers had a right to the statement.
21 May 1917 NEP
PROFITABLE PIG KEEPING
Seeing in your columns some time ago the offer of one of your correspondents to lend a sum of money free of interest to persons desirous of keeping pigs I came to the conclusion there must be something in pig keeping. So I decided to have a flutter, and have just finished up my first deal. I applied to the West Bridgford Council for permission to erect a sty (which in pre-war days would have been little less than a crime), and they granted it to me. On the 28th February I bought two pigs, and collected in the district potato peelings, turnip peelings, &c, that would otherwise have been wasted and which the people were pleased to give me. With the object of showing what can be done with a bit of trouble and labour, I enclose my balance-sheet: Say two pigs 12 weeks old, £5; meal, £2 5s; powders, &c, 2s 3d; transit of pigs to market, 4s; coal for cooking food, 5s; interest on money expended, 5s; auctioneers' commission and tolls, 6s – total £8 7s 3d. The pigs were sold in the market last Wednesday for £17 10s, a profit of £9 2s 6d. The point I wish to emphasise is that where practicable pig-keeping should be encouraged, and that everyone who keeps a pig should be compelled to keep it clean. I have produced 19 stone of pork for public consumption, with a good balance for my trouble. – C Bramley, 21 Cromford-road, West Bridgford.
25 May 1917 NEP
ALLOTMENT HOLDERS
West bridgford allotment holders gathered at the Rectory-road Schools last night to hear a lecture on "Intercropping" by Mr Ronald C S Ross, FRHS, given under the auspices of the West Bridgford Holders' Association.
The general business of the evening included a decision to erect the association's notice boards on all allotments, and the adoption of a hand spray, to prevent potato disease, the knapsack spray recommended by the Board of Agriculture being found too expensive.
The treasurer's statement showed a sound financial balance, and with a membership of 117, which is being continually added to, and some 300 or 400 holdings comprising 17 acres, it was apparent that the three months' old association was ina flourishing condition.
26 May 1917 WBA
BRIDGFORD COUNCIL
Members of the West Bridgford Urban Council accompanied their chairman, Mr W Hobson, to St Giles' Church on Sunday morning. A procession, headed by the Volunteer Band, and including the Council officers, police, fire brigade, ambulance men, Boys' Brigade, Boy Scouts, and a contingent from the V.A.D. Hospital, marched by way of Musters-road and Rectory-road to the church, where the rector (the Rev R Hargreaves) preached on the duties, responsibilities, and privileges of citizenship. The return journey to the Council offices was made by way of Bridgford-road, and following the salute and "God Save the King" the company dispersed, There was a numerous attendance.
V.A.D. HOSPITAL ADDITIONS
Among the many-sided activities of the V.A.D. hospital at the West Bridgford cricket pavilion the medico-electrical ward that was established about a year ago must be given prominence, whilst the extension that was opened last week, known as the "Monty Hind" ward, will surely add to its sphere of beneficence.
The extension scheme is the outcome of a visit paid to the hospital a short time ago by by Mr J W Hind, who, convinced of the good that was being done, expressed a desire to provide and equip a new ward, in which recuperative and restorative exercise could be indulged in by the patients. Mr Hind offered to build this ward as a memorial to his only child, Lieutenant Montague Hind, who was killed in action in France, on September 27th, and in it is a life-like portrait in oils executed by Mr Denholm Davies, of Nottingham, beautifully framed in rich massive oak, in which the family and the college arms of the deceased officer are quartered.
"Every time anyone looks upon this portrait he sees an Englishman who did his duty," declared the Rev H T Hayman in unveiling the portrait.
1917 JUNE
1 June 1917 NEP
WALKER
Killed in action, April 14th 1917, Rifleman Rollo Waldron Walker, London Regt, beloved and only son of Mr and Mrs H Walker, "Enderby", Millicent-road, West Bridgford
2 June 1917 NEP
WOUNDED
Second-Lieut Clive L Brown, Sherwood Foresters, youngest son of Mr J B C Brown, Musters-road, West Bridgford, is officially reported wounded. He joined the Robin Hoods immediately after the outbreak of the war, was transferred to the Inns of Court O. T. C., obtained his commission, and was attached to the Sherwood Foresters in April last year, proceeding to the front in August.
2 June 1917 WBA
BRIDGFORD AND THE STYGIAN GLOOM
A yarn agent, Isaac Holt, of 130 Musters-road, West Bridgford, was fined 40s at the Nottingham Shire Hall, on Saturday, for offences under the Lighting Regulations. Mr H B Clayton, who defended, said that Mrs Holt was very ill, and when the defendant arrived home on May 10th he went straight upstairs to her room. A maid put a light in the the dining-room, and when drawing the blinds failed to draw the dark curtains. The light seen from the hall was due to a darkened window being partly left open.
BRIDGFORD SCHOOLS
Mr T L K Edge, chairman of the Sites and Buildings Sub-Committee, commenting on a small fire, involving damage to the extent of about £20, which occurred at the Exchange-road Council School, West Bridgford, said that it had been suggested that this was attributable to the negligence on the part of the caretaker, who, during illness, had left the schools practically in charge of a young girl. In the case under notice a new caretaker had been appointed and had taken over the duties.
4 June 1917 NEP
BIG CONVOY OF WOUNDED BROUGHT TO NOTTINGHAM
Early yesterday morning a hospital train reached Victoria Station, Nottingham, bearing a party of 158 wounded soldiers, straight from the front. Valuable aid was rendered by members of the West Bridgford and Players' Company of the Red Cross, and by the V.A.D. 41 (Commandant G V Hutton).
9 June 1917 NEP
COLLIER
Missing July 1st, 1916, now reported killed, Pte G A Collier, Sherwood Foresters, only son of A A and E Collier, Julia House, Trent-boulevard, West Bridgford, aged 21.
13 June 1917 NEP
HOW A FRAUDULENT SOLDIER WAS CAUGHT
Peculiarly despicable frauds were alleged at the Nottingham Shire Hall to-day against a soldier named William Harby. Prisoner was also charged with obtaining a pair of shoes by false pretences from Emma Selby of Millicent-road, West Bridgford. He went to Mrs Selby and told here he had been sent from the Trent Bridge Hospital to collect shoes for wounded soldiers, as the army boots were too heavy. Accordingly she let him have a pair of her son's. He was wearing "wounded" stripes.Two days' later he was caught in a similar act by Inspector Stapleton, to whom he said: "I might as well tell you the truth. I am collecting for myself. Some I Sell and some I give away." Deputy Chief Constable Harrop stated that priosner had been posted as a deserter since March 4th. He admitted having had as many as 50 pairs of boots in one week and sold them. Mr Harrop added that his arrest was due to the prompt action of Mrs Bass, of Millicent-road, who thought there looked something suspicious about him when he called on her.
SELLING NEW BREAD
The first prosecution at the Nottingham Shire Hall for selling bread that had not been baked twelve hours was heard to-day, the defendant being Arthur Watson, of West Bridgford. Inspector Crabtree said that on the night of June 1st he saw the defendant's boy delivering bread at West Bridgford. The loaves were quite hot, and he was informed that they had been baked that night. Defendant said he had had a lot of accidents in the bakehouse, and had run short of yeast. He had not liked to leave his customers without bread which they needed for breakfast. A fine of one guinea was imposed.
WOUNDED
Mr P C May of 125 Musters-road, West Bridgford has received a telegram from the War Office announcing that his son, Second-Lieut Eric P May, of the Sherwood Foresters, has been wounded and is at present in hospital in France. Second-Lieut May, who is 24 years of age, received his education at the Modern School, West Bridgford, and in August 1914, enlisted in the Royal Engineers. In three months he reached the rank of sergeant, and in May 1915, was granted a commission in the Sherwood Foresters, proceeding to the Western front eleven months ago. In December last he was confined to hospital with trench fever, and had recently been accepted as an observation officer in the R.F. Corps. He was awaiting his call when he was wounded in action on June 8th.
15 June 1917 NEP
STIMULUS OF BRIDGFORD WAR GARDENERS
West Bridgford is to have a vegetable show at the end of August, according to a resolution passed at a meeting of the West Bridgford Allotment Holders' Association last evening. Keen competition is naturally anticipated among the war gardeners of the Trent side suburb in turning out the finest produce during the coming weeks.A the same meeting it was decided to aid the police in protecting allotments by issuing to all members identity cards, bearing name, number of plot, and position, which are to be carried when produce is being removed. By this means it is hoped to reduce thefts to a minimum, as a suspected person can be asked to show his card.A junior section of the association will soon be formed on account of the large number of boys taking up small pieces of waste land for cultivation.
MILITARY CROSS
Second-Lieutenant H E Keeton, West Yorkshire Regiment, son of Mr J A Keeton, of West Bridgford, was invested by his Majesty of Wednesday with the Military Cross.
16 June 1917 NEP
HOW WOUNDED SOLDIERS HAVE BEEN ROBBED
Six strokes of the birch was the punishment meted out to a little 13 year-old boy who was charged with stealing 1s and 1s 7d from two wounded soldiers at the West Bridgford Military Hospital.P.C. Salsbury said it was the habit of boys to offer to fetch fruit, cigarettes, &c, for the wounded, and after receiving the money they were never seen again. This was what happened in the present case, but he was able to trace the lad by a description of him given by the soldiers.
16 June 1917 WBA
DELIVERIES
Mr J Simons drew attentrion to a report that the railway companies contemplated discontinuing the delivery of goods to tradespeople in the parish. The Chairman said such steps, if decided upon, would be a very serious matter for traders. A strong protest ought to be entered at once.
'BUS BALANCE-SHEET REVELATIONS
Mr J H Dunford said he was pleased to see the 'bus balance sheet for 1913 had been made public at last. He could not help criticising the assertion made some time ago that a profit of £1,000 had been obtained, for he noticed that against the balance of £817, depreciation totalling £881 and interest on capital £350 must be placed. That meant that instead of a profit there was really a loss.
MEMORIAL TO FALLEN HEROES
Memorials to West Bridgford Brigade lads who have fallen in the war were unveiled by the Bishop of Southwell in the Hound-road Institute.Mr R R Swain, who founded the 8th Nottingham (West Bridgford) Company of the Boys' Brigade, is just entering his twenty-first year as its captain, said no fewer than 237 past and present members were known to have joined the colours; but the actual number was probably considerably greater, as, prior to the war, many had emigrated to other lands.
26 June 1917 NEP
TO THE PATRIOTIC WOMEN OF WEST BRIDGFORD
You are invited to attend a meeting on Wednesday next, June 27th, in the Boys' Brigade Institute, Hound-road, at 7.30 p.m. Mrs Hobbs, of the Board of Agriculture, will speak on "Women's Work On The Land." Chairman: The Sheriff of Nottingham. All ladies are invited to attend. The County requires your help.
27 June 1917 NEP
RUSSIAN DECORATION FOR NOTTINGHAM OFFICER
The Russian Government has conferred the Order of St Stanislau 3rd Class, with crossed swords, upon Surgeon Probationer Gilbert Blurton, R.N.V.R., the elder son of Dr Blurton, Radcliffe-road, West Bridgford.
29 June 1917 NEP
WEST BRIDGFORD ASSOCIATION OFFERS PRIZES
The vegetable show to be held by the West Bridgford Allotment Holders' Association has been fixed for Saturday, August 11th.Two prizes have already been offered – one for crops grown on new grass land without manure and the other for the plot showing the best food production results, coupled with order, planning, &c – and further offers will be gladly received by the Hon. Sec., Mt Ronald C S Ross, F.R.H.S., and his assistant secretary, the Rev G H Wilson.The West Bridgford Council have agreed to loan a knapsack sprayer to members of the association on payment of the actual cost of materials.A junior section of the association has now been formed.
30 June 1917 WBA
THEY SAY!
That 12¾ acres have been laid out in allotments at West Bridgford. That these have been divided into 176 lots.
'BUS CLAIM AGAINST WAR OFFICE
A the monthly meeting of the Urban Council, the clerk (Mr W H Redgate) reported that the chairman of the 'bus committee (Mr G Lovett), the superintendent and himself had attended before the War Office claims' commission with reference to the Council's request for compensation for the commandeered motor-'buses, and that after hearing the arguments the matter was adjourned for consideration.
WEST BRIDGFORD HIGHER SCHOOL, MUSTERS ROAD (AT TRENT BOULEVARD)
An entrance examination will be held at the above school on Friday, 6th July 1917, commencing at 9.30a.m. Children from a distance can obtain dinner at the school for a small charge on giving notice before the commencement of the examination.The Higher School has a carefully-regulated course for boys and girls who are over 12 years of age. The subjects taught include Cookery, Dressmaking, Needlework, Science, French, Woodwork, Mathematics, Drawing, and Singing.The Fee is 6d per week, but there are a number of free places. Children from outside the Trent-boulevard and Musters-road Junior Schools who wish to sit for the examination must apply by 2nd July, 1917 to Arthur E Mounteney, Correspondent, 1 Eldon Chambers, Wheeler-gate, Nottingham.
1917 JULY
7 July 1917 WBA
BRIDGFORD IN MESOPOTAMIA
"There are millions of flies here," writes a West Bridgford man from Mesopotamia to his wife, who lives on Byron-road.
"There are ants, too, and black-beetles of all denominations and creeds. Of all the flee-bitten snake-ridden, scorpion-tormented corners of the world this is it, and I'd swap all Jerusalem land for a bit of West Bridgford just now.
"The man here wear their hair in long plaits, and the women are awful generally; I'll swear they have never been washed for years! They dress in a robe of holes with rags round, and live in huts which are far worse than any stables and cowsheds at home. Grown-ups, kids, cows, sheep, goats, donkeys, camels, dogs, and fowls all live, sleep, and have their being together. You can imagine what it looks like, but not what it 'smells' like!
"After inspecting the inside of a good-size mud-houses of a native it struck me there's nothing so wonderful about Jesus being born in a manger, for the cattle-manger, made of dried mud, runs right down one side of the house inside, so it appears it would be the only available place for Him to be born in."
PARLIAMENTARY BOUNDARIES
Now that the Commissioners appointed for the purpose have revealed their hand it is possible to form some idea of what is to happen in Notts. regarding the distribution of seats under the new Representation of the People Bill.
A fifth division is to be created by splitting up the existing and unwieldy Rushcliffe division,into two portions.
9 July 1917 NEP
CHAPMAN. Died of wounds in France, July 1st, Gunner James Chapman R.F.A., dearly loved husband of Janet Chapman, 62a Julian-road, West Bridgford (late chief clerk, Liverpool Victoria Legal Friendly Society, Nottingham district).
11 July NEP
WEST BRIDGFORD TRADER AND THE PEAS
At the Nottingham Shire Hall to-day, Alfred Mansell of West Bridgford, admitted having sold whole green peas at 11d per lb, 2d in excess of the legal price, and was fined £2 2s and costs.
The defendant said that he had given instructions that the peas should be withdrawn from sale, or sold at only 9d. The peas actually cost him 91s per cwt, or just under 10d per lb. He, in common with many other traders, was handicapped by having to rely upon inexperienced assistants.
21 July 1917 WBA
BRIDGFORD COUNCIL
Mr T Barlow moved that they support the protest made by the Carlton Council against the division of the Rushcliffe constituency against the division of the Rushcliffe constituency as suggested, and under which Carlton is transferred to the new proposed Hucknall District.
Mr Dunford, seconding, pointed out that West Bridgford and Carlton were in the same registration area – an additional reason for joint action.
Mr Day mentioned that … it was significant that only one political party had as yet raised any objections.
Mr H J Raven thought it was a pity members had not had an opportunity of going into the proposal, and in the end it was decided to hold a special meeting of the Council on Tuesday to consider the matter.
Intimation came from the Nottingham Corporation of their intention to apply to the Local Government Board for a provisional order to supply electricity to the parish.
The Clerk pointed out that some time ago the Urban Council prepared an electricity scheme of their own, which was subsequently dropped.
The Chairman thought the proposition was far-reaching, and as such ought to be thoroughly debated. He suggested consideration be deferred to the special meeting, and this was agreed to.
WHAT DO THEY SAY?
That a lively little discussion developed at Friday's meeting of the West Bridgford Council.
That the committee recommended the allowance of 12s paid to an office youth now with the colours be reduced to 5s.
That Mr Gray spoke of this as "scrapping" our fighting men.
That Mr Furse asserted there would have been no opposition to the committee had "relatives been off the council."
That Mr Lovett hotly denied the aspersion.
That he declared it was a case of brains with him, not influence.
That Mr Furse retorted: "I have brains as well."
That Mr Lovett's reply to this was: "Perhaps I'm making better use of mine."
That other voices were also raised against the proposed reduction.
That the committee's "defence" was that the lad's mother, a widow, had since died.
That to that the reply was the money would be very useful when the lad came back to his job in the office.
That by a big majority the committee's "case" was scotched.
That we say: "And quite right too."
BRIDGFORD TOMMY STILL SMILING
Writing from "Somewhere in France" to his parents on Radcliffe-road, West Bridgford, Signaller Holmes says: "My word I had a chasing round the last time in the trenches, in fact I thought I should get my "blighty" before I came out. He hit our dug-out a dozen times a day and at night the place rocked like a cradle. … Well the Boche is in for something he little bargains for before long. …I am attached to brigade headquarters now for a time for something you will hear of later. … We have several mademoiselles at our farmhouse and we have quite a lot of sport. Does Pa think we are winning, because if not he soon will. I wouldn't be a Boche for a pension. Of course, we cannot tell all we know, but that is a lot just now. We are living well, on rabbit and new potatoes and I've one of the best of jobs.
1917 AUGUST
6 August 1917 NEP
WOUNDED
Mr Arthur E Cleveland, of Fairleigh Cottage, Wilford-lane, West Bridgford, has received an intimation from the War Office that his son, Second-Lieut H. A. Cleveland, York and Lancashire Regiment, has been severely wounded. The young officer joined the Nottingham City Battalion in September, 1914, being transferred to the Lincolnshire Regiment. He took part in the battle of the Somme last year. He received his commission in the York and Lancaster Regiment in March last.
7 August 1917 NEP
KILLED
News has reached Mr and Mrs A Levy, of Musters-road, West Bridgford, that their only son, Second-Lieut Arthur Herbert Levy, R.F.A., was killed in action in France on July 31st. The deceased officer, who was 30 years of age, was educated at the Nottingham High School, and after drilling with the Athletes Company of the Citizen Army and acting as a special constable for some time, he joined the University College O.T.C., and received a commission in the R.F.A. in November, 1915. Twelve months later he proceeded on active service and took part in the Arras battle, and subsequently in the battles of Ypres and Messines.
11 August 1917 WBA
SERIOUS FIRE AT WEST BRIDGFORD
West Bridgford Fire Brigade received a call about two-o'clock on Friday morning to premises in Oakfield-road, where Mr Thomas Barlow, builder and contractor, Beauvale-road, Nottingham, had stored some plant, including 600 scaffold poles and a large quantity of battens used in the erection of scaffolding. It is believed that the outbreak was due to the depositing near the yard of some hot ashes from a neighbouring establishment, and the fire brigade under Captain E A Selwood, fought the flames for upwards of a couple of hours before they finally subdued them. Mr Barlow estimates the damage at about £500. The brigade, who had four jets at work, did well to confine the fire to its original seat; for had the flames been allowed seriously to spread, other property, including Lady Bay Laundry – where there are spirits used for dry cleaning purposes, might easily have been involved.
HOUSES SOLD
Two lots of valuable semi-detached villa property at West Bridgford were sold by Messrs T Neale and Son at the estate sale room, Nottingham. The first lot, Nos 29 and 31 Mona-road realised £555 and the second lot, Nos 33 and 35 Mona-road, made £565.
PLOTTERS
West Bridgford has always been regarded as a model garden city – a typical suburbia, in which the residents vied with each other in friendly rivalry to live up to the high reputation the parish had undoubtedly acquired. In pre-war days there was ever a very brave display of both flora and fauna, in which the first-named always predominated. Go where one would, the visitor saw an eye-pleasing picture of what villa-dom could really produce under favourable conditions. There were trimly-kept lawns and picturesque borders, backed up by a luxurious display of vari-coloured flowers and foliage plants, a veritable fairyland, in fact.
But always, so to speak, there were flies in the ointment. Constantly one ran up against open spaces and corner bits of "no man's land," which appeared to be used for nothing in particular but, as W S Gilbert so aptly puts it, "doing it very well." Now all this is changed, changed so completely as to make one rub one's eye's. All the dumping grounds have disappeared, and instead we have the handiwork of 300 plotters, and the plots are literally laughing in the plenitude of their productiveness. Everywhere the patience and skill of the intensive workers is reaping a superabundant harvest, so much so that the "rare and refreshing fruit" literally compels admiration. There are acres and acres of tubers, thousands upon thousands of cabbages, and savoys and brussels, whilst peas and runner beans and all the other concomitants of a Britisher's mid-day meal are here in rich prodigality. And the hard-working enthusiasts of the shirt-sleeved army are virtually bursting with pardonable pride!
WHAT DO THEY SAY?
That the Allotment Holders' War Show is being held to-day in Bridgford Park. That there are 40 classes and £17 in prizes. That the Volunteer Band and the Singing Squad will also contribute to the programme.
That 400 dozen fruit-preserving 2lb glass bottles have been obtained by the Urban Council. That these are being retailed at 4s 6d per dozen to West Bridgford householders.
That the Loughborough-road 'bus has again been discontinued.
18 August WBA
WEST BRIDGFORD URBAN DISTRICT COUNCIL
Having claimed £400 compensation from the Treasury for losses incurred by the War Office commandeering the motor 'buses, the Losses Commissioners now reported sympathy, but "having regard to the wording of the warrant," by virtue of which they acted, said they were "unable to determine that any sum should be paid out of public funds in respect of the claim."
Protracted discussion arose upon the receipt of the Ministry's instruction to appoint a local committee to assist in the control of foodstuffs, with the stipulation that a Labour representative and a lady should be co-opted.
WEST BRIDGFORD OFFICER MISSING
Mr A Hutchinson, of Melton-road, West Bridgford, has received information that his son, Lieutenant Cecil D Hutchinson, R.F.C., has been missing since the 10th inst. Lieutenant Hutchinson was up with a bombing squadron, and was last seen about three miles behind the lines at a great height returning home.
News was received in West Bridgford on Saturday that Private Charles Rayner, only son of Mr J Rayner, Radcliffe-road, had been killed in action on the Western front. Private Rayner, who was 19 years of age, had only been out a few months. Serving with the Sherwood Foresters, he was well known in West Bridgford.
BRIDGFORD BOY DROWNED
Playing on Thursday near Trent Lock, Geo. Lamb, aged 7, fell in and was drowned.
25 August 1917 WBA
WHAT DO THEY SAY?
That we are still asking for those lighted street lamps at West Bridgford. That surely the Urban Council can arrange for the dangerous cross-roads to be illuminated. That otherwise the parish death-traps will provide us with a tragedy.
1917 SEPTEMBER
1 September 1917 NEP
BRIDGFORD GIRL'S THREAT
"You need not look for me. I shall be at the bottom of the canal. (Signed) Your broken-hearted maid."Such were the contents of a note found on the kitchen table by Mr and Mrs Bowler, of Loughborough-road, West Bridgford, when they returned home after being out for a little while on August 25th. Going upstairs, Mrs Bowler found that the wardrobe had been prised open with a hatchet, and a 10s note taken. The maid, Marjorie Attwood, aged 16, was also missing.Despite the injunction not to look for the culprit, Detective-sergt Hames did so, and found her in Arkwright-street, when she confessed the theft, adding that she had spent the money and been sleeping out.
Attwood, who has no mother, was sent by the Shire Hall magistrates to-day to a home for two years.
6 September 1917 NEP
EGG COLLECTION CARNIVAL IN NOTTINGHAM
The West Bridgford Juvenile Pierrot Troupe under Madamae Farnsworth were responsible for an excellent entertainment.
8 September 1917 WBA
THEY SAY
That £2,490 3s 3d has been subscribed to the War Savings Association by West Bridgford school children during the past year. That subscribed in small sums, 3d, 6d, &c, weekly it affords remarkable evidence of what children can do. That a word of praise is also due to the teachers for their painstaking and voluntary secretarial efforts in this connection.
WOUNDED BRIDGFORD LAD'S CHEERFUL LETTER
Writing to his parents, Radcliffe-road, West Bridgford, Sergeant J Holmes, who has been wounded in France, says:- "I was hit in three places, over my eye and in the arm, but they are all doing well. … What a living hell it was! We were waiting in the third line for the boys going over, and we caught off Fritz's shells. My telephone equipment was blown sky-high, and I was buried. … When we did make a start we hadn't been going five minutes before a biog clack 5.9 burst a little way from us, and the next thing I was being bandaged up. That was before 5 a.m., so I was more than lucky to get out, for my pal was smothered in wounds. The prisoners looked awful … a look on their faces that haunted you."
WEST BRIDGFORD OFFICERS KILLED
News has been received that Lieutenant A R Williams, a well-known London journalist, son of the Rev John Williams, if 57 Musters-road, West Bridgford, superintendent minister of the Arkwright-street Wesleyan Circuit, has been killed in action. Lieutenant Williams served on the staff of the London News Agency until the outbreak of war, when he joined the Royal Fusiliers as a private, and was ultimately transferred to the Machine-gun Corps, receiving a commission. His men described him as "the best and bravest officer they had ever had." It is a singular coincidence that two previous superintendent ministers of the Arkwright Circuit, the Revs W Henderson and C Wildblood, have each lost an officer son in the war. The Rev John Williams possesses considerable literary qualities. He is the author of a very excellent tale of two continents, entitled "Other Lords."
12 September 1917 NEP
KILLED
The death in action on July 31st last of Second-Lieut J H Hayes, attached to the Royal Welsh Fusiliers is announced. The eldest son of Mr and Mrs W P Hayes, of Bristol, and late of West Bridgford, Nottingham, he was 28 years of age, and educated at the West Bridgford Higher School, and University College, Nottingham. He held appointments under the Nottingham and Notts Education Committees, and late under the Warwick Education Committee, but relinquished the latter when he joined the army in March, 1915. Shortly afterwards he went to the front, and after seeing considerable service received his commission in January last. The deceased was married as recently as December of last year to a daughter of Mr J Hett, of West Bridgford.
20 September 1917 Nottingham Journal
DANGEROUSLY WOUNDED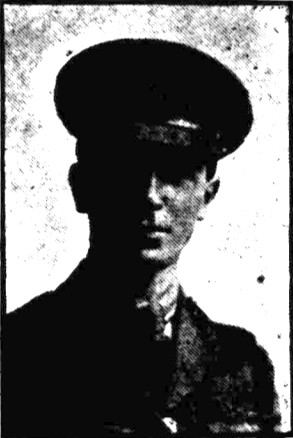 Second-Lieutenant John Glynne Morris, Sherwood Foresters, second son of Mr J J Morris, Stratford-road, West Bridgford, who lies in hospital in France. Lieutenant Morris was formerly a member of the commercial staff of the "Nottingham daily Express." He enlisted in the Cyclists' Corps over two years ago, and obtained his commission in the Sherwoods on March 27th last, and was drafted to the front in April. He is 22 years of age.
22 September 1917 WBA
BRIDGFORD COUNCIL
Strong criticisms of street lighting at West Bridgford were made at Friday night's meeting of the urban Council, over which Mr W Hobson presided. Mr H Raven declared the absence of all street lights in the parish "a disgrace." It was positively dangerous to walk about.
The Surveyor (Mr W Pare) said he should be pleased to arrange for oil lamps to be lighted at the "danger spots" if a list could be supplied to him.
Mr Raven: Months ago I asked for lights to be placed at all the 'bus stopping places, but nothing has been done. I'll send you another list. (Laughter.)
The 'bus committee reported that they had considered making a further claim to the Losses Commission with reference to the commandeered motor-buses, and had decided not to pursue the matter further.
Replying to Mr Dunford, the chairman stated the four members co-opted in the Food Control Committee were Mrs Howe, Melton-road, Messrs Snelling (Secretary Railway Clerks' Association), G Hill (boot factor) and Owbridge (director of Burtons, Ltd). Mr Dunford said he had no axe to grind, but thought it would have been netter if a woman had been selected from the working-classes in the parish.
26 September 1917 NEP
OUR LETTER BAG
I would like to ask how it is that the inhabitants of West Bridgford are not notified by the sounding of their own hooter of a possible air raid as used to be the case. Perhaps the local authorities think there might be a bit too much noise made, but I hold we ought to have warning, especially for the sake of the children. – SYREN
27 September 1917 Nottingham Journal
247 MORE WOUNDED IN NOTTINGHAM
Two trains conveying wounded soldiers arrived at Nottingham early yesterday morning. On the first the 107 patients included 54 cot cases, and the detachments on dutFy were St John's (2), Forman's, and Y.M.C.A. The second train carried 140 men, and St John's and West Bridgford were the detachments who received them.
WEST BRIDGFORD OFFICER DIES OF WOUNDS
News has been received by Mr J J Morris, of 76 Stratford-road, West Bridgford, that his second son, Second-Lieutenant John Glynn Morris, of the Sherwood Foresters, died in France on Sunday last from the wound which (as previously reported) he sustained on September 12th. Lieutenant Morris was formerly in the commercial department of the "Nottingham Daily Express" Co. Ltd, which post he left to become assistant cashier at Messrs Ericssons at Beeston.
28 September 1917 NEP
RETIRED BRIDGFORD TRADESMAN KILLED
Mr W Maggs, of Station-road, Borrowash, who was formerly in business as a tailor and outfitter at West Bridgford, where also he served as a member of the Urban District Council, was fatally injured in a collision in the neighbourhood of his home last night. He was bicycling from Ashton-on-Trent when the accident occurred. Mr Maggs, who was 64 years of age and leaves a widow but no family, retired from business about ten years ago, and went to reside at Borrowash. Formerly in the Nottingham and later in the Derby Wesleyan circuits he was held in high esteem as an able local preacher.
WOUNDED
Mr G Willoughby , of George-road, West Bridgford, has received information that his son, Lieut A Willoughby, was wounded in action on the 20th. He is 25 years of age, and was educated at the Nottingham High School. He enlisted in the King's Royal Rifles in October, 1914, and obtained his commission in the Sherwood Foresters in February 1915. He was transferred to the M.C.C. in December last, and was promoted a month later. He was a member of the Nottingham Boating Club, and took great interest in the work of the Boys' Brigade.
29 September 1917 WBA
MOTOR-OMNIBUSES – BYE-LAWS
Notice is hereby given that the Urban District Council of West Bridgford, on the 14th day of September 1917, made the following Bye-Laws in connection with their Motor Omnibuses:-
3. No passenger shall smoke inside any carriage, and no person shall spit in, on, from, or against any carriage.
4. No passenger or other person shall, while travelling in or upon any carriage, play of perform upon any musical instrument.
5. A person in a state of intoxication shall not enter or mount upon any carriage, and if found in or upon any carriage, may be immediately removed by, or under the direction of the Conductor.
8. A person whose dress or clothing might, in the opinion of the Conductor of a carriage, soil or injure the linings or cushions of any carriage, or the dress or clothing of any passenger, or a person who in the opinion of the Conductor, might for any other reason be offensive to passengers, shall not be entitled to enter or remain in or upon any carriage, and may be prevented from entering or mounting any carriage, and shall not enter or mount any carriage after having been requested not to do so by the Conductor, and if found in or upon any carriage, shall, on request of the Conductor, leave the carriage, upon the fare, if previously paid, being returned.
16. No person shall enter, mount or leave any carriage whilst in motion.
18. No person shall take a dog or other animal into a carriage.
THEY SAY
That the escape of 22 German prisoners on Monday night from Kegworth created quite a furore in the city and district. That Sergeant Richards, of West Bridgford, smartly effected the first re-capture. That he spotted three "suspects" at Trent Bridge at 4.30 a.m. on Tuesday. That a few tactful questions quickly revealed the strangers' identity. That then things happened at lightning-like speed and our friends the enemy were speedily soliloquising once more behind gates double locked and barred. That we heartily congratulate our vigilant sergeant upon his "bag".
WEST BRIDGFORD LEADS OFF
News has been receive at West Bridgford that Private William John Farrow, eldest son of Mr Lewis Farrow, Radcliffe-road Post Office, has been awarded the Military Medal, for gallantry in France. Details of the actual deed are lacking. Private Farrow, who is only 22 years of age, and before joining the colours was in the telephone Department of the Post Office in Nottingham, volunteered with the R.G.A. in November, 1914, and has seen much active service on the Western front.
Synchronising with the above, Mr and Mrs Farrow have received the happy intimation that their married daughter in Shanghai had given birth to a son. Her husband is in the employ of the Municipal Council.
1917 OCTOBER
1 October 1917 NEP
WOUNDED
Mr George Bampton, of Windsor Lodge, West Bridgford, has received information that his youngest son, Captain L S Bampton, Sherwood Foresters, has received a shell wound in the right forearm.
Captain Bampton joined the University O.T.C. under Captain Trotman, and obtained a commission in May, 1915. He has been in France 13 months, and was promoted captain in June last.
ROLL OF HONOUR
Killed in action, on September 20th 1917, Private Algernon Harrison (Algie) M.G. Co., aged 31 years, beloved husband of Lillie Strawson, 14, Devonshire-road, West Bridgford, and beloved son of Mr and Mrs Harrison Strawson, 46 Bridgford-road, West Bridgford.
2 October 1917 NEP
FOOTBALLER KILLED IN ACTION
Private A W Strawson, M.G.C., who was killed in action September 20th was well known in Nottingham sporting circles. He played for Bridgford Rovers and South Nottingham at left back, and for Y.M.C.A. at cricket.
3 October 1917 NEP
DIED OF WOUNDS
Mr Richard E Briddon, of Gamston, Notts., has received an official intimation that his son, Captain Charles Clark Briddon, has died of wounds, in Flanders.The deceased officer, who was 25 years of age, was educated at the Mundella School and at Kelham. When 16 years of age, he took charge of an escort of Boy Scouts, who acted as a guard of honour on the occasion of the visit to Nottingham of General Baden-Powell, and was in charge of the Bridgford section of scouts reviewed by the King in Windsor Great Park, in 1911. He was the first scout-master to the West Bridgford Baden-Powell Troop of Boy Scouts. He joined the army, on the outbreak of war, as a private, and rose to the rank of captain, preferring to remain on active service than return to England and accept an adjutancy. He was Assistant County Secretary to the Boy Scouts Council Executive, and did valuable work. His death is a loss to the county and the scout movement, with which he identified himself so enthusiastically.
4 October 1917 NEP
PREVIOUSLY MISSING NOW PRISONER OF WAR
Mr A Hutchinson, Melton-road, West Bridgford, has received information from the War Office that his son, Lieut Cecil D Hutchinson, R.F.C., who was reported missing on the 10th ult., is now reported wounded and a prisoner of war.
13 October 1917 NEP
LIGHT(N)ING WIT
Mr H J Raven again twitted the Council on its timerity regarding street lighting. The present situation was, he declared, simply absurd. In the city there were scores of lighted lamps, and ye the Bridgford Council was ridiculous enough to imagine they were the gateway of Nottingham, and as such were called upon to give it protection. (Hear, hear.)
The chairman: Our real difficulty is in getting the oil lamps. When these come to hand we will light the dozen that Mr Raven has asked for,
Mr Raven: I can lend you one.
The chairman: Hang it up and light it yourself then.
Mr Aylett caused a roar of laughter by suggesting application be made to the Corporation for more lights at Trent Bridge. He thought there should be lamps on each side of the bridge.
The chairman: Rather anomalous, isn't it, after our own decision?
Mr Aylett: Well, it;s a regular death-trap. (Hear, hear.)
15 October 1917 Nottingham Journal
CIVIC CHURCH PARADE
Acting upon a happy inspiration, the Sheriff of Nottingham (Mr R H Swain) yesterday invited his civic colleagues to accompany him to St Giles' Church, West Bridgford, and the unique event attracted a crowded congregation.
VIEWS OF CORRESPONDENTS
I wish to draw attention to a grievance which is I think felt by most people, especially the mothers. When do the local Food Committee for West Bridgford intend to interfere as regards the price of milk? How can a mother give her children what is really sufficient with everything mounting up in price day by day till it becomes a positive nightmare? In other centres the authorities have interfered and insisted on people being supplied at a reasonable figure. If thee is any thought for our kiddies the present position should be remedied, and the gratitude of the mothers would be earned. – Worried.
18 October 1917 NEP
WOUNDED
Second-Lieutenant Sidney L Wellington, King's Royal Rifles, who has been wounded in action, is a son of Mr George H Wellington, of West Bridgford. He joined the army as a private in September, 1914, and after serving for 18 months in France, was given a commission in the K.R.R. in July last.
19 October 1917 NEP
WOUNDED
Lieutenant Kingsley V Weston, who has been wounded, is the eldest son of Mr S F Weston, West Bridgford, and was with Mt Harry Gill, architect, Nottingham. He received a commission in the West Yorkshire Regiment in July, 1915, after training under Capt. Trotman at the University College O.T.C., and went to France in July, 1916. He was afterwards transferred to the Machine Gun Corps, and was promoted lieutenant in February last. He went through the Battle of the Somme and the second Battle of Ypres, and has seen a lot of fighting since. His younger brother, Sec.-Lieut. Maurcie S Weston, Sherwood Foresters, was killed in action in France in April this year.
20 October 1917 WBA
BRIDGFORD MILK AND TEA PRICES
Retailers in Nottingham, along with those doing business in other towns, are being seriously inconvenienced by the butter, bacon and tea shortage. Especially is this so at West Bridgford.
Inquiries at several of the shops in Suburbia on Tuesday disclosed the unwelcome fact that practically a famine existed so far as the commodities mentioned are concerned.
One retailer declared he had not been able to obtain any tea for over a week, and incidentally threw a strong light upon the methods of certain wholesale profiteers.
"On Friday," he stated, "a traveller quoted me tea at 3s 10d per lb to take 100 lb, but on Tuesday when he called again the price he said had been advanced another 6d!" Needless to say, the retailer gently but firmly declined to place the order.
The West Bridgford Food Control Committee on Tuesday considered the prices to be charged for milk during the winter. The rates were fixed as follows:- October (to the end of) 6d per quart, November (to the end of) 6½d per quart. December (and till further notice) 7d per quart. Yet Nottingham dealers are proposing to raise the price next month to 8d a quart (the maximum allowed by the Food Controller).
SCHOOLBOY INJURED
A schoolboy named Robert Marshall, aged nine, of 21 Byron-road, West Bridgford, was knocked down by a motor-car on Sneinton-road, Nottingham, on Friday, and his head and back were injured.
22 October 1917 NEP
ROLL OF HONOUR
Killed in action, October 4th, Private Edward (Ben) Widdowson, Sherwood Foresters, aged 27. Christ will link the broken chain more closely when we meet again. Heart-broken wife Rose and two children, 31 Rectory-road, West Bridgford.
27 October 1917 NEP
FOOD HOARDING
Heavy fines were inflicted at the Nottingham Shire Hall today, when the first case of food hoarding to come before a local Bench was heard. The defendants were Frederick W Gladdash, 59, miller's agent, Ernest H Cullen, draper, both of West Bridgford, who were charged under the Food Hoarding Order, and Ernest C Chambers, 31, baker, also of West Bridgford, and William Smith, grocer, of Meadow-lane, summoned for contravening the Flour and Bread Prices Order.
27 October 1917 WBA
BRIDGFORD MOTOR CYCLE ACCIDENT SEQUEL
A Nottingham architect's pupil named Edgar Burnett, aged 23, was ordered at Nottingham Shire Hall on Wednesday to pay 42s costs on a charge of dangerously riding a motor-cycle at West Bridgford.
Mr H P Day (prosecuting) said that the defendant rode along Musters-road at between 30 and 35 miles an hour, and at the corner of Patrick-road knocked down a cyclist.
Mr R A Young (defending) said that Burnett had served in France, and had been discharged owing to shell-shock. His nerves had been badly affected, and he was still suffering from this trouble.
The defendant declared that he was not driving at a dangerous speed, and attributed the accident to the cyclist emerging from the road without sounding his bell. This story was corroborated by a wounded soldier named Jones.
"EXCHANGE" OF CYCLES AT BRIDGFORD
A soldier named James L Angus, aged 19, wearing the uniform of the machine-gun corps, was charged at the Nottingham Shire Hall with stealing a G.P.O. bicycle, with two lamps and a cape, from West Bridgford Post Office on October 13th, when he left another machine in its place. When arrested at Grantham, he said that he would not have taken it if he had known it was a "G.P.O. bike." He had painted it black, and siad that he had lost the lamps and had thrown the cape away.
The defendant (who was said to have joined the Marines at the age of 12, and to have already served seven years) was bound over, and handed back to the military authorities.
31 October 1917 NEP
FEARED BEING SENT BACK
Although he left a letter stating that he feared being sent to France, a West Bridgford jury had no hesitation in deciding to-day that a young sapper in the Royal Engineers, named John Swift Butler, committed suicide whilst of unsound mind.
Edith Wilson, of Julian-road, West Bridgford, a nurse at the local V.A.D. hospital, identified the body as that of Swift, whose home is in Roundhay-road, Leeds. Being told on Monday that he was lying in a ditch in a field some distance from the hospital she went there and found him in an unconscious condition. She attended to him, and he was then taken to the V.A.D. hospital, where he died about two and a half hours later. Butler was awfully depressed at times, and had a fear of going back to France, where he had been on service.
Dorothy Gilbee, the sister in charge of the hospital to which deceased was admitted on September 22nd, said he had not been wounded, and feared that he would have to go back to France. He appeared to be quite comfortable at the hospital. In his pocket was a letter to hos mother as follows:
"Will you oblige me by coming to see me as they are going to send me away, and then I will have to go out again. I am sorry to say that I have no feeling in my head. I cannot think about anything, and also I do not want to be parted if I can help it. You know I can't help it.
"If I got sent away it would break my heart. I know I am putting you to a lot of trouble just now, but Gold help me to bear it. My word, I know if you could it would help me a lot. I said I would pay all expenses if you could get my father to let you come. If not I cannot face it at home as I know what my brothers will think of me – 'a coward.' But thank goodness they are not in the army. I …"
[Here the letter ended abruptly. It bore no signature.]
Dr Tressider's evidence showed that Butler was admitted to the Pavilion Auxiliary Military Hospital, having been sent from France to undergo an operation for hernia. The operation was not performed, however, owing to the poor condition of his health. He had seemed mentally depressed, and as he was sleeping badly witness had prescribed a draught of him to take each night.
Inspector Stapleton produced a bottle which had contained carbolic acid, and was found near the body of deceased. The liquid was used for disinfecting purposes, and would not be supplied to a wounded soldier by a chemist, so must have been obtained for him. He had not been able to trace either who bought it or supplied it.
Mr Williams observed that the case was a very painful on, and the jury concurred with his opinion that the man was not accountable for his actions when he took the poison.
WEST BRIDGFORD COMMITTEE TAKE ACTION
The West Bridgford Control Committee considered the prices of butter last evening, and fixed the maximum rates as follow:
Farmers' fresh butter … 2s 5d per lb
British-made butter (in bricks or rolls) … 2s 5d per lb
This decision does not relieve the trader of the necessity of complying with Clause 4(a) of the Butter Order, which provides that a profit on only 3½d per lb shall be made on the actual cost to the retailer.
1917 NOVEMBER
3 November 1917 WBA
WEST BRIDGFORD "TOMMY" MISSING
News has been received by his wife that Private J A Patrick, Trent-boulevard, West Bridgford, is amongst the missing. In a letter from the front his officer states: "Your husband was last seen going over the parapet."
5 November 1917 NEP
HOW WOUNDED HEROES ARE TREATED
Writing to his parents at West Bridgford from a colonial hospital ship at sea, a member of the Expeditionary Force of that branch of the British Empire provides further striking evidence of the splendid generosity of the residents at ports of call, of which various examples have already appeared in our columns. At one place the visitors were entertained to strawberry ices, fruit, cakes, iced drinks, tea and coffee, lollies, &c., and big bunches of red roses. The band played on the verandah, and the party were made "an awful fuss of." For the evening a concert was hurriedly arranged at the theatre when over £50 was taken, working out at 3s per man. "They seemed as though they couldn't do enough for us," adds the writer, "and we were really idolised. Of course, it is something new for them, as this was only the second hospital ship that has passed that way. One old lady patted me most affectionately on the cheek. They did everything but kiss us – at least I wasn't kissed! Whenever we went into a shop sure enough some gentleman would pay for the article for us. They couldn't have made more of us if we had been their own."
10 November 1917 WBA
BAGGED A U-BOAT
Another heroic action has to be placed to the credit of a local man. This time the young hero is Gunner Leonard F Lees, the youngest son of Mr W J Lees, watchmaker and jeweller, Wheelergate, and he is credited with nothing more or less than the bagging of a practical U-boat.
Educated at the Peoples' College, Nottingham, Gunner Lees, whose wife lives on Highfield-road, West Bridgford, enlisted at the age of 25 in the Mercantile Marine. For several years he had been a valued member of the clerical staff of the Notts. Education Committee at the Shire Hall and he passed physically fit for the naval branch of the service, which strongly appealed to him. After a period of Crystal Palace training he went out in charge of a merchantman's gun, and it was whilst proceeding to a neutral port that they sighted the German submarine. Three shots were fired at Lees' vessel, and the Lees, who had been guilty of resting in his bunk, rushed on deck, trained his gun on the enemy raider, then three miles away. The first shot fell wide of the mark but No 2 proved a direct hit, and hey presto, the "brave submarine," to use a metaphor, held up "its hands" and disappeared, and the merchantman, on very good terms with itself, went on its way.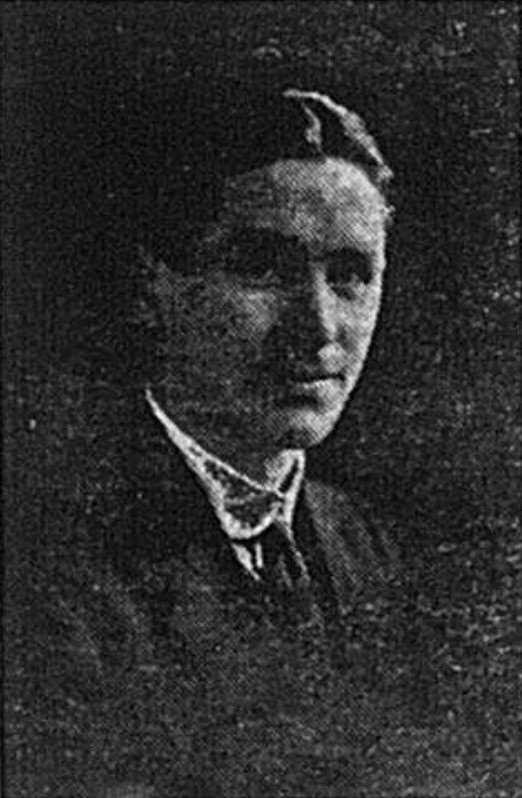 A little further on the British vessel rescued a torpedoed crew and took them safely into a neutral harbour. Judge of the surprise of our Nottingham friend when tehre followed in the wake a badly damaged U-boat. The conning tower had been smashed to atoms, and the crew were promptly interned. Of course there is no absolute proof of its identity, but there is good grounds for believing that this was the same marauder that Gunner Lees had so splendidly prevented from carrying out its hellish purpose.
THEY SAY
That at long last our West Bridgford Stygian gloom has been dispelled. That safety lamps were lighted for the first time on Tuesday. That fore this common-sense action – long delayed though it has been – many thanks.
MISSING
Dr J F Blurton, of West Bridgford, has received news from the War Office that his son, Second-Lieutenant Cyril Blurton, of the Sherwood Foresters, is missing in France. He was slightly wounded two months ago.
12 November 1917 Nottingham Journal
ARMENIANS' FLAG DAY
Street collections were made in Nottingham and district on Saturday on behalf of suffering Armenians, whose tribulations under the tyranny of Turkish misrule has wrung the hearts of all Christian peoples, not only in the present war, but for very many years past. The Rev. J Ballantyne, of West Bridgford, is the local hon. Secretary.
17 November 1917 WBA
MOTOR-BUS "FODDER"
Motor-bus difficulties this winter were foreshadowed by the superintendent, who said that he could not obtain renewal of the petrol or paraffin contracts for motor-bus purposes, and there was the prospect of a considerable increase in cost of fuel as from January 18th next.
Uniform penny fairs were agreed to – book tickets at three-farthings being thus given their quietus.
CHURCH PARADE
The parade of the Notts. Volunteers, 3rd Battalion, attracted a crowded congregation to ST Giles' Church, West Bridgford, on Sunday afternoon. Assembling in Stanford-street, the men, preceded by the regimental band, marched via Carrington-street and Arkwright-street, and their smart soldierly bearing was freely commented on.
20 November 1917 NEP
WANTED
Second Engineer and Stoker at the Sewage Pumping Station and the Refuse Destructor Works at West Bridgford. Wages, Engineer 48s, Stoker 47s, for 7-shift week. Steady men only and ineligible for the army, must undertake to serve for the duration of the war. Apply not later than Thursday next, the 22nd inst. W Pare, Public Offices, West Bridgford.
24 November 1917 WBA
ANOTHER BRIDGFORD SACRIFICE
News has been received by his parents, who reside on Ella-road, West Bridgford, of the death of their second son, Corporal H Malbon. Deceased, who was a lacemaker employed by Mr J G Small, the Mayor of Nottingham, joined the Sherwoods shortly after the outbreak of hostilities, and proceeded to the Western front in France, where he fell a victim to shell shock. Well known and respected, Corporal Malbon , who was 29 years of age, leaved a widow and one child, a daughter aged four years.
ALLOTMENT-HOLDERS
West Bridgford Allotment-holders' Association has affiliated with the new Notts. County Federation. Nine lectures have been arranged for the winter months.
27 November 1917 NEP
WEST BRIDGFORD ENGINEER'S OFFENCE
For using petrol other than for business purposes, Arthur Borridge, and engineer, of Mona-road, West Bridgford, was fined 10s at the Nottingham Summons Court to-day.
When stopped on Nov. 13th, defendant had visited a shop in Alfred-street with his motor cycle and side-car. He explained to the magistrates that before making the call he had been to a doctor's for medicine for his wife, but admitted that he could have used the tram for that purpose.
28 November 1917 Nottingham Journal
COMPANY'S REMARKABLE PROWESS
Lady Charles Bentinck, who last night presented the prizes to the members of the 8th (West Bridgford) Company of the Boys' Brigade, had quite a pleasant little surprise-packet in store for the enthusiastic and hard-working Captain, Mr R H Swain: she handed to him a cheque for £80, subscribed for by the officers and friends, to go to the reduction of the debt of the new Brigade building.
Lieutenant J Simons explained that they thought it fitting to mark their 2oth anniversary in that way. (Hear, hear.) There was an outstanding balance of £150 on the new building, and it was not fair that Captain Swain should carry that responsibility any longer.
Subsequently Captain Swain commented on the "marvellous" successes of the past year. There were 150 in the company, and the previous Sunday 142 were present at bible class.
In all 267 had joined the colours, of whom 23 had made the great sacrifice. Two had gained the M.C., two the M.M, one the Russian Order of St George, one had been mentioned in despatches, and 33 had obtained commissions. (Applause.)
1917 DECEMBER
8 December 1917 WBA
"THE MESSIAH" AT WEST BRIDGFORD
The fifth annual performance of the "Messiah" was given in the Musters-road Wesleyan Church ion Sunday. There was a crowded congregation and the fine choir got together by the choirmaster, Mr W M Hughes, sang splendidly. The tone was good, the rhythm well marked, and the response to the baton showed that the conductor had the choir well in hand.
8 December 1917 NEP
URGENT
All West Bridgford Allotment and Home Gardeners are cordially invited to a mass meeting at Exchange Road Schools, Monday, December 10th at 8pm. H G Ball, Hon. Sec., Allotment Holders' Association.
9 December 1917 The People
THE WEST BRIDGFORD ALLOTMENT HOLDERS ASSOCIATION
This society has done very fine work this year, not only in the way of showing vegetables for the benefit of a hospital, but also in the way of fruit bottling and canning, disposing of surplus fruit, and potato spraying on co-operative lines. Two tons of seed potatoes were bought by the Council in March and divided amongst the allotment holders at cost price. 60 per cent of the ground was cropped with potatoes. Monthly lectures were given as most of the cultivators were amateurs, and this winter's programme includes nine lectures on growing vegetables; the organisation of a boys' section on the lines of a school garden; the co-operative purchase of sprayers, seeds and garden requisites; and the organisation of a scheme for the disposal and preservation of surplus produce. Other associations might imitate this go-ahead society.
15 December 1917 WBA
THEY SAY
That we have had neither War Savings nor Food Economy meetings in the parish as yet. That surely this is not making the most of our opportunities. That perhaps the two political associations will get a move on in the matter. That meanwhile the Schools' War Savings Association is going very strong. That Mr Davies, headmaster of the Higher Elementary School, is the hon. Secretary.
SHOCKING BRIDGFORD MOTOR-BUS ACCIDENT
The fog, which more or less enshrouded Nottingham and district on Tuesday, was late in the afternoon responsible for a shocking motor 'bus accident at Trent Bridge.
West Bridgford motor 'buses have their city terminus near the Victoria Embankment gates at Trent Bridge, and shortly after four o'clock, as one of the vehicles was nearing the stopping-place, Arthur Cope (61), a painter of 130 Trent Boulevard, West Bridgford, failed to observe its approach. Before the driver could pull up the unfortunate man was knocked down, the wheels passing over his body. He was removed to the General Hospital on the motor ambulance, and here is was ascertained that both legs had been fractured.Eye-witnesses of the accident declare that no blame was attached to the 'bus driver.
15 December 1917 NEP

LECTURE
Last night a well-attended and an enthusiastic meeting was held in West Bridgford, when a lecture on "Manures and Manuring" was given by Mr William Goodwin, secretary Notts. War Agricultural Committee. He urged the great importance of manuring on scientific lines, and dealt with the effects on vegetables of the three chief classes of manures. He also urged the necessity of lime. Many questions were asked at the close.
22 December 1917 WBA
WEST BRIDGFORD BAKER AND HIS DOG
Extraordinary allegations of cruelty to a dog were made at the Nottingham Shire Hall against Lawrence Raymond Webster, a baker of 118 Radcliffe-road, West Bridgford.
Mr R A Young (prosecuting for the R.S.P.C.A.) said that the defendant found his dog worrying a fowl, and after throwing a box at it he beat it with a hammer. That process took 15 or 20 minutes. And during the whole of that time the dog was howling. He buried it, believing it to be dead, but the post-mortem examination tended to show that the animal was buried alive.Mr Huntsman submitted that a lot of extravagant language had been used and the facts had been exaggerated. The magistrates considered that the evidence was very conflicting, and dismissed the case.
WEST BRIDGFORD'S EXPENSIVE BUSES
It was reported to the West Bridgford Council on Friday that calls amounting to £1,613 15s 7d had been made on the rates to balance the motor 'bus service for the year ended March 31st last.
29 December 1917 WBA
THEY SAY
That Christmas passed off peacefully at Suburbia. That at the military hospital, Musters-road, there was quite a feats of good things for the Tommies. That the West Bridgford toy service "fruits" were distributed as usual at Colwick-street last week.